21 Perks of Direct Deposit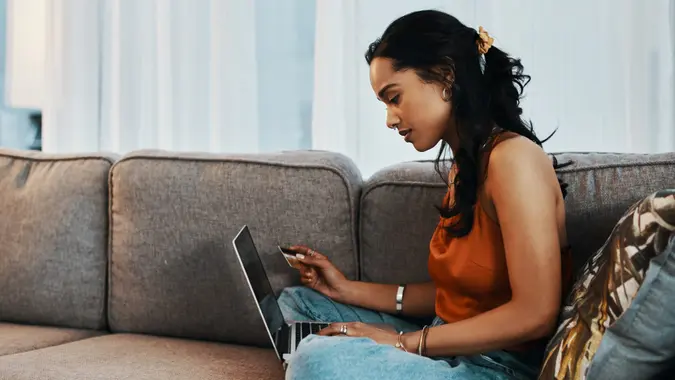 Delmaine Donson / iStock.com
With electronic statements, online banking and mobile apps, paper paychecks can seem oddly out of place. Out of all American workers, 94% choose to receive paychecks by direct deposit, according to Nacha, the organization that governs the ACH network. With the conveniences and benefits of direct deposit and certain incentives offered by banks, it's no wonder customers are moving away from paper checks. Read on to find out how direct deposit can make managing your day-to-day finances easier.
21 Perks of Direct Deposit
1. Money Is Available Sooner
One of the most important direct deposit benefits is that your funds clear immediately and go straight into your bank account. You might even have your money payday morning, regardless of the time your employer normally hands out paychecks.
2. Get Paid No Matter Where You Are
With direct deposit, you get your money on payday even if you're away on vacation or out sick. No more pinching pennies because your paycheck is sitting on your desk.
3. Payments Can Post Before Holiday Weekends
Since direct deposit is processed early — usually, the day before you're paid — you can get your paycheck early if a holiday falls on payday. Direct deposit can even help you avoid having to visit the bank just before holidays or during weekends, when lines can be at their longest.
Earn Perks With A New Checking Account
4. Earn Extra Rewards Points
Some banks offer extra rewards points to entice customers to add direct deposit to their checking accounts. One example is Citibank's ThankYou Rewards program.
5. Avoid Monthly Maintenance Fees
Because direct deposit eliminates the cost of check handling and increases cash flow for the bank, you can avoid certain banking fees. Set up your paycheck to be deposited directly, and your bank might waive its monthly maintenance fee and minimum balance for you. You might even qualify for better interest rates.
6. Save More Each Pay Period
Direct deposit can have a positive effect on how you manage your money. By setting up your direct deposit to drop money into different accounts, like your savings and an emergency fund, you build savings automatically so that you don't forget.
7. Automatically Pay Bills on Time
Some customers fear automatic bill pay might cause them to overdraw their accounts. Direct deposit gives you predictable deposit dates so you can schedule your automatic bill payments for dates when you know you'll have the cash in your account.
Earn Perks With A New Checking Account
8. Improve Your Budgeting Skills
If you're saving up for a vacation or car, direct deposit can help you budget for the expense. By limiting funds for a vacation to one account, for example, you know precisely how much you can afford to spend while on your trip.
9. Reduce the Temptation To Spend Money
Depositing checks in person can tempt you to take out a bit of cash to carry in your pocket. Direct deposit takes the physical paycheck and unnecessary pocket money out of the equation so you're less likely to spend frivolously on things you don't need.
10. Setting Up Direct Deposit Is Easy
Making the switch from paper checks to direct deposit is easier than you might think. To sign up, request a direct deposit form from your employer. You will need to provide your bank name and your account and routing numbers.
Before you sign up, consider how much money you can afford to put into savings or other accounts. You can easily allocate a certain percentage of your paychecks to other accounts.
11. Direct Deposit Is Convenient
Once you've set up your direct deposit, your work is done. From then on, your paycheck will be in your account and 100% available to you every payday, with no action required on your part.
Earn Perks With A New Checking Account
12. Direct Deposit Is Free
Your pay is not reduced if you use direct deposit. You won't encounter fees or other charges that dock your paycheck. In fact, you can save time and money by eliminating regular trips to the bank.
13. Save Your Employer Time and Money
Direct deposit simplifies the payment and bookkeeping process for your employer. Printing — or writing — and handing out checks is labor-intensive and leaves more room for errors. Your employer will also spend less on paper, ink and other materials needed for paper paychecks.
These savings multiply as more employees switch to direct deposit. By reducing the workload for your human resources department, you can free up their time and budget to focus more on providing employee services.
14. Eliminate the Fear of a Lost or Stolen Check
Direct deposit can spare you the worry of a lost or stolen check. Unlike a check left on your desk or sent to you by mail, which you must then carry home or to the bank, direct deposits are fully digital. No one sees or touches your money.
15. Increase Your Productivity
Direct deposit reduces employee absenteeism by eliminating your need to visit the bank at lunchtime or on other breaks. Instead, you can spend that time focusing on relaxing or gearing up for the next item on your to-do list.
16. Leave Work on Time
Some employers pass out paychecks at the end of the day or at lunchtime to avoid distracting employees. Passing out checks at these hours can frustrate employees who are tied to their desks waiting for their pay.
17. Switch Banks With Ease
Switching banks is a simple process with direct deposit. When you're ready to move banks, simply fill out a new direct deposit form with your employer to reroute paychecks into your new account. Remember to rework automatic bill pay accounts to withdraw from your new account, as well.
18. Direct Deposit Is Flexible
Direct deposit isn't just for paychecks. You can sign up for direct deposit to receive expense reimbursements from your employer as well as travel and cash advances. You can also use direct deposit to build your retirement fund and receive income tax refunds and unemployment benefits.
19. Get Easy Access to Financial Information
Online and mobile banking make it easier for you to review details on deposits and other financial information. You won't need to worry about keeping a drawer full of pay stubs to keep tabs on your payroll history — it's all saved digitally for you.
20. Direct Deposit Is Confidential
Since direct deposit moves your funds discreetly from your employer to you, nobody can sneak a peek at your financial information, which helps to ensure that it stays private.
21. A Better Choice During the Pandemic
Direct deposit saves you from having to go into the office just to collect your paycheck. It's a great solution for home-based workers trying to limit their exposure to co-workers.
Good To Know

A disadvantage of direct deposit is that you need a bank account to take advantage of it. However, some employers offer payroll cards as an alternative. A payroll card works like a reloadable prepaid card. Rather than deposit your pay into a bank account, your employer loads your money onto the card.
Daria Uhlig contributed to the reporting for this article.
Our in-house research team and on-site financial experts work together to create content that's accurate, impartial, and up to date. We fact-check every single statistic, quote and fact using trusted primary resources to make sure the information we provide is correct. You can learn more about GOBankingRates' processes and standards in our editorial policy.
Earn Perks With A New Checking Account