Chime Direct Deposit: All Your Questions Answered — How To Set Up, What Time It Hits and More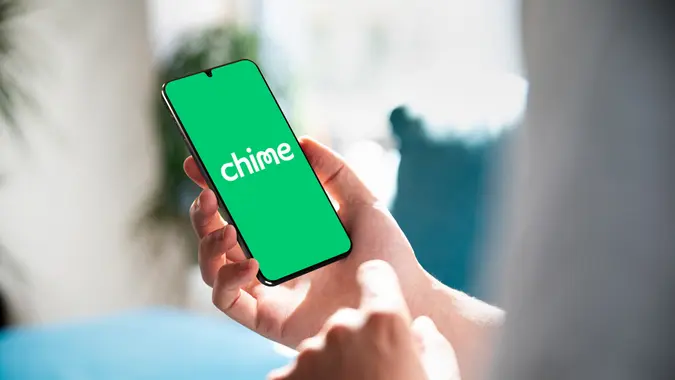 Chime is a no-fee financial technology company that's entirely online. While it's inexpensive and user-friendly, you sacrifice some traditional banking services such as the ability to make cash deposits for free at select partners, such as 7-Eleven and Walmart.
15 Frequently Asked Questions About Chime Direct Deposits
However, there are alternative ways to fund the account by using mobile check deposits and Chime direct deposit. Here are 15 questions answered about everything you need to know about Chime direct deposit.
What Is Chime Direct Deposit?
Direct deposit through Chime is a way to receive your paycheck electronically and straight into your account. It's fast — Chime claims you'll get paid two days earlier than scheduled because the fintech company doesn't hold the funds as other banks may. Plus, it's convenient since you don't have to wait for a paper check and go to the bank to make a deposit.
Does Chime Direct Deposit Early?
One of the best parts of using Chime is the speed of electronic transactions. Chime direct deposits arrive up to two days early. Chime doesn't hold your direct deposit when it receives the funds from your employer, which is how it gets into your account faster.
Does Chime Direct Deposit on Weekends?
Weekends don't count. Chime direct deposits come in only on business days (weekdays). If you're scheduled for a regular direct deposit for a Monday, the early direct deposit will arrive two business days early, which would be Thursday of the week before.
Can Chime Direct Deposit Be Late?
Keep in mind that Chime's direct deposits may be late, although it isn't common. If there's a technical issue on the side of your employer's payroll processing, it may delay your direct deposit's arrival. If your arrival date lands on a holiday or weekend, it may also cause a direct deposit to appear late. Check with your employer first to confirm your direct deposit was processed on schedule.
What Is the Chime Direct Deposit Time?
There is no set time for your Chime direct deposit to arrive in your account because Chime does not hold deposits. The moment the funds arrive, they are available in your account. It could be any time during the day — in the morning, lunchtime or end of day.
How Do I Check My Chime Direct Deposit?
Chime doesn't hold funds to release them on a scheduled date and time. Therefore, it's hard to predict exactly when they're available. However, you can bank on seeing the direct deposit in your account a couple of days early.
For example, if your employer sets up direct deposit for Friday, you'll probably receive the money two business days before on Wednesday. You can check for direct deposits by looking in the mobile app or set up push notifications by text or email to let you know when the funds are in your account.
Does Chime Charge for Direct Deposit?
Remember, Chime doesn't charge the typical fees traditional banks tack on and there are no hidden fees. This includes Chime direct deposits.
How Many Chime Deposits Can You Make in a Day?
According to Chime, you can make up to three cash deposits at a retail partner such as Walmart, 7-Eleven or Walgreens in 24 hours, for up to $1,000 per day.
What Is Chime Direct Deposit Limit?
Chime may set limits on cash deposits made at a partner retail location but there is no Chime direct deposit limit. You can even receive direct deposits from multiple sources including government benefits and paychecks.
Does Your First Direct Deposit with Chime Come 2 Days Early?
Chime won't hold any direct deposits, even the first ones. However, your employer may need some time to set up the initial direct deposits. They may take longer to make their way to Chime.
How Do I Get a Direct Deposit Form From Chime?
To get a direct deposit form to print and fill out:
Go to Settings on the mobile app.
Tap on "Account Information"
Tap on "Set Up Direct Deposit"
Tap on "Get Direct Deposit Form"
You'll receive an email with a PDF to print and fill out.
How Do I Set Up Direct Deposits With Chime?
Setting up a direct deposit is relatively simple. You'll need to provide your banking information to your employer and they take it from there. Here's a step-by-step guide to set up Chime direct deposits.
Filling out a paper form:
Find your routing number and bank account numbers.
Download the Chime direct deposit form (instructions above) or request one from your employer.
Designate whether you'd like 100% of your direct deposits to go into one account or if you'd like to send part of the deposit to your Spend and Save accounts.
Complete the form and sign it.
Give the direct deposit form to your employer.
Completing a Chime direct deposit form online:
Open the Chime mobile app.
Tap on "Set Up Direct Deposit" in the settings or "Move Money" tab.
Tap on "Complete Direct Deposit Form".
Fill in the name of the payer (your employer or benefits provider)
Tap "Continue".
Use your finger to sign your name in the box.
Tap on "Add Signature".
Tap "Share Form" to send the form to your employer or provider.
What Bank Does Chime Use for Direct Deposit?
Chime isn't its own bank — it's a fintech. It partners with other banks to provide you with FDIC insurance and bank accounts. Your routing number may vary based on the bank providing the service.
To find your bank's name:
Look on the back of your Chime Visa Debit Card
Check out your account agreements
Find it in the mobile app under "Move Money" / "Direct Deposit".
What Is the Chime Routing Number for Direct Deposit?
To find the Chime routing number for your Spending account and the bank's name Chime has designated to process your direct deposits:
Open the mobile app
Tap on "Move Money"
Select "Direct Deposit"
Chime vs. Ally Bank: Which One Is Better?
If you're looking for early deposits, Chime pays them two days earlier than Ally Bank. If you'd like more account options including high-yield savings and CDs, Ally has a broader variety of accounts.
Final Take
Knowing how to set up Chime direct deposit will make banking much easier. You'll get paid up to two days earlier and qualify for a couple of useful services. Simply receiving a direct deposit of at least $200 per month means you're eligible for Spot Me, Chime's free overdraft service which covers up to $200 in overages and a Chime Credit Builder Visa, offered with no credit check or a required security deposit.
This article has been updated with additional reporting since its original publication.
Chime is a financial technology company, not a bank. Banking services provided by, and debit card issued by, The Bancorp Bank, N.A. or Stride Bank, N.A.; Members FDIC.