PayPal Goods and Services: How It Works, Fees and More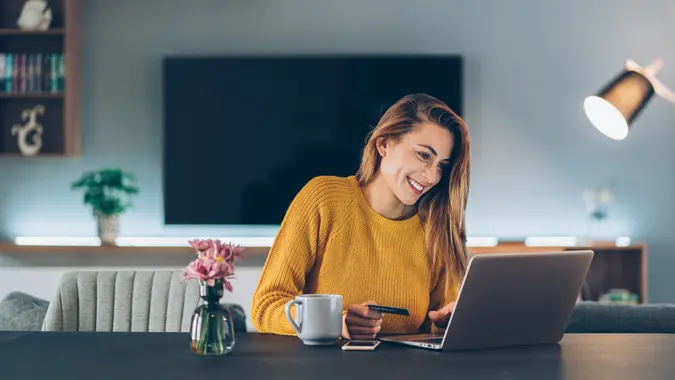 filadendron / Getty Images
If you've shopped online recently, chances are you've come across the PayPal payment option. If you select PayPal at checkout, your payment will be processed through PayPal Goods and Services. But you can also use this PayPal feature as an independent buyer or seller. But what exactly is PayPal Goods and Services and how does it work? Keep reading to learn more.
What Is PayPal Goods and Services?
PayPal Goods and Services is one of two ways to send or receive money with PayPal, the other being Friends and Family payments. The Goods and Services feature stands out for two reasons: 
Protection: When you select Goods and Services to pay for items, you can enjoy free PayPal purchase protection. That means that when you use this option, you're protected from fraud and you can dispute transactions if you don't receive what you paid for or if the items are different from the description you based your purchase on. 
Fees: You wont pay a fee for using this money transfer option, as long as you're making it from a personal account. However, the merchant receiving your money will pay a processing fee.
How Does Goods and Services Work on PayPal?
PayPal Goods and Services applies to two types of users — consumers who buy and merchants who sell. So, the product works differently depending on which side of the equation you're on. The good news is that, regardless of whether you're buying or selling, the service is easy to use.
For Consumers
On the buyer side, PayPal Goods and Services works by transferring money from your account to a merchant's account when you pay for goods or services online. For example, you might pay for a digital item sold by an individual or an online business. Here's how to do it:
Log into PayPal online or through the mobile app.  
Click or tap on "Send and Request" and choose the Send option. 

Enter the seller's information. This can be the seller's name, email address, PayPal user name or mobile phone number. 

Enter the amount of money you'd like to pay. 
Choose the currency you'd like to pay in. 
Add a note if you choose to do so. 
Choose how you want to pay. This is either via your PayPal balance or using one of the payment methods you have saved in your account.
Click or tap "Send payment now."
For Merchants
If you're a seller accepting payments through PayPal, it's easy to request money from your customers. Here's how:
Log into PayPal online or through the mobile app.  
Click or tap on "Send and Request" and choose the Request option. 
Enter the buyer's information. This is typically a PayPal username, email address or phone number. 
Enter the amount of money you'd like to request from your customer. 
Add an optional note if you'd like. 
Click "Send."
The buyer will receive an email letting them know that you've requested money. From there, they can pay you using their PayPal account. 
If you have a registered business and plan on receiving payments regularly, consider setting up a business account. You can process payments in person or online, as well as create invoices and subscription services with PayPal.
PayPal Goods and Services Fees
If you're the buyer, you don't have to worry much about service fees. However, sellers do pay fees. The amount the seller pays in fees depends on the types of transactions they take part in. Here's a chart that helps you better understand the fees PayPal charges:
| Payment Type | Merchant Fee |
| --- | --- |
| Alternative payment methods | Various rates depending on the type of payment method.  |
| PayPal checkout | $3.49 plus a fixed fee |
| QR transactions | $1.90 to $2.40 plus a fixed fee |
| Sending and receiving money for goods or services | 2.99% |
| Credit and debit card payments | 2.99% plus a fixed fee |
Keep in mind that all international transactions come with an additional fee. The fixed fee added to base rates in the chart above also varies depending on the currency you use as well as the total amount of the transaction. 
Final Take
PayPal Goods and Services is a great way to go about making payments to online merchants or accepting payments from online customers. As a buyer, you won't have to pay any fees, and the seller fees are reasonable. Moreover, as a leader in the online payments industry, PayPal offers a level of comfort and security that's unmatched by most of its competitors. So, if you plan on dipping your toe in the digital payment world, consider using PayPal as your go-to option.
FAQ
Here are the answers to some of the most frequently asked questions regarding PayPal Goods and Services.
Does PayPal Goods and Services protect the buyer?

PayPal Goods and Services does protect the buyer. In fact, if you receive a product or service that's vastly different from the description, PayPal will refund the sale price. PayPal will also refund your money if you don't receive the product or service at all.

Is it safe to pay with PayPal Goods and Services?

It is safe to pay with PayPal Goods and Services. PayPal has several security measures in place to protect buyers and sellers on the platform.

Where is the Goods and Services option on PayPal?

You can choose the "paying for an item or service" option in the PayPal platform to pay using PayPal Goods and Services. Doing so adds purchaser protection to your payment.
Data is accurate as of Aug. 25, 2023, and is subject to change.
Editorial Note: This content is not provided by any entity covered in this article. Any opinions, analyses, reviews, ratings or recommendations expressed in this article are those of the author alone and have not been reviewed, approved or otherwise endorsed by any entity named in this article.