Is It Safe To Do All of Your Banking Online? 4 Ways To Make It More Secure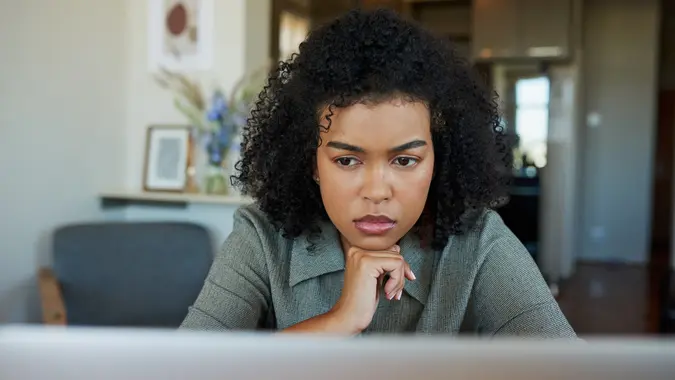 LaylaBird / iStock.com
In today's digital age, banking online has become the default choice for many. A recent report from MorningConsult found that 52% of Americans do most of their banking online. It's not surprising that the majority of us have taken to online banking — it's easy, convenient and mobile-friendly. But is it really safe? 
Find: GOBankingRates' Best Online and Neobank Savings Accounts 2023
Expert Advice: With Rates So High, Is a High-Yield Savings Account a Better Bet Than the Stock Market?
$2,000 Quarter? Check Your Pockets Before You Use This 2004 Coin
Online banking has gotten a lot safer in recent years, but it's not 100% out of harm's way, and there have been more than a couple serious security breaches at major security breaches at top financial institutions.
"I remember learning about the data breach at JPMorgan Chase in 2014 while I was still in school," said Barbara Donatien, manager of attest services at BARR Advisory. "Data associated with millions of accounts for individual households and small businesses was compromised. The cause of the attack was malicious computer code — in other words, malware that had found its way onto an employee's personal computer. The incident was discovered after a month, but the bank confirmed there was no breach of financial details or login information. Data that was breached, however, included personally identifiable information such as names, email addresses and phone numbers."
As a result of this security breach, JPMorgan Chase was able to spot a flaw in its information security environment and ultimately make it better. 
"This was a great reminder that there is a critical need for technology to evolve to remain a step ahead of cybercrime," Donatien said. 
Let's explore what makes online banking safe (or mostly safe) and then get into online banking red flags and what consumers can do to best protect themselves from risk. 
What Makes Online Banking (Mostly) Safe? 
"Digital banking, both online and via our mobile devices, is safe," said Sathish Muthukrishnan, chief information, data and digital officer at Ally. "While evaluating options, ensure that key security features are provided by the bank."
MFA and Other High-Tech Features
"The implementation of industry-standard security measures has made perhaps the largest impact," Donatien said. "This means using top-notch security practices backed by up-to-date technology. Some common security features include multi-factor authentication (MFA), automatic logout and even biometric authentication." 
Take Our Poll: What Are Your Financial Priorities in 2023?
Text and Email Alerts
"Text and email alerts for transactions help users quickly identify unauthorized activity," Donatien said. 
Cookies
"Cookies help to authenticate your device upon initial login so that when you log in again, the process is quicker and easier," Donatien said. "If any other devices are subsequently used to log in, then additional information would be required for authentication, and an alert is usually sent to the account holder. This can help users detect breaches and fraud."
Account Monitoring
"Account monitoring by the service provider has also been a great step," Donatien said. "Most online banks track your spending not only to provide you with summaries and statements but also to identify recurring charges or unusual activity. This helps to reduce the possibility of cybercrime."
Online Banking Red Flags 
There are a number of online banking red flags that users should be on the lookout for. 
Unusual Activity on Your Account
"If you notice that there have been unusual transactions on your account, it could be a sign that someone else has been accessing it without your knowledge," said Francis Fabrizi, an accountant at Keirstone Limited. 
Unexplained Withdrawals or Deposits
"If someone makes a withdrawal or deposit without telling you about it," Fabrizi said, "this could be an indication that someone else has opened a new account in your name or taken over access to one of your existing accounts without your knowledge." 
Suspicious Email
"You receive an email from someone claiming to be from the bank asking for personal information such as your credit card number or debit card PIN code in order to update your account information," Fabrizi said. "This is one of the most common ways scammers get access to your money."
Bank Seems Shady
"If a bank does not list its physical address or phone number on its website, it might be a scammer trying to get your information so they can steal your identity," Fabrizi said. "You must make sure you verify any information you find about the bank before giving out any personal details." 
How To Have a Safer Online Banking Experience 
Alas, there is no way to guarantee a 100% safe online banking experience, but there are steps you can take to best protect yourself out there in the wild, wild West that is the internet. 
"Ultimately, the end customer needs to take ownership," said John Pataky, chief banking officer at TIAA Bank. "There are lots of tools out there to monitor [accounts and keep them secure]."
Choose a Reputable Bank
"You should choose a bank that is well known and trusted," Fabrizi said. "There are many banks that offer online banking services; but, if you are not familiar with the company or have not heard of them before, it is best to steer clear."
Pick a Bank That Is Federally Backed
"Ensuring that the online bank is federally backed, a form of legal protection to protect against financial loss, can help users feel more secure while using online banking services," Donatien said. 
"With FDIC-insured digital banks, your deposits will have federally-backed insurance up to certain maximums," added Morgan Gray, SVP, head of Bask Bank and consumer strategy at Texas Capital Bank. "It's best to check with the individual bank to make sure you're covered."
Use a Complicated Password
"Make sure you choose a password that is unique and not easy for others to guess," Fabrizi said. "It should also be long and complex so that it can be difficult for hackers to crack."
Change Your Password Often
"It is good practice to change your password regularly and never use the same one twice," Fabrizi said. "This is because if someone has access to your account then they will still have access even after changing the password since they know what it was originally."
Jaime Catmull and Gabrielle Olya contributed to the reporting for this article.
More From GOBankingRates