What Are the Best Online Checking Accounts of 2022?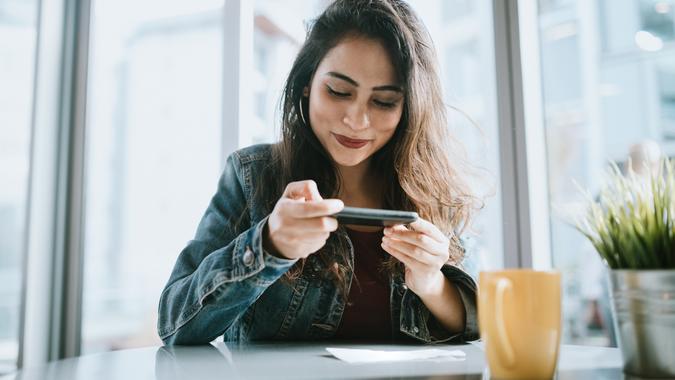 RyanJLane / Getty Images
The checking account may be the most common and most useful type of bank account. With a checking account, you — or your employer — deposit money into the account, then take it out as you need it. It used to be that you wrote checks for your monthly expenses, but now most expenses are debited directly from your checking account. In fact, many checking accounts no longer offer physical checks, because they just aren't used.
Online banks — and brick-and-mortar banks that feature online banking – have a wide variety of checking accounts, so you can choose the one that best fits your needs. They all offer a free debit card, mobile app — which includes mobile deposit, and funds transfer with Zelle, Popmoney or some other method.
Here are some of the best online checking accounts.
Best Interest-Bearing Checking Account: Ally Bank
Ally Bank offers one of the highest interest rates of any checking account. For balances up to $15,000, this account pays 0% APY, and for a minimum daily balance of $15,000 or more, you'll earn % APY.
Ally Bank charges no overdraft fees. It also offers two solutions if you do accidentally overdraw your account. If you have a linked savings account, Ally will move money from your savings account to your checking account in $100 increments to cover the overdraft. These transactions count as part of your six-transaction limit on savings account withdrawals. Ally will also cover up to $250 in overdrafts, giving you 14 calendar days to cover the overdraft before withdrawals are restricted.
Earn Perks With A New Checking Account
Best Cash Back Debit Card: Discover
Cash back is a term often associated with credit cards. Most credit cards give you points for each purchase you make, which you can then redeem for a credit to your statement.
Discover gives you cash back when you use your debit card, which you get with your checking account. When you use your debit card to make a purchase, either online or in a store, you get 1% cashback, on up to $3,000 in purchases each month. So, if you spend $3,000 on your debit card every month, you'll get $30 back, or a total of $360 a year. Cashback is earned on purchases only, so ATM withdrawals, loan payments, and payments to third-party providers like PayPal and Venmo don't count.
The Discover checking account has no maintenance fees, no overdraft fees and includes access to over 60,000 ATMs nationwide.
Best Youth Checking Account: Capital One MONEY Teen Checking Account
Capital One offers a joint account for teens and their parents. Each has their own login on the mobile app, letting teens manage their money while parents maintain visibility. Parents can link any account — even one at another bank — so they can transfer money as the teen needs it.
Earn Perks With A New Checking Account
Teens get a free debit card they can use at over 70,000 ATMs with no fees. There are no maintenance fees or minimum balances, and kids earn % APY on any balance.
Children as young as eight years old — along with a parent — can open a MONEY account.
Best Checking Account for College Students: Chase College Checking
Chase is not a 100% online bank, but their College Checking account has all the features college students expect: no monthly service fee, no minimum balance, free ATM transactions, a mobile app and free transfers.
College students aged 17-24 will pay no monthly maintenance fee until they graduate — up to five years. After that, the $6 monthly maintenance fee is waived if you have direct deposit or if you maintain a $5,000 average daily balance.
The Chase College Checking Account even helps college students apply for a maximize financial aid, with tools from withfrank.org, part of Chase.
Students can earn a bonus of $100 when they open a new Chase College Checking account and complete 10 transactions within 60 days. Transactions include online bill payments, debit card purchases, mobile deposit, Zelle transactions or ACH credits.
Earn Perks With A New Checking Account
Best Relationship Checking Account: Citizens Bank
Citizens Bank has brick-and-mortar branches but has also embraced online banking. The Citizens Quest Checking account is a relationship account, meaning it's intended for those who keep all — or most — of their accounts at the same bank.
With this account, Citizens won't charge you any ATM fees when you use another bank's ATM, although the other bank may charge you a fee. You'll also pay no fees for personal style checks, bank checks, money orders, stop payments, wire transfers and more.
You'll pay no fees on overdraft plans, and no overdraft fee on the first overdraft or NSF funds occurrence each year. And if your account is overdrawn, you have until 10:00 p.m. EST the following day to deposit the funds to cover the overdraft. If you do so, any overdraft fees will be reversed.
The Citizens Quest Checking account is subject to a $25 monthly maintenance fee, but it will be waived when you:
Make $5,000 in deposits in a month, or
Maintain a $25,000 in all your Citizens deposit and investment accounts.
The Citizens Quest Checking account pays % APY interest regardless of balance.
Rates are subject to change; unless otherwise noted, rates are updated periodically. All other information on promotions is accurate as of May 31, 2022. Additional requirements may apply. Offers and terms are subject to change.
GOBankingRates is a personal finance and consumer interest rate website owned by ConsumerTrack Inc., an online marketing company serving top-tier banks, credit unions and other financial services organizations. Some companies mentioned in this article might be clients of ConsumerTrack Inc., which serves more than 100 national, local and online financial institutions. Rankings and roundups are completely objective, and no institution, client or otherwise, paid for inclusion or specific placement. Any opinions, analyses, reviews or recommendations expressed in this article are those of the author alone and have not been reviewed, approved or otherwise endorsed by the companies included in the article. All fees and rates are subject to change at the issuers' discretion. Some interest rates might be short-term or promotional offers only, and it is possible additional terms and conditions must be met to obtain the interest rates listed. Rates and availability might vary by region. Verify terms and conditions before opening an account.
GOBankingRates bases its assessment of "best" and "top" products on the above-stated parameters to create a baseline for comparison. This assessment is an approximation of "best" and "top" designed to help consumers find products that might be appropriate for them. There could be other options available as well. Consumers should consider various options appropriate for their circumstances.