How To Fill Out a Money Order: A Step-by-Step Guide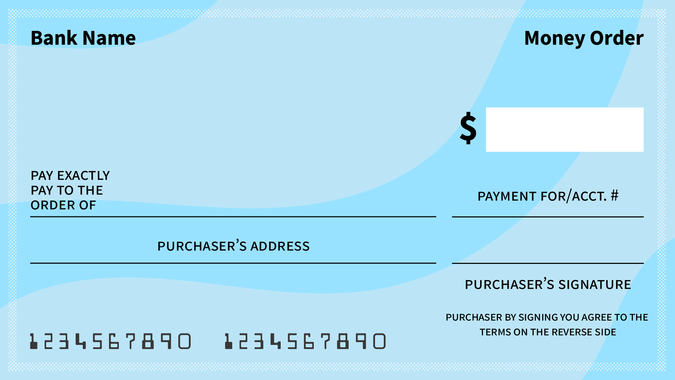 A money order is a safe alternative to checks and can be purchased with cash or a debit card. You might use money orders to make cash deposits when renting an apartment, to pay bills when you use a cash budget, to send money to family in other countries or to keep your banking information private. Here are the steps you need to know on how to fill out a money order.
How To Fill Out a Money Order
A filled-out money order looks similar to a completed check. Each money order will be a bit different, depending on where you purchase it. For example, filling out a money order from a bank will involve slightly different steps than completing one from the post office.
Here is a summary of steps for most money orders:
Steps to Fill Out a Money Order

Gather enough funds for the money order (plus fee), the recipient's contact information, and your account number if you're paying a bill.
Purchase the money order at a bank, credit union, post office or another provider.
Fill in the recipient's name and address.
Fill in your name and address.
Include a memo or your account number if needed.
Sign the front of the money order.
Detach the receipt before sending the money order.
Here's a closer look at the steps you'll need to take to fill out a money order.
1. Gather the Information and Funds You Need
To minimize the chances of a mistake, take a few moments to gather what you need to fill out a money order. You'll need to provide the following:
The funds for the money order amount and the fee
Your name and address
The recipient's name and address
Your account number (if you're paying a bill)
2. Purchase the Money Order
You can buy money orders at many locations, including:
Your bank or credit union
The post office
Western Union and MoneyGram locations
Convenience stores, grocery stores and pharmacies offering Western Union or MoneyGram services
3. Fill In the Recipient's Name and Address
Whether it's a company or another person, fill these details in as soon as possible. As long as it's left blank, if it's lost or stolen, the wrong person could fill in the recipient field and cash it.
4. Fill In Your Name and Address
This could be labeled as "purchaser," "from," "sender" or "remitter." This should be filled out in case the recipient requires more information about the money order.
If you have privacy concerns, some money order vendors only require your name. Ask the vendor and the recipient what they require.
5. Include Any Additional Information
When paying a bill, include the account number for the service. Some money orders have a memo section where you can include any relevant notes.
6. Sign the Front of the Money Order
If required, sign the front of the money order. The line will say "purchaser's signature" or something similar.
Don't sign the back of the money order; that's where the recipient signs when they cash the money order.
7. Keep the Receipt for Your Records
The receipt is a detachable section of your money order. Detach it before sending so you can know whether it's been cashed and for proof of payment.
What To Do If You Make a Mistake on a Money Order
It's important to be careful when filling out your money order because you can't make changes to it. If you make a mistake, you'll need to get a refund or replacement, depending on where you purchased it.
If you need additional help, ask the issuer for an example of how to fill out the money order.
Don't send the money order if you've made a mistake. You'll need to return it, so keep the filled-out money order and receipt. Contact the issuer to explain the situation and ask how to get a refund or replacement.
What Are the Benefits of Using a Money Order?
For some transactions, you may be required to use a money order or cashier's check. In other situations, it may be up to you, depending on the benefits and drawbacks.
If you want to maintain privacy, use a cash-based budget or send money abroad, it's often best to use a money order. Here are a few other benefits to consider.
Safety
As long as you fill out the recipient field promptly, a money order can only be cashed by the intended person or company.
Prepaid
Since money orders are prepaid, there's no lag between when you write one and when the funds are drawn from your account.
Replaceable
Money order issuers can replace a lost or stolen money order. Be sure to keep the receipt.
Proof of Payment
You can use your receipt to prove that you made a payment.
What Are the Disadvantages of Using a Money Order?
The biggest disadvantage of money orders is that, while rare, fraud can occur. If you're being asked to send someone a money order, double-check to make sure that the request is legitimate. You should also consider the following drawbacks when deciding whether to use a money order.
Improper Completion
If you don't fill it out immediately, or you write it for "Cash," anyone could use it. It's best to fill out your money order immediately.
Fees
While the fees are relatively small, if you're using a lot of money orders, they add up. It's cheaper to use a bank account and write checks or send electronic payments.
Limited Amounts
Money orders are typically limited to $1,000. You can make larger payments by purchasing multiple money orders, but you have to pay a fee for each money order.
How To Avoid Scams When Using a Money Order
According to the Federal Trade Commission, it's important to be on the lookout for fake check scams, many of which could also use money orders.
Good To Know

In one type of scam, you might receive a call out of the blue from someone claiming to be a family member who needs money right away for an emergency. There are also apartment rental scams, where scammers create fake listings and try to get you to send a deposit.
If you have any doubts, confirm the recipient's legitimacy. Look up the recipient's information online or contact family members to confirm whether the person having the emergency is a relative.
Alternatives to Using a Money Order
Money orders aren't always the best solution. They're not great for large purchases since they're limited to $1,000. The fees can add up, and there are easy, free alternatives if you're sending money to people you know.
If using a money order isn't the right option for you, consider these alternatives.
Cashier's Checks
You can buy a cashier's check at banks and credit unions for amounts above $1,000.
Zelle
Many banks use Zelle, which allows you to send money from your bank account to someone else's, often without a fee.
PayPal
You can deposit money from a bank account into your PayPal account and then use that to send money to individuals.

Venmo


A subsidiary of Paypal, Venmo has social features, such as a friends list, that make it easy to send money to people you know.
Your Bank's Bill Pay Service
Most banks offer bill payment services, which allow you to send payments electronically without a fee.
This article has been updated with additional reporting since its original publication.
Our in-house research team and on-site financial experts work together to create content that's accurate, impartial, and up to date. We fact-check every single statistic, quote and fact using trusted primary resources to make sure the information we provide is correct. You can learn more about GOBankingRates' processes and standards in our editorial policy.