How To Fill Out a Money Order: Step-by-Step Guide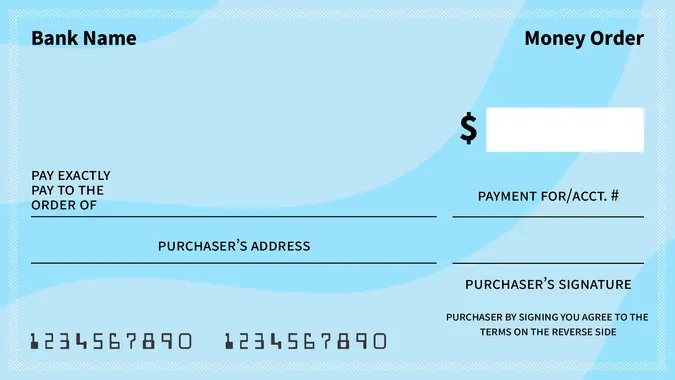 A money order is a safe and secure alternative to a check. You may need to know how to fill out a money order if you're planning to make cash deposits when renting an apartment, send money to family overseas or otherwise keep your banking information private during a purchase.
Filling out a money order is easy if you follow a few basic steps.
How To Fill Out a Money Order: Step-by-Step
Money orders vary slightly in appearance depending on where you purchase them, but most of them have the same basic sections. So, you can use the following steps if you need to know how to fill out a money order from Western Union, the post office or any other issuer.
1. Fill In the Recipient's Name
Fill in the recipient's name in the "pay to" section as soon as you get the money order. If it's left blank and then lost or stolen, the wrong person may fill their own name in the recipient field and cash it.
Some money orders also have a line for an address. But, what address do you put on a money order? It depends on the money order. Some money orders have a line for the address of the recipient or purchaser, whereas some have a line for both addresses. Just be sure to check which person the address corresponds to.
2. Write Your Name and Address
Fill in your name and, if there's a line for it, your address. The section for your information could be labeled "purchaser," "from," "sender" or "remitter."
Upgrade Your Checking Account
You may think this information is unnecessary. However, if you're paying a bill, you want to ensure the biller has enough information to credit the payment to your account or to contact you if there's a problem with the money order.
3. Include Any Additional Information
Besides your name and address, do you have to fill out anything else on a money order? Some money orders have a memo line like checks do. Use this to include a note or your account number if you're paying a bill. Once again, provide enough information to ensure that the biller has no questions regarding which account to credit.
4. Sign the Money Order
If required, sign the front of the money order. The line will say "purchaser's signature" or something similar.
Who signs the back of a money order? The recipient signs the back of the money order just as if cashing a check. You might sign the back of a money order only if you're making one out to yourself. In that case, check with your bank before depositing it via mobile deposit — not all banks allow it.
5. Keep the Receipt for Your Records
Detach the receipt from the money order, and keep it in a safe place in case you need to get a refund for it.
Suppose you fill out a money order incorrectly. If you alter it in any way to fix it, your recipient may not be able to cash it. But, if you have the receipt, you can get a replacement money order. You'll also need the receipt to replace a lost or stolen money order.
Upgrade Your Checking Account
If you don't have the money order receipt, you can request a refund from most issuers. However, receiving a refund can take as long as 60 days. If the money order is cashed during that time, you may have to show proof of fraud to get your money back.
What if Your Money Order Is Missing Information?

To protect against fraud, financial institutions or check-cashing places may not cash a money order missing essential information, like the recipient's name or the purchaser's signature. If you're paying a bill, the biller may not accept an incomplete money order either.

Complete all money order fields to prevent problems or delays.
Where To Buy a Money Order
You can buy money orders at many locations, including:
Your bank or credit union
The post office
Western Union and MoneyGram locations
Convenience stores, grocery stores, big-box stores and drug stores offering Western Union or MoneyGram services
What Is the Maximum Amount for a Money Order?
The maximum money order amount varies by issuer. For example, the biggest money order you can get at the post office is $1,000. However, some issues may have a lower cap.
Alternatives To Using a Money Order
Money orders aren't always the best solution. For example, they're not great for large purchases since they're limited to $1,000 or less. Also, the fees add up when you frequently use money orders.
If using a money order isn't the right option for you, consider these options for sending money:
Cashier's checks: They are available from your bank or credit union, sometimes for a fee.
Zelle: This is an app used by many banks that allows you to send money from your bank account to someone else's, often without a fee.
PayPal: This payment platform you can use to send money to family or friends.
Venmo: This app-based service has social features and makes it easy to send money to people you know.
Online bill pay: This free service is often available through the online banking platforms of banks or credit unions.
Upgrade Your Checking Account
Takeaway
Because of the many ways you can send money without using a checking account, you might not have much need for money orders. But, for those times you need to use one for payment, you'll want to know how to fill your money order out correctly to ensure the recipient can cash it. Always keep your receipt in case you need to request a replacement or refund.  
Daria Uhlig and Sean Dennison contributed to the reporting for this article.
Our in-house research team and on-site financial experts work together to create content that's accurate, impartial, and up to date. We fact-check every single statistic, quote and fact using trusted primary resources to make sure the information we provide is correct. You can learn more about GOBankingRates' processes and standards in our editorial policy.