Is PayPal Safe? What You Need To Know as a Buyer or Seller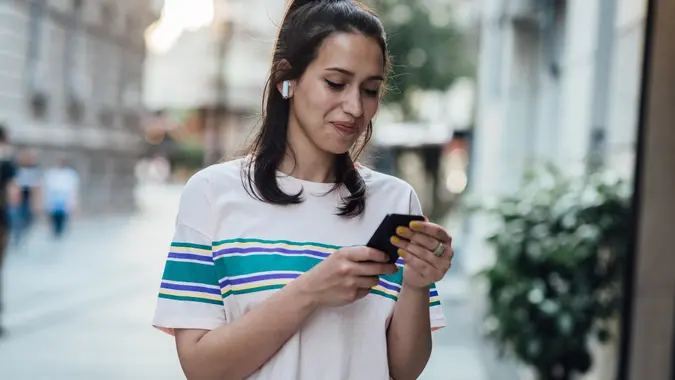 MixMedia / iStock.com
You should always exercise caution with storing or sharing any of your personal financial information, but PayPal is a secure and legitimate platform where you can be both the buyer and the seller. When transactions are now at the click of a button, sending and receiving money through PayPal is convenient but is it safe? 
Is PayPal Safe for Buyers?
PayPal, as a company and as a platform, practices high standards where both security and consumer protection are concerned. Considering this, it may be safer to give your credit card information to, and store your information on, PayPal rather than directly on the site where you are making a purchase. 
The PayPal website is encrypted and you will be privy to the same security measures as with any financial institution. 
PayPal's Purchase Protection
When participating in e-commerce it is important to know your information is secure and that your transactions are protected. PayPal's Purchase Protection offers buyers the following tools for security.
Your personal information is not shared with other sellers
Around-the-clock transaction monitoring
Fraud prevention
Secure technology
Dispute resolution
Global purchase protection
Is PayPal Safe for Sellers?
Processing customer payments is crucial for any merchant, but especially small businesses that rely on such platforms as PayPal in order to get paid for the services they provide or goods they sell. PayPal's Seller Protection Policy offers to protect your online sales, minimize the number of chargebacks and help prevent merchant fraud.
Seller Protection for Merchants 
It is just as imperative to be protected when purchasing online as it is to be protected when being purchased from online. A customer disputing a charge they didn't authorize is one thing, but the ease with which scammers can fraudulently dispute charges can be overwhelming. Here are other security measures you can expect when selling on PayPal.
Transactions have no exposed bank details and are protected by a login and password
Around-the-clock transaction monitoring
Secure technology
Merchant fraud protection
Dispute resolution
Tips for a Safer PayPal Experience
No app or payment platform comes without the risk of your information being stolen, hacked or duplicated. Even with all of PayPal's security features, no company is able to offer 100% protection all of the time. However, here are tips you can follow to keep your information even more secure while using PayPal.
PayPal Safety Tips for Buyers
The buyers beware adage can apply to any situation when you are purchasing something, but especially when shopping online. When you don't see the product in person before buying, it can lead to disappointment or other surprises. Luckily, there are ways to better ensure you will be satisfied with your purchase and you can follow these tips when buying.
Use a credit card: Using a credit card as your funding method instead of a debit card or direct bank transfer is preferred as a credit card does not have an available cash balance that someone could try and hack into. 
Security software: Update your security software regularly on both your computer and mobile device. It is generally a good idea to keep all software up to date, especially security software as that stores all your personal information.
Avoid public Wi-Fi: When making a financial transaction, try and use mobile data rather than public Wi-Fi. This reduces the risk of someone else being able to access or steal your data, especially when using your PayPal account.
Watch for scams: Phishing scams may feature messages that appear to come from PayPal but actually link to other impostor sites that steal your account information or identity, so exercise caution when clicking on links if you at all question the validity of an email address or text message.
PayPal Safety Tips for Sellers
As a seller, your product or service should speak for itself, but a commitment to customer service goes a long way. Here are some tips to keep PayPal as safe as possible when selling.
Customer service: Communicate with unhappy customers promptly and politely and see if you can fix the matter before disputes or chargebacks take place.
Verified addresses: By only shipping to verified addresses, you can cut down on delivery scams and other possible fraudulent transactions.
No in-person deliveries: The proof of delivery from such carriers as UPS or FedEx makes it easier for PayPal to back you in any disputes, it also keeps you from entering questionable and unfamiliar surroundings. It is a good idea to require a signature for expensive items so there is a second form of proof of delivery which is good for dispute or insurance purposes.
Final Take: Is PayPal Safe?
For all intents and purposes, PayPal is generally safe to use for both buyers and sellers. The same risks that apply to most financial transactions and institutions also apply when using PayPal, but the platform has high-security protections as well as being convenient to use. In many cases, keeping your credit card information in one secure location is better than sharing it individually every time you make a purchase.
FAQ
Here are the answers to some of the most frequently asked questions regarding PayPal safety.
What are the risks with PayPal?

As with any payment method, there is always a risk of a data breach or hacking where your credit card or bank account information could be compromised. However, PayPal is a reputable company and takes every precaution when it comes to security and safety features. PayPal also offers varying purchase protection options for both buyers and sellers.

Will PayPal cover me if I get scammed?

PayPal, for the most part, will cover you as a buyer in cases of fraudulent activities. Eligible online purchases are covered by Buyer Protection as well as any payments made through PayPal's website. To take advantage of Buyer Protection, make sure to file your dispute within 180 days of your purchase or payment.

Is it safe to connect PayPal to your bank account?

Though it is safe to connect PayPal to your bank account, it is recommended to connect a credit card to your PayPal account rather than use your debit card or direct bank account withdrawals.

Is it safer to use PayPal or a credit card?

Often it is safer to use PayPal on random sites rather than give your credit card information directly. PayPal offers secure technology that may not be offered at every website you make a purchase.
Editorial Note: This content is not provided by any entity covered in this article. Any opinions, analyses, reviews, ratings or recommendations expressed in this article are those of the author alone and have not been reviewed, approved or otherwise endorsed by any entity named in this article.