Venmo Limits: What You Need To Know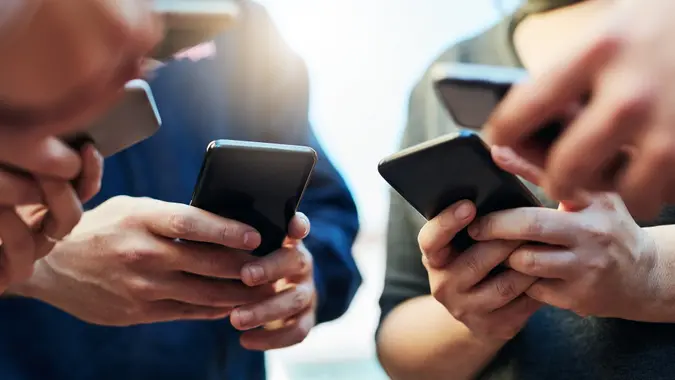 LumiNola / iStock.com
Venmo offers everything from an easy way to split the dinner bill to buying merchandise with a QR code, but every transaction comes with a limit.
For users with unverified accounts, the weekly limit for person-to-person transfers is $299.99. Upon verification, the limit increases, allowing transfers of up to $60,000 in some cases. For business accounts, unverified users can send $2,499.99 in person-to-person transfers, and verified users can send up to $25,000. The limits for purchases, bank transfers and crypto also vary. Keep reading to learn everything you need to know about Venmo limits.
Venmo Limits for Personal Accounts
When you sign up for a Venmo personal account, you can spend up to $299.99 a week before having to verify your identity with Venmo. Going through the authentication process usually takes a few minutes on the app and may allow you to send up to $60,000 per week, depending on other factors such as payment method. 
You can pay up to $7,000 for purchases by either using your QR code or using Venmo online or through another app. 
Venmo's weekly limits are calculated based on a rolling calendar. For example, if you send money to another user on Thursday at 2:30 p.m., the payment will clear your weekly limit the following Thursday at 2:31 p.m. 
Take a look at some of the Venmo limits for personal accounts below.
Person-to-Person Transfers
Maximum weekly sending limit: Up to $60,000
Maximum weekly purchasing limit: $7,000
Venmo Mastercard Debit Purchases
Maximum weekly expenditure: $7,000
Per transaction limit: $2,999.99
Cardholders have additional limits, including a $400 daily limit for ATM withdrawals and cash back. Account holders are also subject to a $3,000 daily purchase limit and no more than 30 transactions per day. Weekly limits reset on a rolling basis, while all other Venmo Mastercard Debit limits reset at midnight CST.
Bank Transfer Limits
Some Venmo users with verified bank accounts have two ways to add money straight to their wallets. 
Standard Add Money: Transfer takes three to five days, and the limit is $1,500 per rolling calendar week. There is no minimum transfer limit.
Instant Add Money: Available only to some Venmo debit card holders, Instant Add Money enables these customers to instantaneously transfer up to $500 a week from their verified bank accounts. While the money will appear immediately in the digital wallet, it may take three to five days to be debited from the customer's bank account.
If you are unable to add a verified bank account and you don't have a Venmo debit card, you can still make payments with Venmo by linking another payment method.
Account holders who do not verify their identity can also transfer funds from the Venmo app to their bank accounts, but those amounts are limited. Depending on Venmo security checks, customers can send up to $999.99 per week.
Opting into Venmo's identity verification system raises the Venmo-to-bank-account limit to $19,999.99 a week. However, the maximum allowable limit per transaction to a bank account is $5,000, and the minimum transfer limit for instant bank transfers is $0.26.
Good To Know

Venmo's Instant Transfer fees increased in May 2022. Personal accounts must now pay 1.75% of the transfer amount at a minimum of $0.25 and a maximum of $25.
Venmo Limits for Business Accounts
Business Venmo accounts have different limits than personal accounts. However, like personal accounts, Venmo sets limits on business accounts depending on whether or not you have verified your identity. 
Venmo's standards for verifying a registered business account are required by the USA PATRIOT Act. The verification process may include submitting information such as your business's address and EIN.
The limits for Venmo business accounts are as follows.
Person-to-Person Weekly Limit
Unverified: $2,499.99
Verified: $25,000
Standard and Instant Bank Transfer Weekly Limit
Unverified: $999.99
Verified: $49,999.99
You can use Instant Transfer to move up to $10,000 per transaction to a debit card and $50,000 per transaction to a bank account.
Venmo Limits on Crypto
Personal account holders in the U.S., excluding Hawaii, can buy, sell or hold bitcoin, ethereum, litecoin or bitcoin cash. However, you can't use your cryptocurrency to make purchases, send payments or transfer outside of Venmo. In addition, business account holders cannot engage in crypto transactions at all.
Venmo's weekly crypto-buying limits are generous at $20,000 a week, while the annual maximum is $50,000.
Final Take
While some users might be able to use Venmo with the lowest limits, you may want to increase your limits for larger purchases or transfers. In most cases, you can increase your personal or business spending limits by verifying your identity. 
FAQ
Here are the answers to some of the most frequently asked questions regarding Venmo limits.
Can you send $5,000 through Venmo?

Yes, you can send $5,000 through Venmo. If you have not verified your identity, your weekly sending limit is $299.99 for person-to-person transfers so it will take you a few weeks to send the full $5,000. If you are authenticated, your limit for sending money can be as high as $60,000 a week.

What is the Venmo daily limit to send money?

Venmo does not put daily limits on users, they have weekly limits instead. The weekly sending limit for an unverified user is $299.99 for person-to-person transactions and if you go through the authentication process, your limit can go up to $60,000.
The limit for transfers to your bank account is $5,000 per transaction.
Taylor DeJesus contributed to the reporting for this article.
Information is accurate as of Feb. 24, 2023. 
Editorial Note: This content is not provided by any entity covered in this article. Any opinions, analyses, reviews, ratings or recommendations expressed in this article are those of the author alone and have not been reviewed, approved or otherwise endorsed by any entity named in this article.
The article above was refined via automated technology and then fine-tuned and verified for accuracy by a member of our editorial team.