How Does Venmo Make Money?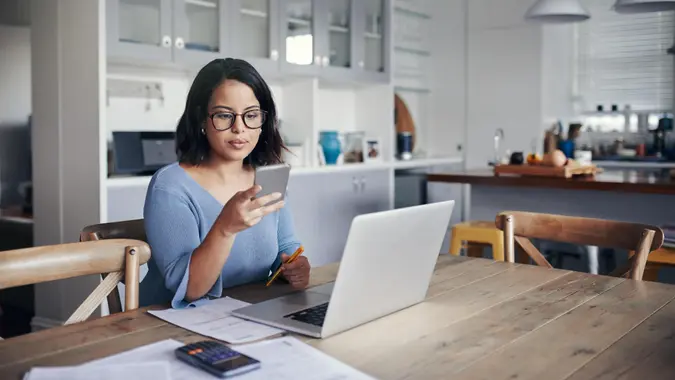 mapodile / Getty Images
In our increasingly online world, sending money through payment apps and other methods is more and more essential. Apps like Venmo enable those transactions with just a smartphone. However, you might wonder how Venmo makes money.
If its primary service is letting you send and receive money, how does Venmo make money? It's a fair question, and it's one we will answer here.
What Is Venmo?
Venmo is a mobile payment app that was founded in 2009 that enables both consumers and businesses in the United States to send and receive funds.
The company has been a subsidiary of PayPal since 2013. With 60 million users, Venmo is one of the most popular payment apps in the United States. Venmo makes money in several ways, but some of its main revenue sources are transaction fees, partnerships and selling transaction data.
Another unique feature of Venmo is that it works somewhat like a social media platform. Users can see transactions between their friends and other people and businesses whenever they open the app. Often, friends use Venmo to split bills at bars and restaurants. The app's social element lends itself well to this scenario and as a result, it's often the go-to between friends.
How Venmo Makes Money
Here's a closer look at each of Venmo's revenue sources and how they make money for the company.
Transaction Fees
Venmo users can usually avoid fees — there are no monthly or purchase fees. Venmo charges various fees you may pay in certain situations such as when sending money, adding money to your account, transferring money from your account or buying or selling cryptocurrency. There are some other fees you might encounter in some cases:
Out-of-network ATM withdrawals: $2.50
Instant transfers: 1.75%
Sending money via credit card: 3.00%
Cryptocurrency sales: Varies
Who Pays Fees for Venmo?
In most cases, Venmo users can use their services without fees. There's no fee to send money with a bank account. But you should be aware of the above cases where fees might apply, such as when you send money with a credit card.
Partnerships
One of the ways Venmo makes money is through its partnerships with other businesses. Venmo charges its partners a transaction fee of 2.29% + $0.09 as of Feb. 1, 2023. These partnerships allow Venmo users to pay within the app. This allows Venmo's partners to generate more business, and Venmo charges a fee in exchange.
Venmo also offers business profiles for its partners. This is a way for Venmo partners to increase their reach and find new customers. Business profiles allow businesses to create a custom profile for their company that users can see in their feeds. This allows businesses to create profiles that help them stand out.
Selling Transaction Data
According to reporting from USA Today, Venmo also makes money by selling transaction data to third parties. Typically, Venmo sells anonymized transaction data to companies like market research firms and advertisers. Those companies may use your data to understand spending patterns and develop targeted advertising campaigns. However, Venmo says it is committed to consumers' privacy and doesn't sell its users' personal information.
How Much Money Does Venmo Make?
Data from Statista estimates its transactions at over $63 billion for the fourth quarter of 2022. That increased from about $60 billion in the fourth quarter of 2021. While Venmo doesn't charge its 3% on transactions that use a bank account, it's likely doing so on a large amount of money. It's difficult to know exactly how much money Venmo makes, mostly because the company is not publicly traded. However, available data suggest that Venmo could generate millions of dollars annually.
What You Should Know About Venmo
Venmo is one of the most popular payment apps in the United States with 60 million users. Venmo has been owned by PayPal since 2013. While it has several revenue sources, some of the main ways Venmo makes money are through transaction fees, partnerships and selling transaction data.
Our in-house research team and on-site financial experts work together to create content that's accurate, impartial, and up to date. We fact-check every single statistic, quote and fact using trusted primary resources to make sure the information we provide is correct. You can learn more about GOBankingRates' processes and standards in our editorial policy.