Can I Use Apple Pay at an ATM?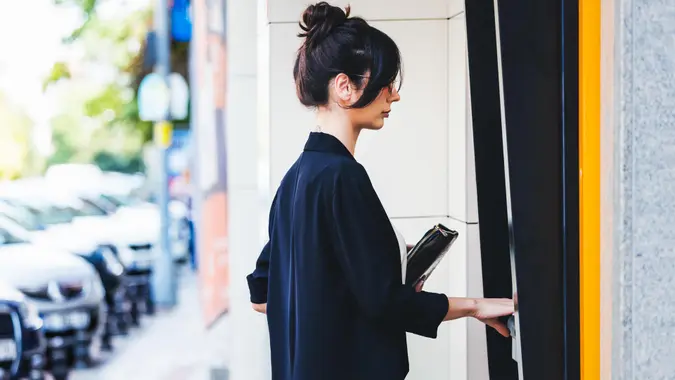 petekarici / Getty Images
At some ATMs, it is possible to withdraw cash by using Apple Pay. The key is to have a debit account attached to Apple Pay from a bank that supports Apple Pay transactions. It is best to use ATMs that are from the same bank as the Apple Pay-connected debit account for quick access. 
How Can You Withdraw Money With Apple Pay?
To withdraw money from an ATM, it has to be enabled as an Apple Pay ATM, which is still rare in most places. Hundreds of local banks have Apple Pay-friendly ATMs in the U.S., but many are regional or only have one or two branches. However, Apple Pay use at ATMs is on the rise, and more bank ATMs are added to the compatible list every day.
What Should You Know About Apple Pay?
While account holders will need a bit of preparation and prior knowledge of the banking system and Apple Pay system, it is possible to withdraw money using Apple Pay using these steps.  
1. Find the Right ATM
The first step to withdrawing money using Apple Pay is to find one that offers contactless withdrawals. This means that ATM users don't need a physical card to initiate and execute transactions. Contactless ATMs will display the symbol for contactless transactions prominently, which looks like a sideways Wi-Fi symbol with four lines. 
2. Choose the Appropriate Account
Although customers cannot withdraw funds directly from their Apple Cash virtual card, they can use other bank-supported cards within their Apple Pay wallet. For example, if the contactless ATM is from the primary bank issuing the customer's debit account, they can bring up their debit card on their phone through Apple Pay for contactless withdrawals. Customers must keep their finger on the home button while pressing their phone (with the Apple Pay page open to the desired card) against the contactless location on the ATM.
3. Withdrawal
This should bring up the prompts on the ATM screen to enter the PIN and the options for withdrawal amount. The rest is simple–complete the transaction and receive the cash. 
What Is Apple Pay?
Apple Pay is essentially a virtual wallet set up by Apple. It is meant to add security and safety to customers' transactions because they can add cards to their Apple Pay wallet as well as put cash from debit accounts directly into their Apple Cash account, which is built into the Apple Pay application.
Apple Cash within Apple Pay also acts as a way to send and receive cash directly between two users. Apple Pay includes Apple Cash, which is its own card, and whatever debit and credit cards users add to their accounts, which eliminates the need to carry around cards and cash on your person.
Which Banks Let You Use Apple Pay To Withdraw Money?
The most prominent banking chains in the United States that allow account holders to use Apple Pay to access their debit accounts are Wells Fargo, Chase and Bank of America. These banks can be found nationwide and so can Apple Pay users. So it makes sense that these national banking corporations would be some of the first to offer contactless ATM services, like cash withdrawals through Apple Pay.
Citi®, PNC, TD Bank N.A. and Capital One are some of the top banks in the country that link with Apple Pay. Those who bank with these companies and can find contactless ATMs can withdraw cash from these ATMs as well. Since these corporate giants can be found across the country, it makes sense to increase the presence of contactless ATM services, especially following the aftermath of the COVID-19 pandemic.
Final Thoughts 
If customers wish to withdraw cash using their Apple Pay virtual wallet bank with major banks in the U.S., they should face no issue finding contactless ATMs that support Apple Pay use. However, if customers are loyal to very small local bank branches, those ATMs may not support Apple Pay because the ATMs will likely not be equipped with contactless service, which is key.
If you're interested in the benefits of contactless cash withdrawals, you may want to consider opening a secondary account with a national provider at the forefront of Apple Pay adoption. 
FAQs
Chances are, you've had similar questions about using Apple Pay at an ATM, like many others. Here are answers to some of those frequently asked questions.
Can I use Apple Pay to withdraw money?

It is now possible for customers to use Apple Pay to withdraw money. However, not every customer can use this feature, as customers must have a debit account associated with a bank that has enabled Apple Pay withdrawal functionality on its debit cards. Customers who want to use this feature also need to find a local ATM that has the Apple Pay contactless reader enabled.

How do I find an Apple Pay ATM near me?

Although there are a few apps available through Apple's App Store that can help you locate a local ATM, many banking apps have an ATM locator within the app. The best way to find an Apple Pay ATM in the vicinity is to use your bank-supported ATMs with a compatible account with location functions enabled.

What are the benefits of using Apple Pay?

According to Apple, the benefits of using Apple Pay include added safety and security. With a facial recognition lock, fingerprint lock or even passcode, customers have an added level of security for their virtual cards that aren't present for physical credit or debit cards in a wallet, let alone actual cash. Convenience is also a factor since Apple Pay users can simply use Apple Pay on their Apple Watches -- this eliminates the need to carry a wallet or phone altogether.

What are the drawbacks of using Apple Pay?

Electronics like iPhones and Apple Watches still need to charge and have the internet to perform their normal functions. Good old-fashioned plastic and cash do not need a charger, data or a Wi-Fi connection to work properly. Also, customers who travel regularly may find it difficult to access Apple Pay-friendly ATMs in remote places.