Samsung Pay vs. Google Pay 2022: Which Is Best?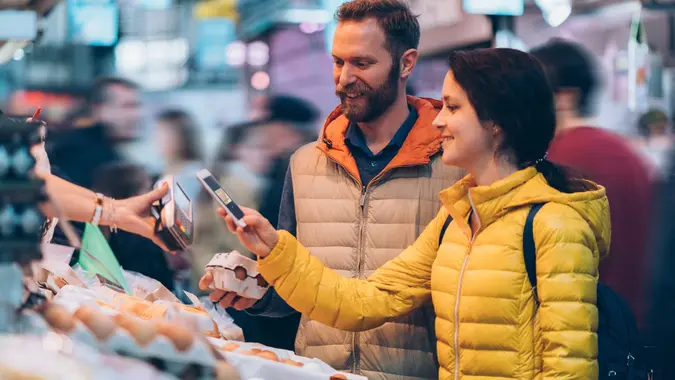 martin-dm / Getty Images
Contactless payments using your smartphone's digital wallet have become one of the world's most preferred payment methods. By selecting a button on your device or tapping your device at the point of purchase, you can buy any product or service.
But which one of these is the better choice: Samsung Pay or Google Pay? Both digital wallets are provided for Android phones and offer nearly the same features, making it a challenge to decide which one's best for you. Read on to find out how they compare and how they might benefit you.
Samsung Pay vs. Google Pay at a Glance
Before we dive in, here's a quick look at the most important features of Samsung Pay vs. Google Pay.
| Feature | Samsung Pay | Google Pay |
| --- | --- | --- |
| Compatibility | Samsung devices only | Android and Apple devices |
| Technology | NFC and MST | NFC |
| Payment Types Accepted | Bank account, credit, debit, PayPal | Bank account, credit, debit, PayPal |
| Security | Tokenization | Multiple layers of industry-leading encryption |
Samsung Pay
The latest Samsung smartphones have Samsung Pay installed as a default app. Near-field communication transactions are gradually replacing an earlier technology, Magnetic Secure Transmission, which facilitates wallet payments to merchants that don't yet have NFC capabilities. As part of its phaseout process, Samsung discontinued MST support beginning with the S21 Samsung series phones, PaymentsJournal reported.
The simple swipe-up gesture of NFC payments makes Samsung Pay a popular platform for millions of users. It's effortless to switch cards on Samsung Pay as well. This means you can make instant secure payments from your home screen or lock screen.
What Samsung Pay Offers
You make purchases through Samsung Pay using debit and credit cards you link to your digital wallet. The wallet is also compatible with PayPal. A virtual card option lets you transfer funds or, when you link it to your bank account, make virtual prepaid card transactions.
Additionally, Samsung Pay supports membership, loyalty and gift cards, which you can add by taking a picture of the bar code. You're also entitled to special deals, promos and discounts, and you can earn cash back when you link eligible cards to your wallet. The wallet can also store a digital version of your COVID-19 vaccination record.
What's more, you have the option to customize your Samsung Pay account notifications setting to filter out spammy promos and deals. The high number of pop-up messages is perhaps one of the shortcomings of the Samsung payment platform.
Samsung Pay also has no limit to the amounts you can transact — you can transact as little or as much as you wish. However, vendors can set their own limits on the amounts you can use while making transactions.
The major drawback of Samsung Pay is that it's compatible with select Samsung phones and watches only. However, with Android 6.0 or higher, you can use Samsung Pay on your smartwatch with a non-Samsung Android phone.
Samsung Pay can be used anywhere outside the U.S. where your payment method is accepted. Support for the Galaxy Watch Active is available in 15 countries, according to Samsung's website.
Samsung Pay's Security
Samsung Pay has several security features, including tokenization, to keep your personal information safe — even Samsung doesn't know your payment information. In addition, the app employs Samsung Knox, which monitors your phone and protects it from malware attacks and other security threats.
In the event you lose your phone, the Find My Mobile feature can remotely lock Samsung Pay or remove it from your phone. Samsung Pay also allows you to authenticate transactions by using its fingerprint scanner or iris scanner features.
Pros
Has both NFC and, for older devices, MST technology
PayPal is available for in-store purchases
Compatible with smartwatches
Cons
Available only for Samsung devices
Google Pay
Google Pay, formerly Android Pay, is an app by Google designed specifically for mobile payment services. You can use it to pay for purchases, receive payments, split bills, fill out Google Chrome forms automatically and even send money to family members and friends.
Like Samsung Pay, this mobile wallet lets you store your credit and debit cards as well as loyalty and membership cards. You can make in-store purchases by connecting your PayPal account to Google Pay. The app is compatible with Android phones and iPhones that run iOS 12.0 or later, as well as select smartwatches.
What Google Pay Offers
The Google Pay wallet has an excellent user interface that makes it easy for users to see all their bonuses, deposits and gift vouchers. Google's decision to allow Google Pay to store transportation passes for travel in the U.S. and Europe has popularized this platform more than ever.
This digital wallet lets you make payments in well over 40 countries across the world with Android devices, but it's available only in the U.S. and India for iPhone and iPad. Other features are available in a more limited number of countries.
Google Pay has limits for the amounts you can deposit, send, receive and transfer. If you haven't verified your identity, your limits might be lower.
Google Pay's Security
The most important feature of Google Pay is its security. You can rest assured of secure transactions since Google Pay uses NFC technology, renowned for its high security. Your data gets erased almost as soon as you've made your payments. That way, you don't have to worry about your NFC wallet getting hacked.
Other security features include fingerprint scanning and facial recognition. These security features make it almost impossible for hackers and other third parties from gaining access to your private financial data.
Pros
Available for both Android and iOS users
Connect mobile wallet account to PayPal
Pay family members and friends
Cons
What's the Difference Between Google Pay and Samsung Pay?
Samsung Pay is only available on Samsung devices, while Google Pay is compatible with Android phones and iPhones that run iOS 12.0 or later, as well as select smartwatches.
However, Samsung Pay can use either NFC or MST digital technology to make transactions, while Google Pay only is compatible with NFC. Approximately 90% of merchants accept MST, so that puts Google Pay users at a disadvantage.
Samsung Pay vs. Google Pay: Similarities
Despite their differences, Samsung Pay and Google Pay have several similarities. For instance, the platforms are both available for Android users. Provided your Android device is NFC enabled, you can make contactless payments.
Another similarity is the wonderfully designed wallet for both Google Pay and Samsung Pay. Both mobile payment apps have easy-to-use wallets that give you open access to information like your verified credit and debit cards, boarding cards and loyalty cards.
Also, Samsung Pay and Google Pay have made it possible for users to easily send money to their families and friends, as long as they have a verified account.
Finally, both payment platforms are readily accepted both online and off.
Which Is Better To Use: Samsung Pay or Google Pay?
It entirely depends on you when it comes to deciding which is the best mobile payment app. If you don't have a Samsung phone, Google Pay is the obvious choice, and a good one considering its comprehensive features. Google Pay can be a great alternative since it works with all Android devices, including Samsung phones, and select iPhones.
Although Samsung Pay has an edge over Google Pay due to its MST technology — at least where merchant compatibility is concerned — MST matters less as more merchants adopt NFC technology. Also in Samsung's favor is that you can use Samsung Pay anywhere in the world your payment method is accepted.
Takeaway

The best mobile payment app for you depends on your needs, and at the end of the day, the choice is yours. If you use Samsung and make large or very frequent transactions, Samsung Pay is probably the way to go. Otherwise, Google Pay is a great choice for Android and iOS users who want an app to pay family members and friends.
FAQ
Here are the answers to some of the most frequently asked questions regarding Samsung Pay vs. Google Pay.
Which is safer — Google Pay or Samsung Pay?

Both Google Pay and Samsung Pay employ forms of high-level data security, so neither one is potentially safer than the other.

Is it a good idea to use Samsung Pay?

As long as you have a compatible Samsung device, it can be a good idea to use Samsung Pay due to its convenience. You can link Samsung Pay to debit and credit cards; your PayPal account; and membership, loyalty and gift cards.
Cynthia Measom and Daria Uhlig contributed to the reporting for this article.
Our in-house research team and on-site financial experts work together to create content that's accurate, impartial, and up to date. We fact-check every single statistic, quote and fact using trusted primary resources to make sure the information we provide is correct. You can learn more about GOBankingRates' processes and standards in our editorial policy.