Samsung Pay vs Google Pay: Which Is Best in 2021?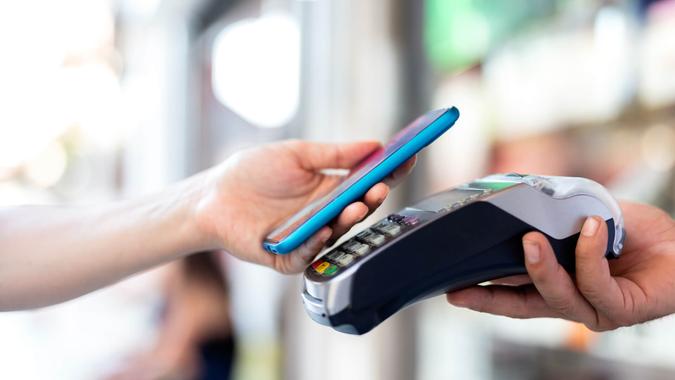 gece33 / Getty Images/iStockphoto
Near field communication, or NFC, technology is what lets you make contactless payments at the store using your smartphone, and it's become one of the world's most preferred payment methods. With just a click of a button, you can buy any product or service. Nowadays, several digital wallets systems use NFC technology, including Samsung Pay and Google Pay.
But which one of these is the better choice: Samsung Pay or Google Pay? Both of these digital wallets are provided for Android phones and offer nearly the same features, making it a challenge to decide which one's best for you.
Picking the right mobile payment app can be a daunting task. Read on to learn more about Samsung Pay and Google Pay, what they have in common, and how they might benefit you.
Samsung Pay
All the latest Samsung smartphones have Samsung Pay installed as a default app. NFC transactions are possible thanks to the Magnetic Secure Transmission technology, which transmits magnetic stripe data from your card to non-NFC terminals. In the U.S., though, Samsung has discontinued MST support for the S21 Samsung series phones.
The simple swipe-up gesture payments make Samsung Pay a popular platform for millions of users. It's effortless to switch cards on Samsung Pay as well. This means you can make instant secure payments from your home screen or lock screens.
What Samsung Pay Offers
Additionally, Samsung Pay supports membership, rewards, loyalty and gift cards. You can make in-store purchases by connecting your PayPal account to Samsung Pay. You're also entitled to endless special deals, promos and discounts.
What's more, you have the option to customize your Samsung Pay account notifications setting to filter out spammy promos and deals. The high number of pop-up messages is perhaps one of the shortcomings of the Samsung payment platform.
Samsung Pay also has no limit to the amounts you can transact — you can transact as little or as much as you wish. However, vendors can set their own limits on the amounts you can use while making transactions.
The major drawback of Samsung Pay is that you need a Samsung phone to use this mobile wallet, meaning non-Samsung users can't use it.
Pros
Has both NFC and MST technology
PayPay is available for in-store purchases
Compatible with smartwatches
Cons
Available only for Samsung devices
Google Pay
Google Pay, formerly Android Pay, is an app by Google designed specifically for mobile payment services. You can use it to pay for purchases, receive payments and even reimburse family members and friends.
Like Samsung Pay, this mobile wallet lets you store your credit and debit cards. You can also make in-store purchases by connecting your PayPal account to Google Pay. The app is also compatible with iPhones that run on iOS 9 or later and select smartwatches.
What Google Pay Offers
Google Pay wallet has an excellent user interface that makes it easy for the users to see all their bonuses, deposits, and gift vouchers. Google's decision to allow Google Pay payments for transportation services in the U.S. and Europe has popularized this platform more than ever.
This digital wallet also gives you more convenience, especially if you're a frequent traveler. Google Pay works in well over 40 countries across the world. Samsung Pay, by comparison, is only available in 23 countries.
The most important feature of Google Pay is its security. You can rest assured of secure transactions since Google uses NFC technology, renowned for its high security. Your data gets erased almost as soon as you've made your payments. That way, you don't have to worry about your NFC wallet getting hacked and losing all your hard-earned money.
Google Play's Security

Google Play has robust security features, including fingerprint scanning and facial recognition for enhanced security. These security features make it almost impossible for hackers and other third parties from gaining access to your private financial data.
Google Pay has limits for the amounts you can transact: sending, receiving, and transferring funds. If you haven't verified your identity, your weekly spending limit might be lower.
Pros
Available for both Android and iOS users
Connect mobile wallet account to PayPal
Pay family members and friends
Cons
In-store purchases aren't available for Apple users
Samsung Pay vs. Google Pay: Similarities
Despite their differences, Samsung Pay and Google Pay have several similarities. For instance, the platforms are available for both Android users. Provided your Android device is NFC enabled, you can make contactless payments.
Another similarity is the wonderfully designed wallet for both Google Pay and Samsung Pay. Both mobile payment apps have easy-to-use wallets that give you open access to information like your verified credit and debit cards, boarding cards and loyalty cards.
Also, Samsung Pay and Google Pay have made it possible for users to easily send money to their families and friends, as long as they have a verified NFC account.
Finally, both payment platforms are readily accepted by many of the essential online stores.
Which Should You Choose?
It entirely depends on you when it comes to deciding which is the best mobile payment app. If you don't have a Samsung Phone, Samsung Pay should be the reason to purchase one. Google Pay can be a great alternative since it works with all Android devices, including Samsung phones and select iPhones.
Although Samsung Pay has the edge over Google Pay due to its MST technology, Samsung recently dropped the tech in its latest phones. Again, Samsung Pay is far more limiting when it comes to global availability, accepted in less than 25 countries.
The best alternative to Samsung Pay is the secure and far-reaching Google Pay app. It has a larger pool of contributing developers, and users always receive regular updates and improvements. On top of that, Google Pay is much more secure than its proponent, Samsung Pay. Plus, it's widely accepted in around 40 countries worldwide.
Takeaway

The best mobile payment app for you depends on your needs, and at the end of the day, the choice is yours. If you use Samsung and travel often, Samsung Pay is probably the way to go. Otherwise, Google Pay is a great choice for Android and iOS users who want an app to pay family members and friends.