Wire Transfer Fees: How Much Do Banks Charge?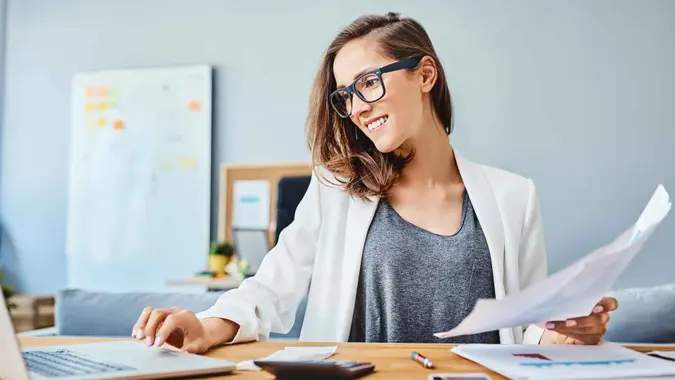 BartekSzewczyk / Getty Images/iStockphoto
When you need to send large sums of money overseas or across the country, a wire transfer is a secure, fast payment method. It's quicker than sending a check or money order and safer than mailing cash — but it will cost you in most cases.
See: How To Guard Your Wealth From a Potential Banking Crisis With Gold
Most banks and wire transfer agencies charge a fee for wire transfers, especially if you visit an office in person to initiate or complete the transaction. These fees generate revenue for the bank and help defray some of the costs associated with processing wired funds, such as exchanging foreign currency. Like with most bank fees, the actual amount you pay depends on several factors. Here's what to expect.
How Much Does a Wire Transfer Cost?
Federal law does not specify how much banks can charge for wire transfers, but it does require banks to make sure customers are aware of what they charge. You can find these fees listed in account disclosure documents and on the bank's website. Since each financial institution sets the rate for the service, you'll find some variation between fees at different banks. Typically, wire transfer fees range from $0 to $50, as you can see in the list below.
Ally: $20 for all customers
Bank of America, Member FDIC: $0 to $45, with a $1,000 cap per transaction for consumer customers
Capital One: $0 to $30
Chase: $0 to $35 for domestic wire transfers; $0 to $50 for international wire transfers
Citi®: $0 to $35, depending on the customer's account tier
Navy Federal Credit Union: $14 to $25
U.S. Bank: $20 to $30 for domestic wire transfers; $25 to $50 for international wire transfers
Upgrade Your Checking Account
Some banks waive wire transfer fees if the transaction requires less work on their side, such as when you don't need to visit a banking center or convert the currency. For example, Chase charges customers nothing when they use the Chase website or mobile app for domestic wire transfers. International wire transfers that are sent in foreign currency greater than $5,000 (USD) are also free. This doesn't mean all online wire transfers are free. Ally is a fully online bank that charges $20 for outgoing wire transfers.
In some cases, the cost of a wire transfer can exceed the bank's wire transfer fee. For example, using a credit card as a funding source for a wire transfer can cost you more over time. Many credit card companies classify this transaction as a cash advance, which means you'll pay an additional fee or higher interest rate on the purchase. This can quickly add up if you don't pay off the statement balance at the end of the billing cycle.
How Much Does It Cost To Receive Wired Funds?
Some banks charge as much as $35 when customers receive wired funds. The fee helps cover the bank's costs, as it has to accept the funds, apply them to the appropriate account, and convert the currency in some cases. Here's how this fee compares at different banks:
Ally: $0
Bank of America: $0
Capital One: $15 for select accounts
Chase: $15 for wire transfers initiated at a branch instead of through the mobile app
Citi: $15 for select accounts
Navy Federal Credit Union: $0
U.S. Bank: $20 to $25
International vs. Domestic Wire Transfers
The location of the bank you're wiring funds to can affect the fee you'll pay for the transaction. In a domestic wire transfer, the money moves between two bank accounts located in the United States, and these transactions are usually simpler for the banks. If one of the bank accounts is located in another country, the transfer is an international wire transfer. Domestic wire transfers tend to cost less than international wire transfers because foreign banks typically use different processing systems.
Upgrade Your Checking Account
Who Pays for Wire Transfer Fees?
When you send a wire transfer, the bank typically charges you the fee at the same time it collects the money for the transaction. Your bank may withdraw money from your account to cover the fee when you send money, or it can deduct the fee from money received before depositing it in your account. If you use a wire transfer company to send money, the company will likely add the fee to the transaction amount and collect it before initiating the transaction.
How Can I Avoid Wire Transfer Fees?
To avoid paying wire transfer fees, you have to send or receive funds through a financial institution that doesn't charge a fee for the service. Bank of America only charges consumer customers for same-day wire transfers. Some banks, like Chase, waive these fees when you use the website or app instead of seeking the assistance of a bank employee.
Some banks offer free wire transfers as a perk for select customers. Citi waives this fee for clients who have the following accounts: Citigold® Private Client, Citigold® International, Citi Alliance, Citigold®, and Citi Global Executive. Before opening an account, though, note the terms like minimum balance requirements and maintenance fees. The cost of keeping up the account may be greater than what you save with the waived fees, lowering the account's appeal.
If you can't avoid wire transfer fees, you may be able to lower the cost by sending and receiving money in local currency, as the bank or agency may reduce or waive the fee if it doesn't have to convert the money. Similarly, you can reduce your costs by avoiding same-day and expedited transfers that tend to cost more.
Upgrade Your Checking Account
Final Take
The answer to the question, "Will my bank charge me for a wire transfer?" is "maybe." Fees are fairly common for this service, but some banks do waive the charges for some customers. If you regularly wire money to others, it may be worth opening an account at one of these banks. On the other hand, if you wire funds only for big purchases like buying property, you may find it more convenient to pay the fee when you use the service.
Information is accurate as of June 9, 2023.
Our in-house research team and on-site financial experts work together to create content that's accurate, impartial, and up to date. We fact-check every single statistic, quote and fact using trusted primary resources to make sure the information we provide is correct. You can learn more about GOBankingRates' processes and standards in our editorial policy.