5 Best PayPal Alternatives for 2023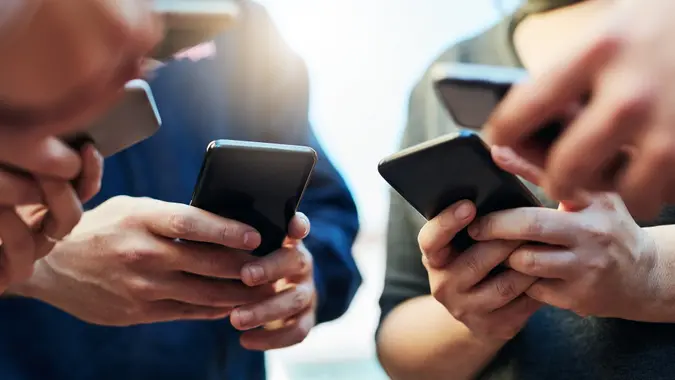 LumiNola / iStock.com
PayPal is an online payments juggernaut. One of PayPal's advantages is that it offers services to consumers and merchants. Many competitors only offer one or the other, but not both. When considering what money transfer service to use, it helps to compare a few companies. Keep reading to learn about the best PayPal alternatives for 2023.
PayPal Alternatives for Person-to-Person Transfers
PayPal gives customers the option to send money to each other, using only email addresses or phone numbers. A few PayPal alternatives offer the same functionality. Here's how they compare:
Venmo
Venmo offers a different and unique way to send money. It serves as a more social version of PayPal's more formal platform. Its interface includes an activity feed where users can share their transactions with friends.
Venmo is primarily a peer-to-peer payment platform, making it easy to split bills, share costs or send money to friends. While PayPal also allows for money transfers between individuals, it doesn't have the same social aspects that Venmo does. Venmo is currently only available to users in the United States, which restricts its user base.
Zelle
Zelle is another platform that offers peer-to-peer payment services. It's similar to Venmo but has a distinct advantage — it allows for instant transfers between bank accounts at participating banks. This sets it apart from both PayPal and Venmo, where transfers to a bank account may take longer.
Users can often find Zelle already integrated into their bank's mobile app. Unlike PayPal or Venmo, Zelle doesn't hold transferred funds in an intermediary account; the money goes directly from one bank account to another.
However, Zelle's focus on direct bank transfers means it lacks the breadth of features PayPal offers. It doesn't support payments to online retailers or provide a platform for businesses to accept payments. Also, Zelle is available only to U.S. users, which limits its global reach.
Google Pay
Google Pay is Google's answer to the online payment solution market, and it comes with the backing of one of the tech industry's biggest players. It offers a wide range of features, including:
Send and receive money using emails and phone numbers
Make payments online
Pay in-store through contactless payments
Google Pay stands out for its deep integration with other Google services. Users can send money to Gmail users, store tickets and boarding passes in Google Wallet and use the service for in-app purchases on the Google Play Store.
Google Pay's acceptance isn't as universal as PayPal's, especially when it comes to online retailers. While it's widely accepted in physical stores that use contactless payment technology, it might not be accepted by some online businesses.
PayPal Alternatives for Merchants
PayPal offers a merchant service to businesses, allowing them to collect payments. PayPal users can pay on a business website in one click. They can also enter their credit card information in PayPal's secure payment gateway to pay. This service allows businesses to collect money for goods and services easily. It also gives customers confidence that their payment information is encrypted and safe. Here are two PayPal alternatives for merchants:
Stripe
Stripe is a robust online payment processing platform. It stands out due to its customizable suite of features, allowing businesses to tailor the platform to their specific requirements. Stripe's API also enables seamless integration with various platforms. 
Stripe's pricing structure includes a fee per transaction. This might be less cost-effective for businesses with larger transaction volumes.
While Stripe offers basic prebuilt integrations, the long list of extensive extra features may feel overwhelming for some. Its level of customization, while a boon for tech-savvy users, could pose a challenge for novices. 
Square
Square is another notable PayPal competitor popular among businesses. Like PayPal, Square can provide businesses with physical point-of-sale systems and card readers. This enables them to accept in-person payments as well as online transactions.
Square offers a free online store and integrates with various e-commerce platforms — this makes it a versatile choice for businesses operating both in person and online. On the flip side, Square's per-transaction fees can be high for businesses with a larger volume of transactions. 
Final Take
While PayPal remains a dominant player in the online payments industry, alternatives offer unique advantages that cater to specific user needs. Whether you're a large business, a small retailer or an individual sending money to friends, there's a PayPal alternative out there for you. It's all about understanding your needs and choosing the platform that meets them best.
FAQ
Here are the answers to some of the most frequently asked questions regarding PayPal alternatives.
What is a better alternative to PayPal?

Determining a "better" alternative to PayPal depends heavily on your needs. For online businesses requiring a more tailored solution, Stripe might be a better option. Venmo and Zelle, on the other hand, provide a good alternative for peer-to-peer payment services.

What is the most popular alternative to PayPal?

Venmo is one of the most popular alternatives to PayPal. Its user-friendly interface and social media integration have made it popular for peer-to-peer payments between friends and family.

Who competes against PayPal?

Many platforms compete against PayPal in the online payments market. Key competitors include:

Stripe and Square for business solutions
Venmo and Zelle for peer-to-peer transactions
Google Pay as an all-around payment solution

Which is better, PayPal or Venmo?

PayPal and Venmo cater to different needs. PayPal is an excellent choice for online businesses, offering a wide range of tools to facilitate e-commerce. Venmo is more oriented toward individual users, offering simple peer-to-peer payments.
If you primarily need to pay friends or split expenses, Venmo might be the better choice. If you require a platform to handle online sales or want to transfer money internationally, PayPal would be the better option.