PayPal vs. Stripe: Which Payment Platform Is Better?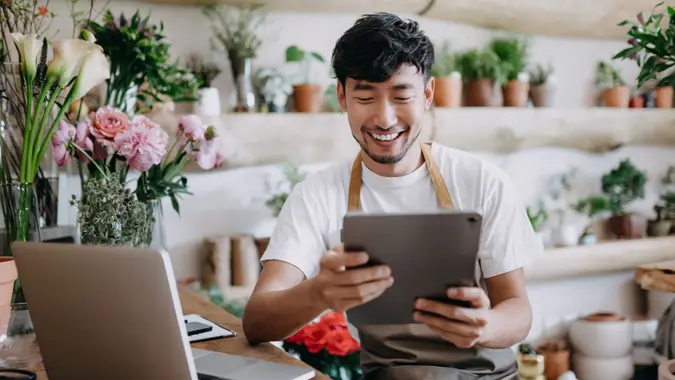 AsiaVision / iStock.com
Payment service providers enable business owners to safely accept and process noncash payments online and in-store, which is essential for operating a business in our digital world. Two popular choices are PayPal and Stripe. How do these service providers compare, and which might better suit your small online business needs and budget? Read on for a comparison of PayPal vs. Stripe based on some of the frequently asked questions about these two payment platforms.
See: What To Do If You Owe Back Taxes to the IRS
PayPal vs. Stripe: How Their Features Compare
PayPal and Stripe are each packed with a lot of features. The following table highlights some you may want to consider and compare when selecting a payment platform.
Feature
PayPal
Stripe
Types of payment processing
Online and in person, including on the go
Online and in person
Accepted payment types
Major credit and debit cards, PayPal, Venmo, Apple Pay, Google Pay and more
Major credit cards, Google Pay, Apple Pay, Klarna, ACH payments and more
Per-transaction processing fees for online payments
2.59% to 3.49% plus 49 cents
2.90% plus 30 cents
Time to receive payouts
One to three business days or instant payout to an eligible bank account or debit card for a fee
Two to seven business days or instant payout for a fee
Customer support

Live chat
Phone support
Resolution center
Community forum

Live chat
Phone support
Email support
Knowledge base
PayPal Overview
PayPal has proven it's a dependable payment platform for retailers and business owners. Considering PayPal has been in business for over 20 years and boasts more than 400 million customers worldwide, the PayPal logo is almost as recognizable to online shoppers as the Visa and Mastercard logos. 
Make Your Money Work Better for You
Some of PayPal's features notable to small business owners include:
Integration with a wide range of third-party e-commerce, marketing, accounting and operations software solutions
Customized invoicing
Fraud prevention tools
Discounted shipping rates
A robust suite of reporting tools
Stripe Overview
Stripe might not be the household name that PayPal is, but more than $1 billion is processed on Stripe annually. Stripe has many of the same features as PayPal but may allow for more customization if your business requires it.
Stripe boasts 100-plus features, many of which you probably won't need for a small business. Some you might use include:
Integration of online payment processing with your existing e-commerce solution or website
All the built-in tools you need to customize Stripe to meet your business needs
24/7 technical support and detailed developer documentation
Fraud protection tools
Customizable reporting and analytics
Tools for managing billing and invoicing
PayPal Payments Standard vs. Stripe Checkout
PayPal and Stripe each offer two payment products. If your payment processing needs require a lot of customization, you'll want to compare PayPal Payments Pro and Stripe Connect. However, if your small business needs a simple, easy-to-implement solution, here is a quick overview of PayPal Payments Standard and Stripe Checkout. Either option will let you process payments reasonably quickly.
PayPal Payments Standard
The PayPal Payments Standard solution only requires you to copy and paste code or install a plug-in to place payment buttons on an existing online shopping cart page. Even though this solution may seem basic, it comes with several easy-to-enable options, including invoicing, inventory tracking and data integration with some accounting software.
Make Your Money Work Better for You
Stripe Checkout
Checkout is Stripe's simple payment solution. It allows you to create a single payment page that works on mobile, tablet and desktop and with Apple Pay, Google Pay and Link. You have a few customization options that allow you to match the page's background color, font and buttons to your storefront or website. With your checkout page, you can charge sales tax, apply discount codes, email customer receipts and more.
Is PayPal or Stripe Cheaper?
Stripe is probably cheaper than PayPal for most small online business owners. Both platforms charge a percentage-based fee and a small fixed fee per transaction.
With PayPal, you'll pay a fixed fee of 49 cents plus the following per transaction, depending on the transaction type:
PayPal online card payment services: 2.59%
Standard credit card and debit card payments: 2.99%
PayPal and Venmo payments: 3.49%
Some PayPal plans also come with a monthly fee.
Stripe has simpler pricing. It has no monthly fee, and all card processing fees are 2.90% plus 30 cents per payment. Compared to PayPal, Stripe may be a more affordable option for your payment processing needs unless you can get by with PayPal's online card payment services. Keep in mind that Stripe and PayPal each have an extensive list of fees that may apply to your business, which you should research thoroughly before choosing a payment platform.
Is Stripe as Safe as PayPal?
Stripe is as safe as PayPal based on each platform's list of security features designed to protect your customers' data and your business data. Both platforms are certified PCI compliant, a requirement for any business that handles debit and credit payments. Payment data is also encrypted on each platform.
Make Your Money Work Better for You
Both platforms have additional noteworthy security features that might benefit your small business.
Stripe Radar is designed to detect and block fraudulent credit card payments. In addition, Stripe Chargeback Protection ensures minimal loss from fraudulent customer disputes.
PayPal, on the other hand, provides a suite of AI-powered fraud-prevention tools and seller protection on eligible purchases that can help minimize chargebacks and help prevent fraud.
Is It Better To Use Stripe or PayPal?
Stripe has slightly lower fees than PayPal and more customization options. So is Stripe better than PayPal? If transaction fees are a primary concern for your small business or you need a highly customizable option, Stripe might be the better pick. However, if you think having that PayPal logo on your storefront or website can encourage more sales, PayPal's fees might be worth it. Plus, you might find PayPal's standard solution is easier to implement. Just be sure to evaluate your needs and weigh your options carefully before choosing a payment service provider to meet your business needs or budget.
Information is accurate as of Aug. 10, 2023.