Venmo vs. PayPal: What's the Difference and Which Is Best for You?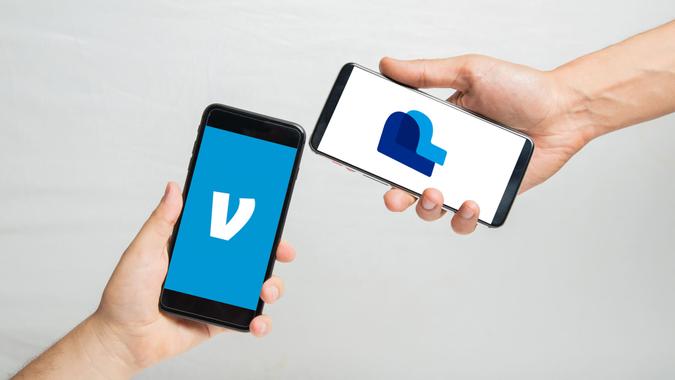 YASTAJ / Shutterstock.com
You can do nearly everything from your mobile phone or computer nowadays, including sending or requesting money. Two of the most popular platforms for moving money around are PayPal and its subsidiary, Venmo. Both are payment systems that let you electronically send and receive funds.
Both companies have made strides over the years to become more full-featured. They may have started as a way to kick some money down to a friend or pay for some goods you won in an eBay auction, but Venmo and PayPal nearly replace a bank account these days with features such as mobile check deposits, a linked debit or credit card and more.
How Do Venmo and PayPal Work?
When comparing Venmo vs. PayPal, you'll find they are both ways to send money. However, they go about it differently. Venmo is a peer-to-peer payment app that lets you send and receive money from friends. You start by setting up an account using a phone number that receives texts. Once your account is set up, you'll link a bank account, credit card or debit card as your funding source. You can then request money from friends or send funds by transferring cash from your choice of linked accounts or your Venmo balance.
PayPal lets you send money, accept payments and make payments online, regardless of whether the party is a personal friend or not. You'll need to set up an account using an email address, which will serve as your payment ID. If you plan on making payments or sending money, you'll need to register a credit card or bank account.
Is Venmo the Same as PayPal?
Although PayPal owns Venmo, the two payment services operate independently and have different missions. The main difference is whether you're sharing money with someone you know or not. Venmo is intended for sending and requesting money between friends. PayPal has a wider reach, letting you receive payments from customers, pay for goods and services or send and receive money between friends and family.
Can I Use PayPal To Pay on Venmo?
You can't directly send PayPal funds to Venmo. Instead, you'll have to get creative and transfer PayPal funds to a bank account linked to Venmo and then withdraw the funds in the account from Venmo.
Can I Send Money From Venmo to a PayPal Account?
Likewise, you can't send money directly from Venmo to a PayPal account, but you can make payments using Venmo at merchants that accept PayPal. Use your mobile browser to tap on the PayPal button. It will take you to checkout using your Venmo account if the merchant enabled the feature.
Advice

Venmo has its advantages, especially if you only occasionally send or receive small amounts to and from friends. PayPal is the more robust of the two allowing you to send and receive money domestically and internationally to nearly anyone.
Venmo vs. PayPal: Head to Head
Venmo and PayPal are both great tools when you need to send and receive money. GOBankingRates weighed their features to find how they differ:
Feature
Venmo
PayPal
Payment/transfer methods
Venmo funds, credit, debit card and bank transfers
PayPal funds, credit, debit card and bank transfers
Mobile app
Yes
Yes
Availability
U.S.-only transactions
Worldwide
Fees for sending money using bank transfer or your account balance
Free
Free
Card/payment options

2 Mastercards
1 debit card
1 prepaid card
1 installment method
1 digital line of credit
QR codes

Credit card transaction fees
A 3% fee
A 2.9% fee plus $0.30 per transaction
Debit card transaction fees
Free
A 2.9% fee plus $0.30 per transaction
Transaction limits
$299.99 weekly transaction limit unless you provide further personal information
No weekly transaction limits for verified accounts, though single transactions might be capped at $10,000
Bank account transfer times
By the next business day
By the next business day
ATM withdrawal fees
Free MoneyPass network withdrawals and $2.50 for out of network withdrawals
Free MoneyPass network withdrawals and $2.50 for international and out of network withdrawals
Cash reload on card
Select accounts
Yes
Security
Data encryption
Data encryption
Best for
Money exchange between friends
Personal and business use
Here's a closer look at how the two measure up:
Security
Both companies have strong security features, including:
Data encryption
Fraud monitoring
Seller and buyer protections
Even with these security protections, users should still be on the lookout for scams. Some Venmo users received a fraudulent text about an upcoming charge with instructions on how to cancel it, which asked the user to verify personal information. PayPal users have received similar phishing texts and emails from fraudsters.
Business/Acceptance
Both companies offer users business and seller accounts, but PayPal is much more widely accepted than Venmo. PayPal is accepted in more than 200 countries worldwide, while Venmo is only available for U.S. transactions. PayPal also lets you send and accept foreign currencies, which gives small businesses the chance to expand their customer reach.
Transfer Limits
Venmo and PayPal have similar features, but the companies differ when it comes to transfer limits. If the amount of money that moves through your account is a big factor, PayPal might be the best choice. Venmo has a $299.99 weekly transaction limit unless you provide further personal information. Verified PayPal account holders have no such transaction limits, although single transactions might be capped at $10,000.
Fees
Again, PayPal and Venmo are similar when it comes to fees. Neither charges a fee for receiving money from friends and family. ATM withdrawals using your PayPal debit card or Venmo card are both $2.50 unless you use the free MoneyLink network cash machines. There's no charge for sending money using your PayPal or Venmo balance or a bank transfer.
The difference lies in your debit or credit card transactions. Venmo debit card transactions are free. Paypal charges $0.30 per transaction plus a 2.9% fee for debit and credit card transactions Venmo charges a flat-rate fee of 3.0% for credit card transactions.
Withdrawal Speed
PayPal and Venmo are close when it comes to how long it takes to transfer money. Both promise the funds will be available the next day. Both also offer Instant Transfers to an eligible debit card or bank account. The funds will arrive in 30 minutes or less, but you'll have to pay a 1% fee (for a maximum of $10) for the faster service.
Shopping
PayPal has more options for payment, including debit, credit and prepaid credit cards. They also allow shoppers to use touchless QR pay in many stores, participating small businesses and retailers. Venmo is keeping up by expanding into contactless payments anywhere Mastercard is accepted. You can also use the Venmo debit card or look for Venmo QR codes at participating retailers.
Venmo vs PayPal: Which Is Best?
If you're looking for a simple service that lets you send and receive cash between family and friends every so often and you order the accompanying debit card for purchases, go with Venmo. It's designed as a social money app for sharing funds with people you trust.
But if you'd like more flexibility, PayPal is best. You'll have access to credit/debit cards and be able to send money to and receive money from businesses and individuals in nearly any country, even if you don't have a personal relationship with them. Just remember to vet people thoroughly and proceed with caution when sending money.
This article has been updated with additional reporting since its original publication.
Our in-house research team and on-site financial experts work together to create content that's accurate, impartial, and up to date. We fact-check every single statistic, quote and fact using trusted primary resources to make sure the information we provide is correct. You can learn more about GOBankingRates' processes and standards in our editorial policy.