Cash App vs. PayPal: Which Is Best?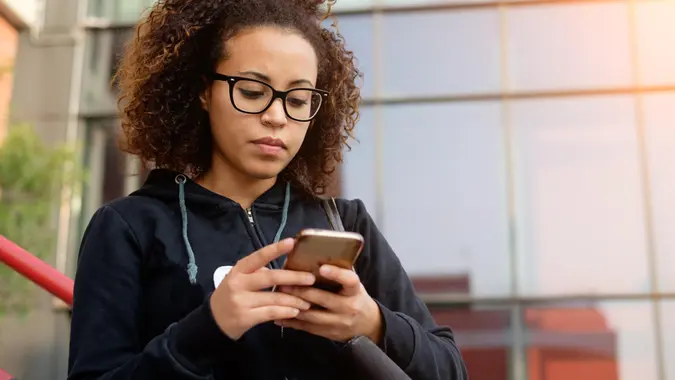 tommaso79 / iStock.com
Cash App and PayPal have become immensely popular since their debuts. Cash App boasts 44 million users as of 2021 and PayPal has 429 million users at the end of Q1 2022. Consumers are increasingly looking for the best payment app on the market, but which is the better one overall?
Cash App vs. PayPal Contrast of Features
Despite some overlaps, Cash App and PayPal differ in notable features of payments, stocks and cryptos, customer service and fees. 
However, the main differences are that PayPal has more international availability, whereas Cash App limits its services to the U.S. and the U.K. Cash App Investing does not charge fees for trading, but PayPal does have a detailed fee schedule for buying and selling cryptocurrency.
Payments
Cash App 
Cash App users make instant payments for free. A simple entry of the recipient's email, phone number or "$cashtag" allows the funds to arrive within minutes. Cash App users can also make contactless payments with stores that use Square by scanning a QR code.
U.S. users can request or make payments with U.K. account holders without app fees. However, users should expect the current mid-market exchange rate at the time of payment to be applied.
PayPal
PayPal users can send and receive money swiftly and securely without app fees for U.S. transactions. However, users can expect to see card fees when paying via U.S. debit, credit, PayPal Credit or Cash Card transaction.
Make Your Money Work Better for You
PayPal uses Xoom for international money exchanges, allowing account holders to make payments to more than 100 countries. 
Stocks and Cryptos
Cash App
Cash App customers can invest in crypto and stocks, where transactions can start with as little as $1 with fractional purchases, and users can set up automatic buys. 
Cash App provides regular insights, statistics and charting data so users can make informed investment decisions. While some apps only allow buy and sell orders for digital assets, Cash App users can transfer crypto to and from separate digital wallets.
PayPal
PayPal account holders can purchase, sell or transfer some cryptos, such as Bitcoin and Ethereum. Currently, only certain U.S. users have crypto transfer abilities to another PayPal account or external wallet, but PayPal is working toward increasing transfer eligibility in the future.
Customer Service
Cash App
Cash App has a handful of channels for customer support: 
In-app: Select a profile icon, click "support" and start a chat. 
Phone: Available by calling 1-800-969-1940 Monday to Friday from 9 a.m. to 7 p.m. EST
U.S. mail: Cash App, 1455 Market Street Suite 600, San Francisco, CA 94103
Social media platforms: Active on Instagram, Twitter, TikTok, Facebook, Reddit and Twitch
PayPal
PayPal has a few ways in which users can find the help they're looking for:
Help Center: Find answers to common questions via PayPal's website.
Chatbot: Log into an account, go to "Contact Customer Service" and click "Message us" to start a chat via PayPal Assistant.
PayPal Community Help Forum: Members can help others with basic and nonimmediate questions and problems.
Resolution Center: Log into an account to report and resolve transaction or account problems. 
Phone: Available at 1-888-221-1161, 6 a.m. to 6 p.m. PST Monday to Saturday

PayPal CREDIT: 1-844-373-4961, Monday to Friday 5 a.m. to 8 p.m. PST and Saturday and Sunday 6 a.m. to 6 p.m. PST
Account holders outside of the U.S. can call 1-402-935-2050.
Make Your Money Work Better for You
Fees
Cash App
Users can make free standard bank deposits from Cash App, but the finalization of the transfer can take between one to three business days. Debit cards are eligible for instant deposits at $0.25 minimum with 0.50% to 1.75% fees applied.
Investment services do not come with fees when opening an account. There is also no minimum balance requirement and trading is commission-free.
Cash App cards can be used at all ATMs with fees between $2.00 and $2.50. However, those who've received at least $300 in qualifying direct deposits can receive reimbursement of three ATM withdrawal fees every 31 days, up to a maximum of $7.00. Any further withdrawals within those 31 days will incur a $2.00 fee.
PayPal
There are no buying fees with PayPal unless a currency exchange rate occurs. While PayPal users won't see fees when holding crypto in accounts, other fees apply when purchasing and selling crypto orders. Users can refer to PayPal's website for more information involving international transaction fees.
There are no fees for sending money domestically and noncommercially from a PayPal account, bank account or when using American Express Send™ for personal transactions. If account holders use a card to make payments, a 2.90% fee will apply along with a fixed fee per the currency received.
International personal transactions from a PayPal balance, bank accounts, credit cards and American Express Send™ come with a 5.00% fee no lower than $0.99 and no higher than $4.99. Additional currency exchange rate fees also apply, depending on the type of transaction.
There are no fees when withdrawing from local bank accounts, but instant withdrawals come with a 1.75% fee of the amount transferred, which also applies to card withdrawals. The minimum charge is $0.25 and the maximum is $25.00. 
Make Your Money Work Better for You
Security
Cash App
Cash App uses the same encryption and fraud detection software used by its parent company, Block — formerly known as Square. Servers are secure no matter the location or internet connection, and Cash App is PCI Data Security Level 1 compliant. 
PayPal
PayPal uses two-factor authentication for logins, which includes the user's password and a one-time pin for each login time. Security features involve fraud monitoring, detection technology and payment confirmation by email. Finally, PayPal uses a Transport Layer Security to protect users no matter where they are or what connection they are using, encrypting all data.
PayPal has buyer and seller protection policies in place, helping to minimize chargebacks and protect sales for sellers as well as protect buyers in the event of purchasing disputes. The platform has a range of resources for users to educate themselves on scams, security and fraud.
Final Take
Both Cash App and PayPal are useful financial payment technologies with unique benefits. PayPal displays a more well-rounded experience, making it the better option for most people. However, those looking for instant payments and investing may find Cash App more suitable.
FAQ
Here are answers to common questions when comparing Cash App and PayPal services.
Is Cash App safe like PayPal?

Like PayPal, Cash App encrypts data and uses fraud detection software to protect its customers. Despite this, Cash App fell victim to an attack that breached the data of millions of customers using its investing features in December 2021. Thankfully, Cash App employed a forensics firm to investigate and remedy the situation.

What are the disadvantages of Cash App?

The main disadvantage is that users incur ATM fees when using Cash App debit and credit cards.

Can Cash App be trusted?

Yes. Cash App operates under Block, which places security and consumer protection at the utmost importance for its users. But, even with these measures in place, users should beware of scams and security breach attempts.

Is Cash App owned by PayPal?

No. Cash App is not owned by PayPal. Cash App is owned by Block, formerly known as Square.
Make Your Money Work Better for You
Information is accurate as of Aug. 1, 2022.
Our in-house research team and on-site financial experts work together to create content that's accurate, impartial, and up to date. We fact-check every single statistic, quote and fact using trusted primary resources to make sure the information we provide is correct. You can learn more about GOBankingRates' processes and standards in our editorial policy.