10 Best Crypto Research Tools You Must Have as an Investor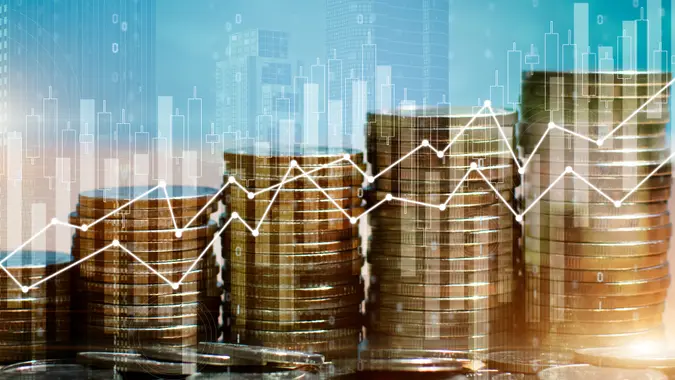 KanawatTH / Getty Images/iStockphoto
Cryptocurrency has taken the world by storm, with over 23,000 cryptocurrencies currently listed on CoinMarketCap. This has sparked the interest of beginner investors. While fear of missing out makes it tempting to jump into the crypto world without sufficient knowledge, investing in cryptocurrency is a risky venture under any circumstances, and it's especially so if you have no idea how to research and analyze cryptos.
With the right crypto research tools, you can gather the information you need to make an informed investment decision.
10 Must-Have Crypto Research Tools for Beginner Investors
Whether you're a beginner or you've been a crypto investor for years, crypto research tools can help reduce your risk and increase your chances of staying ahead of the game. Here are 10 of the best research tools that you can use to refine your research before investing in cryptocurrency.
1. Messari
Messari is a cryptocurrency data aggregator with loads of helpful tools to analyze charts, allowing you to make better trading decisions. It has a screener with a variety of filters, such as volatility, volume, liquidity and market cap, which you can use to customize your research on various coins.
You can use Messari for free and get access to a basic set of features, including the screener, a watchlist, research reports and basic quarterly reports. But if you want to get the most out of this crypto research tool, you can upgrade to Messari Pro for $24.99 a month paid annually, or $29.00 a month with no minimum subscription.
The Pro membership includes daily insights and long-form research, plus advanced screening, charting and watchlist features. Pro also lets you download data to a spreadsheet.
2. Glassnode
Glassnode is an on-chain data and intelligence platform, which means it gathers data from a number of different blockchains to accurately measure crypto network activity, and then it uses that data to report metrics and insights to investors. You can use Glassnode to explore market indicators for any coin and view the number of active addresses with successful transactions. The platform also provides price data and lets you set alerts and download data.
Glassnode offers free access to "Tier 1" data that's updated every 24 hours. There are two paid subscription options, which are $29 per month and $799 per month, both paid annually, which provide additional tiers of data and more frequently updated information.
3. LunarCrush
LunarCrush is a social intelligence platform that analyzes data from social networks to gauge not just market activity and transaction data, but investor sentiment as well. To understand the influence of sentiment on crypto, one need only look at how the mere mention of bitcoin and dogecoin by social influencers triggered enormous price swings in 2021 and 2022.
LunarCrush provides real-time insight into who those influencers are and lets you track the influencers, coins and exchanges that interest you most.
LunarCrush reserves the most comprehensive platform features, data and rewards to those who contribute to the community. LunarCrush Pro members stake, or hold, 2,000 lnr on the platform in exchange real-time alerts, on-chain portfolio indicators and other features, plus 5% annual percentage yield on their holdings.
4. Coin Metrics
Coin Metrics is a provider of cryptocurrency financial intelligence, market data, index, network data and other analysis tools to help you make informed crypto decisions. The Network Data Pro plan lets you access over 100 assets and 400+ metrics, including novel ones like free float supply and realized cap.
Once you've added metrics to your chart using Coin Metrics' network data visualization tool, you can download it in different extensions.
Coin Metrics doesn't list prices on its website. You'll have to fill out a contact request to get pricing information and find out how to get the API key needed to access Pro metrics.
5. Santiment
Santiment is another crypto research tool that deserves a close look. Like Glassnode, Santiment provides on-chain, social media and financial data on almost 2,000 cryptocurrencies, helping you predict the price movement of any crypto.
The platform also offers fundamental insights and behavioral reports so you can stay ahead of imminent developments. What's more, you can set up alerts on Santiment to get updates whenever a coin you're watching gets a surge in social volume.
Retail crypto investors, including beginners, can get a feel for the market with essential metrics offered with a 30-day lag — which makes them a useful tool for learning what the metrics are and how to use them but not at all useful as an investment decision-making tool.
The Pro version is $44 a month, billed annually, and includes present-day data, alerts, full access to a screener and market insights. Pro+ costs $225 a month, billed annually, and provides additional metrics and historical information, plus the ability to backtest strategies, build trading signals and develop trading bots. You can join Pro or Pro+ on a month-to-month basis for a slightly higher price.
Good To Know

Using crypto research tools doesn't guarantee profits. Instead, the tools are meant to help you make informed investing decisions.
6. CoinGecko
You've probably heard of CoinMarketCap, but you may not be familiar with CoinGecko. CoinGecko is one of the largest data aggregators that tracks cryptocurrency prices by market cap. You can view live price changes for over 11,000 coins and over 600 crypto exchanges.
Apart from tracking and measuring coins and tokens by market cap and exchanges by trading volume, the platform provides an in-depth analysis of the crypto market.
There are many other useful features you can capitalize on at no charge to get a broad overview of a particular cryptocurrency with CoinGecko. The site also provides an extensive library of guides and other educational material. Premium accounts are $41.66 per month, paid annually, and include advanced features.
7. CoinMarketCal
The crypto industry is a buzzing economy, bringing about tons of market events that might affect price movements. This makes it impossible to keep tabs on events from the crypto world if you don't use crypto research tools like CoinMarketCal.
CoinMarketCal is a cryptocurrency calendar that updates you about all upcoming events involving coins. The platform incorporates evidence-based and community-driven frameworks, letting people add crypto events, which later undergo verification. Real events get upvotes, while those that seem fake get downvotes.
If you're interested in certain events that you think will likely impact a specific crypto price, for example, simply search the coin on the platform. With a few clicks, you'll see all the listed events for the selected period.
8. Coin Dance
Coin Dance is a heavy-data bitcoin research tool you may want to check out. The platform tracks all sorts of metrics, including hash rates, network nodes, fees, block sizes and mining breakdowns. You can also sort data by country to see how crypto adoption is going globally.
With Coin Dance, you can also see other top-level stats covering blockchain, price history, search volume, market capitalizations, demographics and more. The platform is community-driven, meaning users can vote on the validity of the information provided by the community.
9. CryptoMiso
Investing in cryptocurrencies without checking the development of a particular coin is probably a bad idea — you could be investing in a dead project. Since cryptocurrencies are software protocols, they can eventually die if not developed, maintained and improved.
Therefore, keeping tabs on the development of particular crypto projects is vital. It's pretty easy to track them on Github, but you can't track all the cryptocurrencies one by one; that's why you need a crypto research tool like CryptoMiso.
CryptoMiso ranks cryptocurrencies based on activity on Github. You can check the number of commits an individual crypto project has done within a certain period based on the most popular repository. For example, as of March 16, bitcoin ranked as the ninth most valuable cryptocurrency in terms of platform development.
10. Coinbase One
Coinbase One is a premium trading service for individuals that recently came out of beta and is now open to new subscribers. While not a research tool in the conventional sense, subscribers get perks like $0 trading fees, special rates for staking yielding assets, 24/7 phone support and a 90-day free trial to Messari Pro. A 30-day trial subscription is free. After that, the fee is $29.99 per month.
Takeaway
Crypto research tools are important for any investor. Before putting your money into a particular cryptocurrency project, familiarize yourself with one or two tools. These tools will give you insight into the price movements for any crypto project.
While using any of these tools for the first time can be overwhelming, once you get the hang of it, you'll be able to make the most informed investment decisions you can.
FAQ
Want to know more? Here are the questions people are asking about cryptocurrency research.
What is the best crypto research site?

The best research site for eligible beginners is Coinbase One. Subscriptions are free for 30 days, so it's a good way to get your feet wet without spending money. Also consider the free version of CoinGecko. It has a lot of information to get you started without overwhelming you with charts and data you don't yet understand.
Experienced investors are better off with Messari or Coin Metrics, both of which provide extensive analysis tools.

What is the best way to research cryptocurrency?

The best way to research cryptocurrency is to start with basic information, such as that offered by CoinGecko or CoinMarketCap. Once you understand what cryptocurrency is and how it works, you can move up to a more advanced tool like LunarCrush to get more insight before diving deep into analysis with serious tools like Messari, Coin Metrics and Glassnode.
Daria Uhlig contributed to the reporting for this article.
Information is accurate as of March 28, 2023.