5 Easy Ways To Research Crypto Before Investing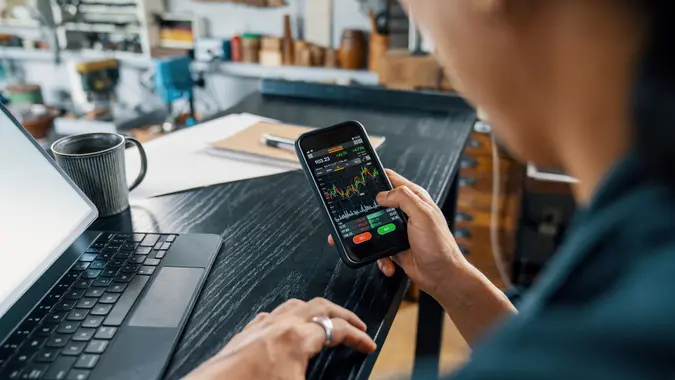 tdub303 / iStock.com
Before you invest your hard-earned money into any asset class, you owe it to yourself to do some research. Investing is hard enough even when you know every bit of information you can get your hands on; flying blind is simply asking for trouble. This is particularly true with an asset class as new and as volatile as cryptocurrency.
Crypto on the GO: Check out our new crypto hub page for the latest news and features
But unlike publicly traded companies like Microsoft and Apple, cryptocurrency developers aren't required to publish quarterly and annual earnings reports. This can make it hard to learn about cryptocurrencies before you invest in them. Here are some suggestions for steps you can take to learn as much as possible about a cryptocurrency before you buy it.
Check Out the Developer's Website
Developers are obviously incentivized to promote their own cryptocurrencies, but they also generally provide the most reliable information about a specific crypto that you're likely to find at a single source. Developer websites typically outline the purpose behind creating a crypto and often express the creators' beliefs as to why their crypto is better in some way than its competitors. 
Find: 6 Alternative Investments To Consider for Diversification in 2022
In addition to getting the basic information behind a crypto, the quality of the website can also be a clue as to how legitimate a crypto is. Many developer websites are poorly written and have fanciful reasons as to why their crypto is a worthy investment. If a developer's website strikes you as unprofessional or amateurish, it's quite possible that the crypto was created as a joke or just for fun and will never reach widespread acceptance. Of course, that being said, some of the so-called "joke" cryptocurrencies like Dogecoin now have market capitalizations of billions of dollars, emphasizing the point that analyzing cryptocurrencies is an imperfect science at best.
Read the Whitepaper
In addition to a developer's website, every cryptocurrency has a whitepaper which is a more formal outline of a coin's purpose and overall characteristics. In some cases, developer websites simply copy the salient points of a crypto whitepaper and use them as marketing for the crypto, while in others the whitepaper goes into much greater detail about the specifics behind the origination and purpose of a crypto. Just like a poorly written website can be a red flag for a crypto, the same is true with an unprofessional or amateurish whitepaper. But if you're looking for the most in-depth information you can get about a crypto, direct from the developers themselves, the whitepaper is where you want to start.
Check the Volume, Market Cap and Trading Characteristics
Unless you're willing to blow your whole bankroll on a completely speculative cryptocurrency, stick with the well-known, highly traded names that have large market caps. While there are literally thousands of cryptocurrencies, those with multi-billion-dollar market caps have serious investors behind them and are the most likely to survive over the long run. You can check out a cryptocurrency's market cap, volume and other trading characteristics on sites like Coinbase. 
Do Some Online/Community Research
Once you feel you have a solid grasp on the facts behind your chosen cryptocurrency investment, dig around and see what the online message board community has to say about it. While there are certainly plenty of speculators, stock touts and other unreliable sources of information on message boards, there is also some valuable information posted online that you might not readily find from other sources.
When online investor communities organize and opt to support a particular investment en masse, incredible returns can result, as seen from the likes of cryptocurrency Shiba Inu or publicly traded stocks AMC Entertainment and GameStop. While you shouldn't risk your whole bankroll based on things you read online, message boards can be a valuable source of information as to what the investor community at large is targeting.
Things To Watch Out For
At the end of the day, cryptocurrency is an extremely speculative investment, and it will likely stay that way for some time to come. Regardless of where you source your information about a crypto, you're likely to run into touts or those looking to pump up their own holdings, so tread with caution.
The crypto space is also full of scams, from classic "pump-and-dump" schemes to developers outright faking the issuance of new coins. Remember, no less than billionaire Warren Buffett himself, dubbed the "Oracle of Omaha" for his investment prowess, told CNBC in 2020 that crypto doesn't have real value, so there's definitely a chance that you could lose your entire investment if you buy cryptocurrency. However, this doesn't mean there aren't tremendous gains available or in the crypto space, or that Buffett will be flat-out proven wrong over the long term.
As long as you perform your due diligence, understand the speculative nature of cryptocurrency, are cautious of online scams and touts and only allocate a small portion of your portfolio to crypto, there's no reason to avoid participating in one of the most exciting investment areas to come about in recent years.
More From GOBankingRates