Bitcoin Price Prediction 2022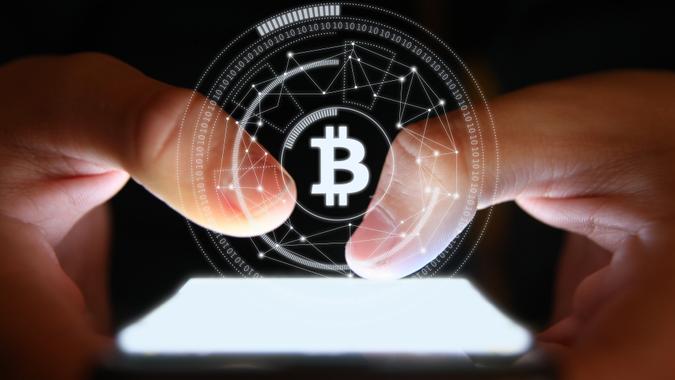 alexsl / iStock.com
Bitcoin, the original cryptocurrency, is made possible by blockchain technology, a method of generating and tracking digital assets. When Bitcoin is doing well, other cryptos are likely to be doing well. When Bitcoin's doing poorly, other cryptos are likely also suffering. Nobody, however, seems to agree on the price of Bitcoin in the future.
Why 2021 Was a Good Year for Bitcoin
Over 2021, Bitcoin enjoyed a steep rise in its market value. At the start of the year, a single coin was valued at $32,000, and by April that number had doubled. Traders were optimistic that wider acceptance of Bitcoin by merchants and big banks would support the price. 
However, the promise outran the reality — there was still no way to use Bitcoin for much of anything except speculative, risky trading. A decline in the stock market in late 2021, and a fall in highly valued growth stocks, carried cryptocurrencies down as well. Bitcoin finished 2021 at about $47,300. 
The Risk-Off Trade
Bitcoin's price continued to fall in early 2022, as did the stock market. Investors turned to assets that perform well in a time of a slowing economy, higher inflation and rising interest rates.
As cryptocurrency is still widely seen as a risky, speculative asset, this "risk-off" trade brought Bitcoin down to about $36,000 in late February 2022. This represents a loss of nearly half of the value Bitcoin reached at its November 2021 peak of $69,000, though has seen some recovery in late March 2022, at about $47,345.
Concerns over the high electricity use associated with Bitcoin mining, and the banning of cryptocurrency transactions by China, also weighed on Bitcoin's value.  
 

Good To Know

Robert Breedlove, CEO of Parallax Digital, might be the most optimistic of all analysts on Bitcoin. Breedlove predicts a price of $12.5 million by 203, seeing the main driver of this run-up as high inflation. With fiat currency losing its value, investors may turn to what they perceive as a safer haven in digital money. 
Expanding Investment and Payment Use 
Nevertheless, as more companies adopt Bitcoin as a method of payment, its value should stabilize. Tesla, the first major company to accept Bitcoin,  was later joined by other corporations, including Microsoft, AT&T, Starbucks, PayPal and Amazon. 
In addition, as more platforms make room for Bitcoin trading, the market should expand among individual traders and investors. While Robinhood, Coinbase and Kraken all allow the purchase of crypto, big brokerages such as Schwab, Fidelity and TD Ameritrade allow their clients exposure to the crypto market. These companies offer trading in coin trusts and ETFs, exchange-traded mutual funds that hold crypto assets. 
What Is the Future of Bitcoin? Whales Dive In
The future price of Bitcoin depends on whether digital currencies can serve as useful financial assets. There was little support for this concept among financial newsmakers in the early years, but some once-skeptical major investors have come around. 
Buffet and Others Now Believers
Warren Buffett, whose Berkshire Hathaway company has rewarded investors with tremendous returns over decades, once described cryptocurrency as "rat poison squared," and swore he would never touch it. But by purchasing NuBank, a digital "neobank" involved in the crypto space, Buffet has given Bitcoin a secondhand vote of confidence. 
Lloyd Blankfein, former chairman of Goldman Sachs, has announced that he's "evolving" on Bitcoin and other cryptocurrencies. Jack Dorsey, founder of Twitter, resigned his job as CEO of that company to run Block, a payment processing leader that is now developing new digital currency applications. 
Adoption by these and other corporate leaders should support a reversal in Bitcoin and a higher value by the end of 2022. 
What Will Bitcoin Be Worth in 2023? Educated Guesses
Several experts in the Bitcoin space are optimistic about future price trends. In October 2021, Jurrien Timmer, a director at Fidelity Investments, gave a Bitcoin price prediction of $100,000 by 2023. The Bloomberg financial news service forecasts a Bitcoin price of $400,000, and megabank JP Morgan, which has developed its own cryptocurrency for its clients, marks Bitcoin at $146,000 over the long term.
Ian Balina is the founder of Token Metrics, a crypto research firm. Balina sees Bitcoin in a down cycle due to general investor pessimism on risk assets, but he also sees a benefit from the development of Web 3, a new blockchain-based internet. 
More practical uses of Bitcoin and cryptocurrencies are coming online. When trading isn't the only thing you can do with them — except for some digital shopping options — the value of these new assets should increase.
This article was republished on April 26, 2022. Information is accurate as of March 30, 2022.