How Much Is Starbucks Worth?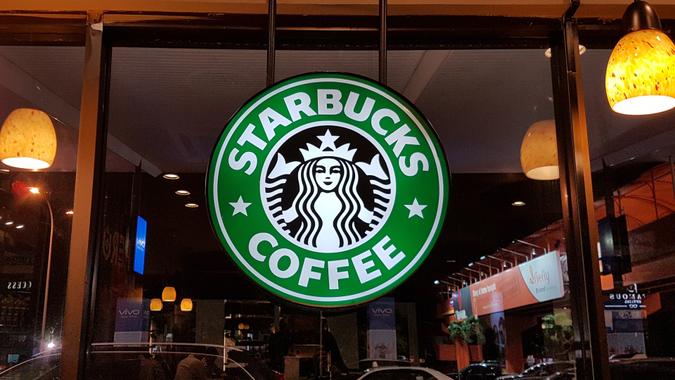 haireena / Shutterstock.com
Starbucks has made specialty coffee mainstream, exploding from a few shops into a seemingly ubiquitous coffee and merchandising empire with more than 24,000 stores across the globe. A rash of closures, however, might give prospective investors pause before making a venti investment in Starbucks stock.
Click through to learn how businesses like Starbucks capitalize off consumer trends with secret menus.
What Starbucks Is Worth
SBUX Share Price, 52-Week Range
$50.36-$61.94
SBUX Market Cap, 52-Week Range
$69.5B-$85.5B
2017 Revenue
$22.4B
2017 Profit
$2.9B
GOBankingRates' Evaluation of
Starbucks Net Worth
$30B
All information on 52-week range accurate as of June 21, 2018.
About Starbucks
Headquarters
Seattle
Year Founded
1971
CEO Kevin Johnson Salary
$1,154,808
Starbucks Market Cap Range: $69.5B-$85.5
Market capitalization is determined by the total dollar value of a company's outstanding shares, which helps investors determine the relative size of a company. Starbucks' narrow range, with a difference of around $16 billion between the lowest and highest values, might indicate relative market stability for the Starbucks share price. The company's stock has been trending steadily upward since 2009, although its ability to generate profits has stagnated in the past three years.
Starbucks Net Worth: $30B
Market caps offer a view of what the market values a company at, but that value is also susceptible to change on an almost-hourly basis due to external market forces and investors fighting over the value of shares.
In an effort to bypass market volatility, the GOBankingRates Evaluation calculates a company's net worth based on recent annual reports of income and profit, while also taking into consideration its assets and liabilities.
Based on its revenue and profits from the past three years, Starbucks' net worth is $30 billion.
Starbucks Closes Stores, Pulls Products and Launches a Starbucks Credit Card
Starbucks went public in June 1992 at $17 per share. Starting out with 165 locations upon going public, the company has since dramatically increased its brick-and-mortar presence. Starbucks' continuous growth has had some thinking the company overexpanded from the mid-2000s on.
Consequently, Starbucks announced in a June 2018 press release that it will be closing 150 stores in "densely penetrated markets." The coffee retailer is still having success expanding internationally; in 2016, it had its most profitable quarter and fiscal year as it moved to open stores in Cambodia, Trinidad and other countries.
Starbucks hasn't limited its expansion — or overexpansion — to stores. The company sells way more than just coffee; it also offers a food menu and sells Starbucks tumblers, mugs, brewing equipment and accessories, tote bags, and apparel. Its branded line of beverages is also sold in grocery and retailer outlets. But CNBC reported in February 2018 that Starbucks is reining in its product line as well, pulling approximately 30 percent of its line — or about 200 products — to streamline the business.
As Starbucks has grown, the company has explored new ways to improve its customer experience by offering trendy or seasonal items, new ordering and purchase options — such as mobile pay and mobile ordering for in-store pickup — and delivery through third parties. The Starbucks app lets customers pay with their phones, find stores and keep track of Starbucks rewards, a points-per-purchase program that eventually adds up to free food and drinks. Social media junkies can also check for company updates on the Starbucks tumblr. In February 2018, the company also launched its own retail credit card with rewards.
New Starbucks CEO Focused on Discipline
Starbucks CEO Kevin Johnson replaced Howard Schultz in April 2017. Schultz, who had been with the company in various positions since the 1980s, also served as Starbucks' chairman of the board, a position he will step down from at the end of June 2018. Johnson stressed discipline as a growing focus for the company in a June 2018 interview with CNBC, particularly in terms of how the company was prioritizing and allocating resources.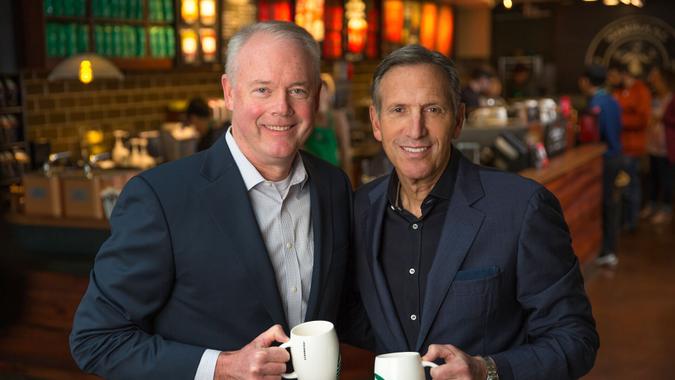 Schultz's resignation sparked rumors that he might be exploring a presidential run. The tycoon — worth $2.6 billion — said he'd be exploring various options from philanthropy to public service.
More on Business
Methodology: The GOBankingRates Evaluation assesses a company's net worth based on the company's total assets, total liabilities, and revenue and net income from the last three years. Base value is established by subtracting total liabilities from total assets from the company's last full fiscal year. Income value is established by taking the average of the revenue from the last three full fiscal years, 10 times the average of the net profits from the last three full fiscal years, and then calculating the average of those two figures. The final GOBankingRates Evaluation number is the sum of the base value and the income value.