How Much Would You Have Today If You Invested Your Coffee Money in Starbucks IPO?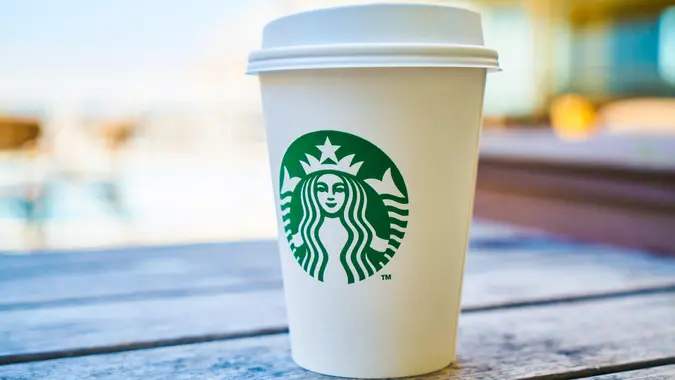 ©Pixabay
Starbucks coffee was founded in 1971 and quickly grew from a one-store shop in Seattle to a global phenomenon, selling millions of drinks per week. Millions of Americans, and indeed consumers around the globe, couldn't imagine starting their day without their Starbucks coffee. This level of brand loyalty has translated into big profits for the company, and its stock price has reflected this success. If you ever imagined what would have happened if you had diverted some of your coffee money into shares of the company's stock, read on to find out the details of this amazing story.
Read More: Corn Flakes, Coca-Cola and 9 Other Beloved Brands With a Twisted History
Find Out: 10 Ways To Pay Less at Starbucks

Amount Spent on Coffee
GOBankingRates used data from the U.S. Census Bureau, the National Retail Federation and additional sources to determine that the average American spends $1,100 on coffee per year, or about $21.15 per week. The average Starbucks drink in America costs about $2.75, although this can vary dramatically based on geographical location, the type of drink ordered and the size. For example, prices in expensive cities like New York are higher than average, and some of the company's more fanciful drinks, such as its Venti Caramel Ribbon Crunch Frappuccino, will cost more than a simple cup of coffee.
Related: The Classic Brands You Love Are In Trouble
Price of Starbucks Stock
Starbucks stock was priced at $17 per share when it went public on June 26, 1992. Over the years, however, Starbucks management has enacted six 2-for-1 stock splits, increasing the IPO share count by a factor of 64. Thus, on a split-adjusted basis, the IPO price for Starbucks drops to just 27 cents per share. 
If Americans took the $1,100 they spent on coffee annually and instead invested in the Starbucks IPO, they would have owned 64.71 shares. After all of the company's stock splits over the years, those initial 64.71 shares would have grown to 4,141.18 shares, or a factor 64-1. 
Discover: 17 Surprising Ways Penny-Pinching Costs You More
Current Value Today
While the price of Starbucks coffee may fluctuate slightly based on varying factors ranging from geographical location to inflation and supply chain issues, it remains fairly steady. Starbucks stock, on the other hand, has been a huge wealth generator for those who invested in its IPO 29 years ago. The 64.71 shares that an investor could have bought with $1,100 in coffee money — which would have grown to 4,141.18 shares today — would be worth a staggering $463,356.24 as of June 15. Those who initially invested just $3,000 would be millionaires today, as their Starbucks holdings would be worth $1,263,698.82. The stock has more than doubled over the past five years alone. 
Did You Know: Biggest Product Flops From 20 Major Companies
The Bottom Line
Getting a cup of coffee in the morning — or even throughout the day — is a treasured daily ritual for many Americans. Yet, cutting out this daily cup of coffee and investing the money instead is an example often used by financial planners as a way to create wealth. While the case of Starbucks is an extreme one, the fact remains that giving up coffee for just one year could have translated into nearly $500,000 in added wealth for investors in the company's 1992 IPO. At an average of $2.75 each, that's enough to buy 181,818 Starbucks drinks, or one per day for over 498 years!
More From GOBankingRates
Last updated: June 28, 2021