21 Stock Perks That Will Blow Your Mind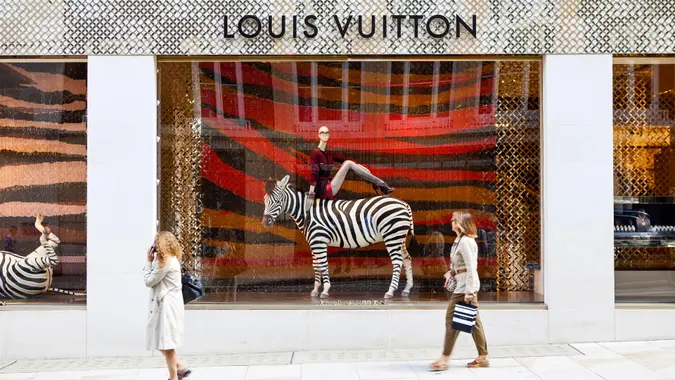 cjp / Getty Images
The main reason investors buy stocks is to make money. Returns on stocks generally come in two forms: dividends and capital gains. Whether you actually come out on top is dependent on a lot of factors, but for long-term wealth, investing is widely considered the way to go.
For a small group of stocks, though, there are additional hidden benefits offered to shareholders. Although these perks won't make the difference between a good and bad investment, they still might be worth pursuing if you own stock in these companies or are considering it.
Take a look at these hidden stock perks so you can better decide how to invest your money.
1. Carnival Corporation — Onboard Credits
Carnival Corporation & PLC, which offers cruises under brands that include Carnival Cruise Line, Holland America Line and Princess Cruises, sells shares with perks. People who own at least 100 shares are eligible for onboard credits. The Miami company provides an onboard credit of $50 per stateroom for sailings of six days or less, $100 per stateroom for seven- to 13-day sailings, and $250 per stateroom for sailings of at least 14 days. Carnival requires that customers make an application for the perks at least three weeks before your departure date and reserve by Feb. 28.
2. Norwegian Cruise Line — Onboard Credits
Norwegian Cruise Line Holdings Ltd., with 28 ships, also offers shares with perks for its loyal but frugal ship enthusiasts. The Miami company provides people who own at least 100 shares with an onboard credit of $50 per stateroom for trips of six days or less; $100 per stateroom for trips of seven to 14 days and $250 per stateroom for 15-day-plus trips. Norwegian reserves the shareholder benefits for vacations on Norwegian Cruise Line, Oceania Cruises and Regent Seven Seas Cruises.
To register for the perks, you'll need to complete a form on Norwegian's investor relations website and make your request at least 15 days prior to sailing.
3. Royal Caribbean — Onboard Credits
Royal Caribbean Cruises Ltd., a Miami company with 60  ships, also has shareholder perks fit for cruise ship insiders. The company, whose brands include Royal Caribbean International and Celebrity Cruises, provides onboard credit like those provided by Carnival and Norwegian. Its onboard credit consists of $50 per stateroom for trips of five nights or less; $100 per stateroom for six- to 13-night sailings; $250 per stateroom for sailings of at least 14 nights.
Royal Caribbean requires that shareholders make their request for onboard credit two to three weeks before sail date. The onboard credit can be applied only to Royal Caribbean International and Celebrity Cruises.
4. InterContinental Hotels — Booking Discounts
Outside of cruise companies, investors can receive perks from owning shares of InterContinental Hotels Group, a Denham, U.K.-based hotel operator and investor with more than 885,000 rooms in over 6,000 hotels in over 100 countries. InterContinental allows the discounts to be applied to room bookings but not to packages or other travel components.
5. Willamette Valley Vineyards — Discounts and Private Events
If you like perks for wine, then buy shares of Willamette Valley Vineyards, a Turner, Oregon-based company. Perks include discounted wine purchases, VIP tours, complimentary tastings, access to special events at the winery and volunteer opportunities.
6. Mad River Glen — Ski Ticket Discounts
Mad River Glen of Fayston, Vermont, is one of Vermont's oldest major ski areas. It also provides shareholders with perks that include discounts on ski tickets and services. A share to buy into the ski cooperative costs $2,000 and can be purchased with one payment or 40 monthly payments of $50 and a $150 nonrefundable deposit. You'll also have to pay a $200 annual advance-purchase fee good toward most products and services the ski area offers.
7. Irish Continental Group — Travel Discounts
If you're traveling through Ireland and Great Britain, you could save money if you are an Irish Continental Group shareholder. The perks provided by the Dublin, Ireland-based transportation and leisure company include discounts of 5%, 10% and 20% on passenger and ferry car service. To qualify for the discounts, you must own at least 1,000 shares.
8. Accor — Shareholders Club
Accor SA, a hotel and management company with more than 5,000 hotels in 110 countries, offers its shareholders an opportunity to join a shareholder's club. Members of the club are entitled to a loyalty card, among other benefits, such as hotel tours. Those who own at least 50 bearer shares and one registered share are eligible for the shareholder benefit.
9. Berkshire Hathaway — Annual Shareholders Meeting
Owners of shares of Berkshire Hathaway Inc. have benefited from the Omaha, Nebraska-based conglomerate's explosive growth. The company's class-A share is trading at $483,872, up from $430 in 1980.
Even though the annual shareholders meeting was held virtually in 2020 and 2021, there are expectations that it will be able to return to an in-person event in Omaha in 2022. In past years, the event has been like a weekend-long conference, with a shareholder shopping day featuring extensive discounts and the opportunity to attend Warren Buffett's signature address, where he expounds on the company's performance and any mistakes he has made.
10. Bloomsbury Publishing — Book Discounts
Enthusiastic Harry Potter fans who are also frugal should consider buying shares of Bloomsbury Publishing PLC, a London-based company whose stock trades under the symbol BMBYF in the U.S. Investors get to experience benefits even if they own only one share: a 35% discount on books published by Bloomsbury.
Bloomsbury, founded in 1986, has subsidiaries in London, New York, Sydney and New Delhi. And the "Harry Potter" series is among the most memorable books published by Bloomsbury.
11. Disney — Collectible Stock Certificates
Although The Walt Disney Co. no longer offers discounts on Disney park admissions and merchandise, it does offer something its fans might enjoy beyond dividends. Shareholders have an opportunity to purchase collectible stock certificates. The non-negotiable collectible certificates are designed to commemorate the experience of being a shareholder. There is no limit to the number of collectible stock certificates you can purchase.
12. ANA — Airfare Discount
When you have an address in Japan and plan to travel in Japan, you could be eligible for travel discounts through ANA Holdings Inc., a Tokyo passenger and cargo travel company. ANA provides a discount of approximately 50% off on qualifying airfare to shareholders who own at least 100 of its shares.
13. Carlson Rezidor Hotels — Member Loyalty Program
Carlson Rezidor Hotel Group, which owns hotels all over the world, including Radisson Hotels, Park Plaza Hotels & Resorts and Hotel Missoni, offers shares with perks. Its shareholder benefits include immediate access to the Gold Elite level of the Club Carlson loyalty program, which normally involves a certain number of hotel stays to qualify. The Brussels, Belgium, company requires that the investor own at least 200 shares to participate.
14. 3M — Holiday Gift Box
Shareholders of 3M have benefited from the company's growth and decades of providing one of the best dividend stocks.  They have also benefited from additional perks. The St. Paul, Minnesota, company offers a holiday gift box each year during the holiday season. The 2021 holiday box, sold at a discount to retail value, contained 19 3M products.
15. Lenovo Group — Discounts on Product Line
Lenovo Group Ltd., of Quarry Bay, Hong Kong, which purchased IBM's personal computer group in 2004, offers discounts to shareholders. Investors are entitled to discounts on its entire product line, including award-winning ThinkPad laptops.
16. Online Vacation Center — Booking Discounts
Online Vacation Center Holdings Corp., a Fort Lauderdale, Florida, provider of vacation services, offers a 5% discount on bookings to people who own at least 500 shares. The nearly 50-year-old company is one of the country's largest cruise retailers. Its partners include Viking Cruises and Celebrity Cruises.
17. Lindt — Free Chocolate
The Kilchberg, Switzerland, chocolate maker Lindt & Sprungli AG has some sweet shareholder perks. It provides a gift box to shareholders who vote during its annual meeting. Unfortunately, the company holds its annual meeting in Switzerland and does not mail the gift boxes. And if you're not already a shareholder, you'll pay over $111,100 for a voting share. As an alternative, you can find Lindt chocolate at a nearby store and treat yourself.
18. Crimson Wine Group — Discount on Select Wines
Crimson Wine Group Ltd. of Napa, California, offers shareholders a 20% discount on select wines. Its shareholder perks also include two complimentary wine tastings at any of its tasting rooms and white-glove assistance on gifting options. The company operates seven wineries in California, Oregon and Washington.
19. LVMH — Access to Special Wine Selection
LVMH Moet Hennessy Louis Vuitton SE, the Paris-based maker of luxury goods, including clothing, jewelry and wine and spirits, has shares with perks. It operates what it calls the LVMH Shareholders' Club, which offers its members perks that include access to a special selection of wine, as well as a magazine. Join the club by submitting an application online or through the mail.
20. Ford — X-Plan Pricing on New Cars
Qualified Ford shareholders can participate in the automaker's Friends & Neighbors Special Vehicle Pricing Privilege, also known as the X-Plan. The plan lets shareholders purchase a new Ford vehicle at a predetermined price. To qualify, you must hold at least 100 shares for at least six months. The offer is good on most models, although Ford says those in short supply might be exluded from the program.
21. IRobot Corp. — Discount on Floor Cleaning Robot
The iRobot Corp. has teamed up with Stockperks to offer discounts to qualified shareholders who purchase a new iRobot floor-cleaning robot. Alternatively, shareholders can claim a free gift with a new Roomba purchase. Full details require downloading and installing the Stockperks app, which is available on the App Store and Google Play.
Daria Uhlig, Cynthia Measom and Michael McDonald contributed to the reporting for this article.
Information is accurate as of Jan. 13, 2022.