5 Best Wealth Management Firms for June 2023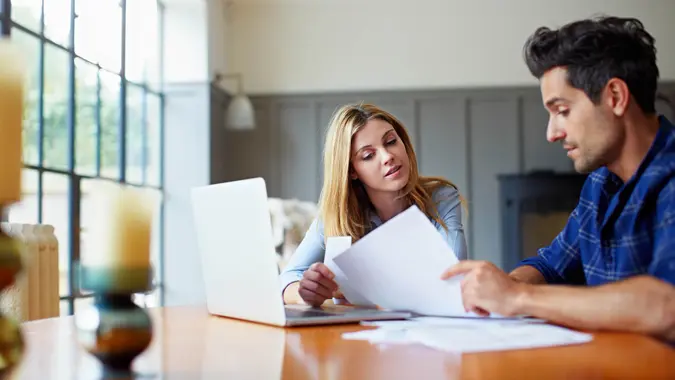 kupicoo / Getty Images
Choosing a wealth management firm is an important decision. One of the reasons that picking the best wealth management firm is hard is that there are so many excellent options. By and large, all of the biggest wealth management firms offer the same basic services, and there is no single firm that is "the best." The key is finding out which firm is the best for you, as each person has their own unique personal financial situation.
5 Best Wealth Management Firms
Navigating the world of wealth management is not an easy task. There are many options out there but here is a look at 5 of the best wealth management firms for 2023.
Morgan Stanley
J.P. Morgan Chase
UBS
Wells Fargo
Fidelity Investments
1. Morgan Stanley
Morgan Stanley is one of the "old guard" of Wall Street, tracing its origins back to 1935. The company has a robust private wealth management division full of financial advisors, in addition to a wide range of other services. Merging the old with the new, Morgan Stanley completed its acquisition of E*Trade in Oct. 2020. This means the firm can still be a top choice even if you're a self-directed investor seeking the lowest trading costs possible. 
2. J.P. Morgan Chase
J.P. Morgan Chase is perhaps the most diversified wealth management firm on the list, seemingly offering every conceivable type of financial service. In fact, when it comes to diversified financial services and products, if you can't get it at J.P. Morgan Chase, it may not exist. From its traditional banking division to its investment management side of private client advisors and commission-free online trading, J.P. Morgan Chase likely has some type of solution for your wealth management needs.
3. UBS
By some measures, UBS is by far the largest wealth management firm in the world. Generally speaking, the Switzerland-based firm focuses on affluent individuals and institutions in need of higher-end wealth management services. Although other options are available, it still charges per-trade commissions. As a result, it might not be the right fit for independent investors making frequent trades on their own. 
4. Wells Fargo
Wells Fargo has come a long way since its founding way back in 1852. Its banking business remains huge, with 4,600 branches in most of the largest markets in the U.S. Its wealth management division offers all three advisory choices for its clients:
Working one-on-one with a dedicated advisor
Using a team via its Private Bank division
Running your own online account with zero-commissions
The firm also offers a low-cost robo-advisor, among many other wealth management services.
5. Fidelity Investments
Fidelity Investments made its name with its top-tier mutual fund division. It has since expanded into full-blown wealth management. Fidelity now offers everything from robo-advisory services to $0-commission trading and personal wealth management with a dedicated advisor.
Are Wealth Managers Worth the Fees?
When it comes to wealth management, a service will likely be "worth it" if it provides value in excess of what you pay. For example, if you are using your wealth management company primarily to provide you with excess investment returns, it will be "worth it" if those returns are bigger than the amount you pay. If, on the other hand, you select a wealth management firm to create your estate plan and perform ongoing, holistic wealth management services, only you can determine if you're getting your money's worth out of it. 
One area in which wealth management has lost its value is if you research and execute your own stock trades. In a world in which zero-commission stock and ETF trading is now the norm, firms that charge you a per-trade commission are dinosaurs. If your trading costs are tied to an asset-based fee, you'll have to determine if the value you're receiving beyond mere trade execution is worth the extra cost. 
The Bottom Line
There's no shortage of wealth management firms. All have their strengths, but the best one for you depends on your personal financial needs. If you're just starting out, you might look for a firm that charges $0 commissions on trades and pays a generous yield on their savings accounts. If you're already retired, you might favor a firm that has a robust estate planning division. Others might need a firm with a large international presence. This makes analyzing your own financial needs a good first step before you decide on the best wealth management firm for you.
Since the right manager can make all the difference in terms of your long-term financial success, don't be afraid to shop around to find the products and services you need. There's also no rule against working with multiple wealth managers, with each one serving a different purpose in your financial life.
FAQ
Here are the answers to some of the most frequently asked questions regarding wealth management firms.
What are the top five wealth management firms?

Wealth management firms can be ranked by any number of measures, from the number of advisors to assets under management to the best-reviewed. Here's a breakdown of wealth management firms in terms of global assets under management:

UBS -- $2.59 trillion
Edward Jones -- $1.3 trillion
Credit Suisse -- $1.25 trillion
Morgan Stanley -- $1.23 trillion
Bank of America -- $1.22 trillion

What is the biggest wealth management company?

In terms of private wealth management, Morgan Stanley boasts four of the country's five largest individual wealth management teams. This makes it by far the largest private wealth management firm in the U.S. in terms of assets under management, according to Barron's. With its top team managing more than $35 billion in assets alone, the firm as a whole has about $78 billion in assets under management.
Things change a bit, however, when you include all types of wealth management, from mutual funds to investment banking, corporate banking and private wealth management. Under this screen, UBS is by far the largest global wealth management company, with assets of over $2.6 trillion.

How do I find a good wealth manager?

You can search for good wealth managers in a number of ways. Simple internet searches will turn up the largest wealth managers, as defined by any parameter you set. But the biggest firms are not always "the best" for you. Look for wealth management firms that have products and services that you will use, advisors that listen to your needs and place your best interests ahead of their own, and pricing structures that provide value rather than simply making their managers wealthy.
Data is accurate as of June 2, 2023, and is subject to change.
Editorial Note: This content is not provided by any entity covered in this article. Any opinions, analyses, reviews, ratings or recommendations expressed in this article are those of the author alone and have not been reviewed, approved or otherwise endorsed by any entity named in this article.
GOBankingRates is a personal finance and consumer interest rate website and an online marketing company serving top-tier banks, credit unions and other financial services organizations. Some companies mentioned in this article might be clients of GOBankingRates, which serves more than 100 national, local and online financial institutions. Rankings and roundups are completely objective, and no institution, client or otherwise, paid for inclusion or specific placement. Any opinions, analyses, reviews or recommendations expressed in this article are those of the author alone and have not been reviewed, approved or otherwise endorsed by the companies included in the article. All fees and rates are subject to change at the issuers' discretion. Some interest rates might be short-term or promotional offers only, and it is possible additional terms and conditions must be met to obtain the interest rates listed. Rates and availability might vary by region. Verify terms and conditions before opening an account.
GOBankingRates bases its assessment of "best" and "top" products on the above-stated parameters to create a baseline for comparison. This assessment is an approximation of "best" and "top" designed to help consumers find products that might be appropriate for them. There could be other options available as well. Consumers should consider various options appropriate for their circumstances.
The information related to J.P. Morgan Wealth Management was collected by GOBankingRates and has not been reviewed or provided by the issuer of this product. Product details may vary. Please see the issuer's website for current information. GOBankingRates does not receive commission for this product.
Editorial Note: This content is not provided by Chase. Any opinions, analyses, reviews, ratings or recommendations expressed in this article are those of the author alone and have not been reviewed, approved or otherwise endorsed by Chase.
Our in-house research team and on-site financial experts work together to create content that's accurate, impartial, and up to date. We fact-check every single statistic, quote and fact using trusted primary resources to make sure the information we provide is correct. You can learn more about GOBankingRates' processes and standards in our editorial policy.