Should You Buy the Bitcoin Dip?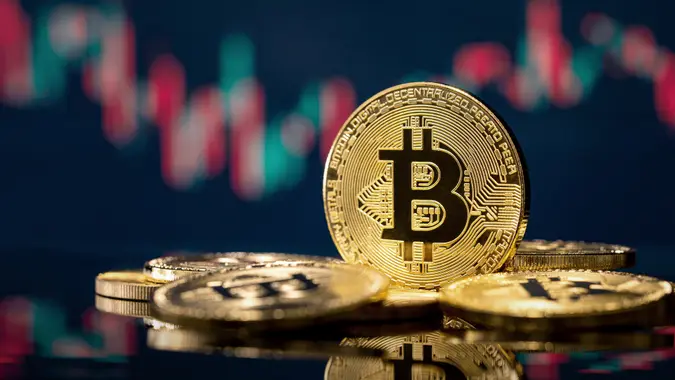 Nastco / Getty Images
Did you miss your opportunity to buy Bitcoin when it was first released in 2009? The first cryptocurrency, which also represented the launch of blockchain technology for decentralized finance, launched at a price close to zero and didn't hit $1 until February 2011, when it began to gain real adoption, according to SoFi.com. The price spiked as high as $10 but was back to $5 per coin by the end of the year.
However, those who had invested in those early days could have seen a tremendous return on their investment. And had they held on until November 2021, they would have seen a single coin worth more than $68,789.
By those standards, Bitcoin is in a slump at a price of just over $23,000 as of July 22, according to Coinbase.com. Although Bitcoin has begun edging up in July 2022, gaining more than 13% in the past month, it's down more than 28% for the year.
This is leaving investors wondering, "Should I buy the Bitcoin dip?" Let's take a look at what's going on with cryptocurrency in general, and Bitcoin specifically, to determine:
Why has Bitcoin dropped?
Should investors buy the dip?
Are crypto dips something to worry about?
Will Bitcoin recover?
Why Has Bitcoin Dropped?
Bitcoin's price has dropped as a result of a widespread crash across the crypto market. Or, it might be more accurate to say that Bitcoin's crash drove a crypto winter. Other coins, considered altcoins, tend to follow Bitcoin's lead with price fluctuations.
But why has Bitcoin dropped?
June 2022 saw Bitcoin fall roughly 40% since its all-time high. The crash followed an overall bear market that also affected stocks, and was driven by a number of factors.
Inflation and Rising Interest Rates Create Bear Market
High inflation rates due to the government printing and distributing money during the pandemic have created fears in the consumer market. At the same time, the Russia-Ukraine war sparked high fuel prices, creating more inflationary pressure across the U.S. A number of other factors, including supply chain issues stemming from the pandemic, also contributed to record-high inflation from late 2021 through spring 2022.
As a result, the Federal Reserve voted for a series of rapid interest rate increases. This tends to make the cost of borrowing money more expensive for businesses, increases bond yields and, as a result, diminishes stock returns.
Cryptocurrencies have been tracking with the stock market recently. But the stock market, rising interest rates and inflation aren't the only factors that affected Bitcoin recently.
Other Factors Affect Crypto
The crypto market is highly volatile, with huge swings and potential for big gains — and losses. Many experts blame the current crypto crash on a stablecoin — a crypto that is supposed to be directly tied to the U.S. dollar, losing its value. When TerraUSD crashed, it sent shockwaves through the crypto investment community, diminishing trust in cryptocurrency as an investment. Experts say that fact alone makes this crypto winter different from previous crypto crashes.
Then, the Celsius Network, a U.S. crypto lending company, froze withdrawals and transfers due to extreme market conditions. Bitcoin slumped to less than $23,500 following the event.
The Celsius Network wasn't the only company in the crypto industry affected. Major exchange Coinbase laid off 18% of its staff and other companies announced layoffs and hiring freezes, too.
Should I Worry About Crypto Dips?
All of this news is causing serious concern for investors, which, of course, led to additional sell-offs and further dips. But investors know that all markets experience ups and downs. Is this crypto winter different? Will Bitcoin recover?
If you look at the long, tumultuous history of the stock market in parallel with the history of cryptocurrency, it should seem safe to say that investments will ultimately rise again. In a guest op-ed for BeInCrypto, Diego Vera of Buda.com shared the headline: "Don't panic, we've been through this before."
Tracing the history of prior economic crashes and recoveries, from individual stocks to indices like the Dow Jones and Nasdaq composite, he showed that markets trend up over time.
And as for Bitcoin specifically, he pointed out, "Bitcoin has gone through multiple cycles in the past and has always bounced back with a vengeance." In fact, he said, 100% of people who bought and held for four years or longer saw a positive return on their investment.
Should I Buy Bitcoin When It's Low or High?
Obviously, to get the greatest return on any investment, you want to buy low and sell high. Had you purchased Bitcoin in 2011 when it was down around $10 per coin, you'd still be sitting pretty right now. On the other hand, if you invested when Bitcoin was near its record highs, or even when it surpassed the $50,000 or $60,000 mark, you're probably looking at your portfolio right now and sweating a bit.
Although Bitcoin has been on a slight uptick in recent weeks, it's still a long way from its peak. If you're trying to buy the dip, you still have time.
One way to minimize your risk without trying to time the market is to create an investment plan and use dollar-cost averaging. Divide your total investment amount over time and buy at periodic intervals when the price of Bitcoin drops. Even if it continues to rise, you may want to stick with your investment strategy. We could be nearing the end of the crypto winter. If you buy Bitcoin now at more than $20,000 and it achieves its prior highs, you'll have achieved a return of more than 300% on your investment.
Of course, crypto is a highly volatile investment and there is no guarantee it will recover, much less reach its prior highs. Do not invest more than you can afford to lose, and understand that it could be stressful investing now and waiting for Bitcoin to recover. Investing in a bear market requires patience and the ability to park your investments and forgot about them — perhaps for years.
Will Bitcoin Recover in 2022?
If you're looking for a short-term investment right now, Bitcoin is probably not the answer. In spite of recent gains, analysts are holding tight to see if Bitcoin will dip below $20,000, which NextAdvisor calls "a key price point," again.
Martin Hiesboeck, head of blockchain and crypto research at Uphold, told NextAdvisor, "The market remains vulnerable and on edge, not necessarily by threats from more crypto projects going bust but from the difficult economic situation we are facing right now."
Changelly.com experts believe Bitcoin could reach more than $38,000 by fall 2022, and potentially as high as $40,000 by the end of the year. In 2023, it could surpass its prior highs.
The consensus among experts is that Bitcoin will recover, but there is always a risk involved.
Takeaway
If you're looking to buy the dip of Bitcoin, now could be the time. But it's important to make sure you're not just jumping on the bandwagon and are making crypto part of a diversified portfolio.
The bear market and crypto winter are creating many opportunities for investors with a high risk tolerance, but it's important to invest with caution.
If you are considering any cryptocurrency investments, Bitcoin might be your most reputable choice, as the coin with the highest market cap. It is also one of the most accessible cryptocurrencies. Bitcoin's recently launched Lightning Network makes it possible for users of the peer-to-peer payment platform Cash App to accept payments in Bitcoin, invest a portion of their paycheck in Bitcoin, and also round up credit and debit card payments and invest the difference in Bitcoin.
Avoid penny cryptos or new coins that may not have staying power.
You can invest in Bitcoin easily on any crypto exchange, or even through P2P payment platforms like Cash App, PayPal or Venmo.
Information is accurate as of July 20, 2022, unless otherwise noted.
Our in-house research team and on-site financial experts work together to create content that's accurate, impartial, and up to date. We fact-check every single statistic, quote and fact using trusted primary resources to make sure the information we provide is correct. You can learn more about GOBankingRates' processes and standards in our editorial policy.