What Is Bitcoin Halving and When Will It Happen Again?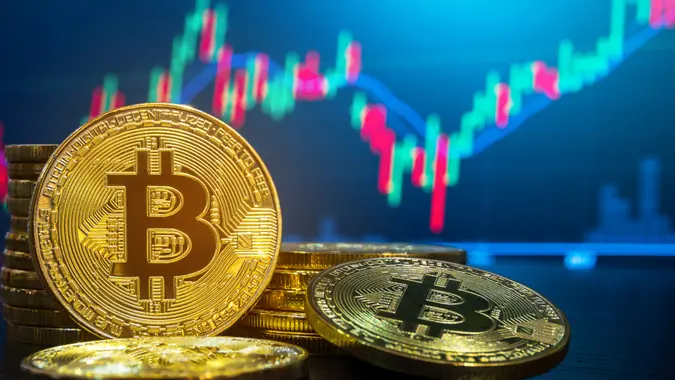 NanoStockk / Getty Images
Bitcoin halving is a pivotal event in the cryptocurrency's lifespan that reduces the number of bitcoins in circulation by one half. It cuts the reward for mining bitcoin in half and reduces the inflation rate by the same amount. It also slows down the introduction of new bitcoins into circulation, which often induces inflation by reducing supply. Halving occurs roughly every four years on a pre-set schedule.
Key Takeaways

Bitcoin is mined via verification of blockchain transactions.
The reward for mining bitcoin is halved every four years or so.
Bitcoin halving can often spike its price, but those effects may be temporary.
The next Bitcoin halving is expect to take place in April 2024.
What Is Bitcoin Mining?
Bitcoin mining is the process of independent, third-party verification of every transaction on the blockchain using cryptography. Bitcoin miners have machines set up to run transaction data through a cryptographic algorithm. This creates a hash, or a random string of numbers and letters that doesn't reveal transaction data.
Hashing is designed to get more difficult over time, according to TechTarget. As time goes on, solving the cryptographic algorithms requires more computing resources and energy. Miners receive bitcoin rewards for using their computers, bandwidth and energy to confirm each Bitcoin transaction on the ledger. Large transactions may require as many as six confirmations or more, while some smaller transactions only require one confirmation.
This means that by design, Bitcoin mining will continue to get harder and harder, particularly after each halving event.
What Is Bitcoin Halving?
When Bitcoin is halved, miners receive half as much bitcoin as they would have received previously for each verified transaction. For instance, when the first bitcoin were mined back in 2009, miners were awarded 50 BTC per block.
Halving occurs each time 210,000 blocks have been mined, which happens about every four years. Experts predict that this will continue until roughly 2140, when the entire supply of 21 million coins will have been mined.
About 19 million of Bitcoin's total supply have been mined since inventor Satoshi Nakamoto mined the first million coins in 2009, according to the Blockchain Council. Less than 2 million new bitcoin will be created between now and 2140.
A Brief History of Bitcoin Halving
In 2012, about four years after the first bitcoin was mined, the reward for mining dropped to 25 BTC. In 2016, miners received just 12.5 BTC per block. In 2020, rewards dropped to 6.25 BTC.
Future Bitcoin halving dates are expected every four years going forward — in 2024, 2028, 2032, 2036, 2040 and 2044.
This scarcity tends to make BTC more valuable for a time. But, of course, the price of BTC does not exist in a vacuum, and the rest of the economic climate, the stock market, consumer demand for BTC and consumer confidence surrounding investing all have an effect on BTC prices.
Will Halving Increase Bitcoin's Price?
In general, the answer to the question, "Is halving good for Bitcoin?" is a resounding "yes." While it may be more challenging for miners to acquire bitcoin after a halving event, this scarcity often makes the BTC they already hold more valuable.
In 2020, the price of bitcoin rose by 40%, up 85% from its historic low just prior to the halving event. However, this event was clouded by a down economy and economic fears sparked by the COVID-19 pandemic. The year 2020 will always require a footnote for statistical data.
Halving-Sparked Bull Runs
Nevertheless, the halving events in November 2012 and July 2016 also drove the price of bitcoin up, ultimately. "This deflationary event has historically signaled the start of bitcoin's most dramatic bull runs over a period of several years, although not before a brief sell-off," Reuters reported.
Between 2012 and 2014, BTC rose by 10,000%, according to Reuters. In mid-2016 through the end of 2017, it increased by roughly 2,500%.
Bitcoin Halving and Value Increases: There's More to the Story
Experts point out that the rise in bitcoin's value following a halving event is not usually immediate. As their BTC rises in value, many times investors will sell off what they are holding to cash in on the profits. That's why a halving event often creates a sell-off, which drives prices down, prior to a bull run.
This occurred in both 2012 and 2016, and also in 2020, in spite of other economic factors at play.
Factors To Consider
Some experts state that halvings are already "priced in" to the coin's value, which means that a halving event and bitcoin price increase may not be directly correlated.
Binance founder Changpeng Zhao pointed out to Reuters reporters, "Historic events don't necessarily predict future events." Noting that there is a psychological aspect to each halving event, Zhao had mentioned in 2020 that miners might be less willing to sell off their existing crypto investments because "it will cost the miners almost double to produce bitcoin."
However, by May 2021, bitcoin had increased in value by 533%. In fact, the most recent halving event exceeded investors' wildest expectations for a bitcoin bull run. In November 2021, the cryptocurrency achieved its all-time high of over $68,000.
Temporary Effects
The effects of a Bitcoin halving event can't be expected to last forever, either. An overall market slump, record-high inflation of the U.S. dollar, rising interest rates, supply chain issues and other pandemic-related factors drove bitcoin's price down in 2022, plunging the market into a crypto winter.
What Date Is the Next Bitcoin Halving?
Experts predict that the next Bitcoin halving event will take place around April 18, 2024, after 840,000 blocks have been created on the Bitcoin blockchain. That means Bitcoin is more than halfway to the next halving event from the previous one, which occurred on May 11, 2020.
It's important to note that halving events occur after a specific number of bitcoins have been mined, not based on a specific time schedule. Therefore, halving dates are approximate.
What Will Happen When Bitcoin Halves in 2024?
After the next halving event in 2024, miners will receive just 3.125 BTC for every block mined. Experts calculate that if the daily average number of blocks mined stays consistent, 450 coins will be released each day following the April 2024 halving event.
Final Take
It's impossible to predict a specific date for the next halving. However, it is expected to take place in April 2024. It could end the current crypto winter, if other factors don't send bitcoin on a rally before then.
FAQ
Here are some quick answers to common questions about Bitcoin halving.
When in 2024 is the next Bitcoin halving?

The next Bitcoin halving will likely happen around April 18, 2024. However, because halving occurs each time 210,000 blocks have been mined, it is possible the halving will happen before or after this day

– in July 2022, the date for the next Bitcoin halving was estimated for May 4, 2024.

How many Bitcoin halvings are left?

There will be 29 more Bitcoin halvings. Because Bitcoin is halved after every 210,000 blocks mined, halving will occur a total of 32 times. There have been three halvings in the past, so there are 29 left.

Is Bitcoin going to be halved?

Yes, Bitcoin will be halved every time 210,000 blocks have been mined. The next halving is expected to happen around April 18, 2024.

Is there a Bitcoin halving in 2028?

If mining continues at its current pace, there will likely be another Bitcoin halving in 2028.
John Csiszar and Daria Uhlig contributed to the reporting for this article.
Our in-house research team and on-site financial experts work together to create content that's accurate, impartial, and up to date. We fact-check every single statistic, quote and fact using trusted primary resources to make sure the information we provide is correct. You can learn more about GOBankingRates' processes and standards in our editorial policy.