Cash App Scams: Top Scams and How To Avoid Them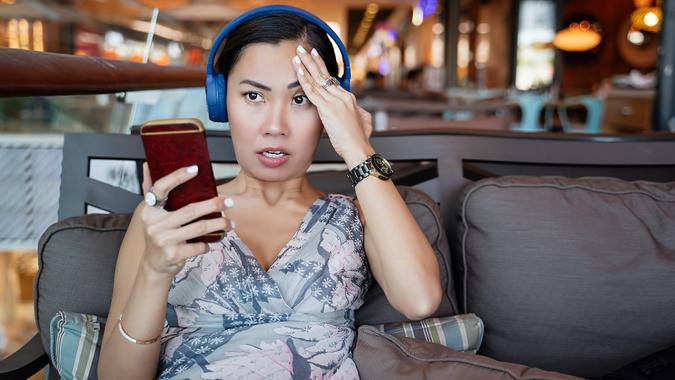 Enes Evren / iStock.com
Cash App has grown in popularity — and so have Cash App scams. The peer-to-peer mobile payment service lets users transfer money to one another using a mobile phone app. But the app's soaring popularity comes from weekly cash giveaway campaigns like #CashAppFriday. Users become eligible for cash giveaways if they engage with the app on social media platforms by retweeting or replying to posts with their $cashtag — the user's unique ID for sending and receiving money.
Scammers are targeting Cash App users and their $cashtags on social media platforms like Instagram, YouTube and Twitter. These cons have begun to replace scams involving wire transfer or prepaid debit cards, the Better Business Bureau reports, leaving victims blocked by the scammer as soon as they send the funds.
Here's what you need to know about Cash App scams to safeguard your hard-earned money.
Common Cash App Scams and How They Work
Cash App is a great money transfer platform, but it comes with dangers users should watch out for. The first step to protecting yourself and your money is knowing the most common schemes fraudsters use to rip you off. Here are the top Cash App scams:
1.
Cash App Flipping
Scammers monitor the comment threads during Cash App giveaways looking for commenters to target. They direct message users to convince them they're successful Cash App "flippers" who can turn a small sum of cash into larger amounts of money. Once they persuade a user to give them an amount of money to flip, they disappear with the funds. People engaging in this scam might refer to participants as a "money circle."
2. Fraudulent Payment Claims
Similar to cash flipping, payment claim scams involve fraudsters convincing unsuspecting Cash App users that they're entitled to a payment, and to claim it, they must first send a smaller amount of cash. Cash App says it will never request funds from a customer, and it's not possible to claim a payment by sending money to Cash App.
3. Pet Sale Scams
Rising demand for pets since the pandemic began has spurred a rash of scams where con artists charge would-be pet owners for an animal that doesn't exist, the BBB reported. Fake puppy-sale listings are turning up everywhere from social media to online marketplaces to full-blown websites depicting puppies in need of homes.
The con artists often offer the pets at unusually low rates and insist that they be shipped as opposed to picked up in person, AARP reported, noting that the seller demands payment via cash transfer. Of course, the pet never arrives, and the victim takes the hit without recourse, as Cash App doesn't guarantee refunds.
4. Rental Scams
Cash App warns users to be on the lookout for apartment and home rental deposit scams. The fraudster purports to have an unusually low-priced rental available but says you have to transfer money for a deposit before you can see it.  
5.
Fraudulent #CashAppFriday or #SuperCashAppFriday Giveaways
Clever fraudsters use comments on legitimate giveaways to post fraudulent giveaways with similar themes. By creating a similar giveaway campaign and asking Cash App users to retweet it, the fake campaign gets shared with others. Scammers also ask users to reply with and/or send them a direct message with their $cashtags to "award" them.
6.
Fake Referral Bonuses
Scammers promise a small referral payment in exchange for a user signing up for services from companies such as Dosh. The tricksters earn the company's $10 per-person incentive but don't pay the referral bonus they promised after the user signs up.
7.
Cash App Impersonation and Phishing Scams
Cash App warns about impersonators conducting phishing scams. Pretending to be a Cash App service representative, the fraudster reaches out to a user by email, social media, phone or text to collect personal or financial information. Some fraudsters even direct victims to fake websites the fraudsters have created as part of their phishing scams, or they con the user into giving them access to their phone. Once there, any information the victim enters is illegally captured by the impersonator.
8.
Gift Card Scams
Cash App scammers try to con unsuspecting individuals out of gift cards before the scammers "pay" out the individuals' Cash App giveaway money. They reach out to victims with a request that the victims purchase prepaid gift cards from local retailers or popular websites on the scammer's behalf, to earn the scammer's trust. The victims share the card information with the scammer to prove they've made the purchase, and the scammer uses the card information to essentially steal the card without ever paying out the Cash App giveaway money.
9. Customer Service Impersonator
In this scam, the fraudster pretends to be a customer service representative reaching out to the user about their account balance or an issue related to their account usage. Once the user shares their information with the fake rep, they soon find that their account has been emptied.
How To Avoid Money Transfer Scams
To avoid falling for transfer app fraud and other types of online money-transfer scams, there are certain things to remember:
Tips for Protecting Yourself:

Never disclose your personally identifiable information online, through social media or over the phone. Scammers lurk on social media platforms like Instagram and Twitter.
Don't use Cash App to buy pets, tickets or other items from people you don't know.
Avoid direct messaging with strangers promising to reward you with a cash prize.
In the event that you get an email or text message announcing you've won a prize or reward but need to send money first, don't click on any links.
Never agree to send someone money or make a purchase in return for a payment or reward.
Be wary of prices that look too good to be true. They usually are.
Avoid letting too much cash accumulate in your account — the more you store there, the more you stand to lose if you get scammed.
Never share account or personal information with someone who contacts you claiming to be a Cash App customer service rep or other employee. You can contact customer support directly through the app or website to verify that everything's okay with your account.
Finally, keep your sign-in code private. "No one representing Cash App will ever ask for your sign-in code over the phone, on social media, or through any other medium. If you believe that you have fallen victim to a phishing scam, please change your Cash App PIN immediately and report the incident," Cash App warns its users.
What To Do If You're the Victim of a Scam
In the event you've been scammed, report what happened to the Cash App team and to the FTC, which can build a case against scammers. Also, contact your financial institutions if you feel your accounts or other financial information like your bank account number has been compromised. Replace credit or debit cards and monitor your accounts for unusual activity.
Cash App Scams: If It's Too Good To Be True, Beware
Fraudsters are always working to find ways to take your money. It's up to you to stay vigilant and informed of how they con people out of their cash.
Cash App's giveaways might be legitimate, but beware of the shady individuals who target users through direct messages or phone calls looking for free funds. Money rarely comes without strings attached — when someone contacts you with promises of fast cash out of nowhere, it's likely a scam.
Daria Uhlig and Elizabeth Constantineau contributed to the reporting for this article.
This article has been updated with additional reporting since its original publication. Information is accurate as of Sept. 29, 2022.
Editorial Note: This content is not provided by any entity covered in this article. Any opinions, analyses, reviews, ratings or recommendations expressed in this article are those of the author alone and have not been reviewed, approved or otherwise endorsed by any entity named in this article.
Our in-house research team and on-site financial experts work together to create content that's accurate, impartial, and up to date. We fact-check every single statistic, quote and fact using trusted primary resources to make sure the information we provide is correct. You can learn more about GOBankingRates' processes and standards in our editorial policy.