How To Set Up Chase Direct Deposit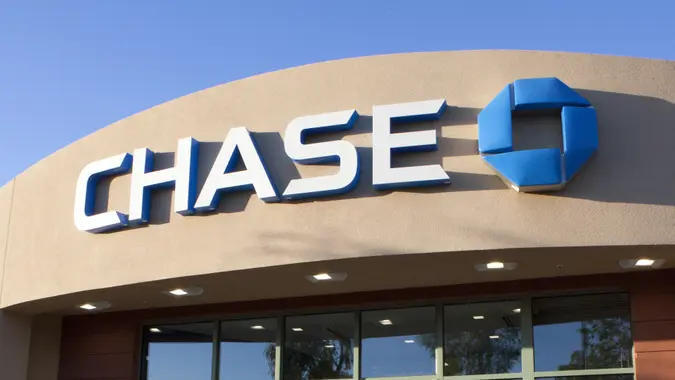 BestStockFoto / Shutterstock.com
Direct deposit is a banking convenience that's quite popular among account holders. If you're not already utilizing direct deposit from Chase, here's everything you need to know, including how to set it up so you can manage your finances more efficiently.
What Is Direct Deposit?
Direct deposit is a convenient way to automatically deposit paychecks and other income into your savings or checking account, eliminating the need for paper checks. The following types of payments qualify for direct deposit:
Payroll checks from your place of employment.
Payments for veterans benefits, Social Security, Supplemental Security Income, Railroad Retirement and other federal benefits.
Benefit payments issued by state governments for pensions, retirement and unemployment.
Investment income from certificates of deposit, annuities and mutual funds.
How To Set Up Chase Direct Deposit
Here's how to set up direct deposit with Chase.
Step-by-Step Instructions:

Log in to your Chase account online or through the mobile app.
Navigate to "Account Services," tap "Set up direct deposit form" and download the pre-filled Chase direct deposit form.
Take the form and a Chase voided check to your employer's payroll department.
Wait for your employer to deposit your paycheck into your bank account.

It may take up to two pay cycles for your direct deposit to take effect.

Check your monthly paper statement or log in to your account online to verify the deposit was made.
What Is Needed for Direct Deposit?
To set up direct deposit, you'll need:
Your employer or depositor's name and address
Your employee ID or account number with depositor
Your Chase account number
Your Chase routing number
You may also need to complete a direct deposit form for your employer or depositor. This form may have additional requirements, like a voided check.
What Are the Benefits of Direct Deposit?
You'll enjoy several benefits when you take advantage of direct deposits with Chase. Here are some to consider.
What Time Does Direct Deposit Go Through Chase?
Chase bank doesn't offer specific guidance on when your direct deposit will go through and be available. It does, however, specify that it processes all deposits, including direct deposits, before processing withdrawals, purchases and other transactions each day.
When Will Funds Be Available?

Most direct deposits hit your bank account immediately, according to the Consumer Financial Protection Bureau, but the funds may not be available until the next business day.
Chase Direct Deposit: Get Your Paycheck Quicker and Easier
Now that you know how to set up Chase direct deposit, you can get your paycheck the day your company transmits it to the bank — no more waiting for checks to clear. Additionally, you save time by not driving to the bank and waiting in line to deposit your check.
Make sure to collect all the required information to streamline setting up the direct deposit, including your employer or depositor's name and address, employee ID or account number with the depositor, Chase account number and Chase routing number.
Also, keep in mind it may take one or two paycheck cycles for your Chase direct deposit to go into effect, so expect a paper check for a few weeks. You can set up notifications or keep an eye on your online banking or mobile app to know when your direct deposit is complete.
FAQ
Here are answers to other frequently asked questions about Chase direct deposit.
How do I know if my Chase direct deposit is set up?

To determine if your Chase direct deposit is set up, reach out to your HR or payroll department to confirm it's processed your direct deposit information. If your payroll or HR department confirms your direct deposit is set up, monitor your Chase account online or through the mobile app and watch for the direct deposit to hit your account.

How long does it take for a Chase Bank direct deposit to clear?
Does Chase process direct deposits on weekends?

Chase, like all banks, must make your deposit available by the next business day after it receives the funds. You can expect direct deposits your employer initiates on Saturday and Sunday to post to your account on Monday.

Does Chase offer early direct deposit?

No, Chase does not offer early direct deposit. Direct deposits are available the same business day they're made.

How long does it take for Chase direct deposit to start?

Once you fill out the Chase direct deposit form and submit it to your payroll or HR department, it may take up to two pay cycles for it to take effect. Monitor your Chase account online or through the mobile app to know when the direct deposit begins.
This article has been updated with additional reporting since its original publication. Information is accurate as of Nov. 22, 2022.
Editorial Note: This content is not provided by Chase. Any opinions, analyses, reviews, ratings or recommendations expressed in this article are those of the author alone and have not been reviewed, approved or otherwise endorsed by Chase.