Chase Bank Near Me
Here's how to find your nearest Chase Bank locations and how many are in your state.
JPMorgan Chase Bank is one of the "Big Four" banks in the United States, along with Wells Fargo, Citigroup and Bank of America. As of 2017, the company reports having 5,100 Chase Bank locations in 26 states, and $2.5 trillion in client assets. Chase serves nearly half of U.S. households.
Consumers who want to bank with Chase but don't have a convenient Chase Bank location might have access to internet banking services such as online banking, online bill pay and mobile banking.You can open a checking account or savings account online, or transfer money using Chase QuickPay.
Click here to see Chase's different deposit account options for everyone.
By finding out how many locations Chase has in your state and looking up locations near you, you can determine whether this bank offers the convenience and level of service you require.
See: How to Set Up Chase Direct Deposit
Chase Banking Products
Chase offers six major services, including investment and retirement planning, commercial banking, card services, treasury and securities services, asset and wealth management, and retail financial services, including consumer banking. For individuals and business consumers, Chase offers ATMs, bank branches, and express banking kiosks, which are large-screen kiosk locations that provide banking services without a teller. Kiosks can dispense cash in one-dollar denominations and issue permanent debit cards.
Check Out: What Is Chase QuickPay and How Do You Transfer Money With It?
Finding a Chase Bank Near You
Consumer banking branches offer a wide range of services, from setting up bank accounts to applying for home and auto loans. You can easily locate the nearest Chase bank to you by visiting the Chase locator website. Get started by entering a ZIP code, an address, or a city and state.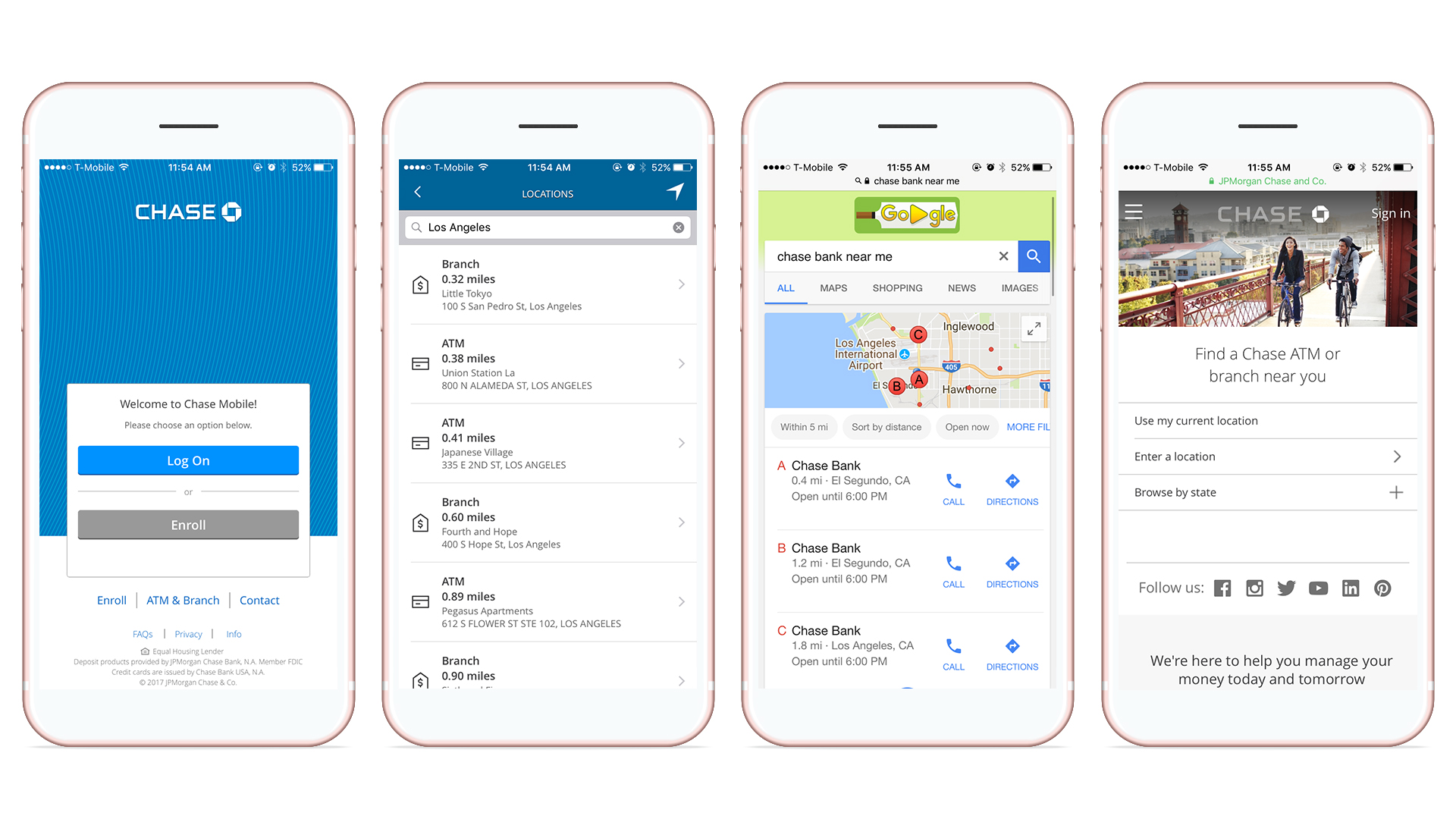 One way to sort your search results is by location type:
Chase ATMs
Chase branches
Chase express
If you are looking for private client services, which offers premium banking privileges and concierge banking, visit the branch locator at PrivateClient.Chase.com or call 888-994-5626.
Related: Here's Your Chase Routing Number
Here is a breakdown of Chase's locations across U.S.:
| | |
| --- | --- |
| States Where Chase Bank Is Located | # Branches in Each State |
| Arizona | 259 |
| California | 1010 |
| Colorado | 114 |
| Connecticut | 25 |
| Delaware | 2 |
| Florida | 401 |
| Georgia | 83 |
| Hawaii | 1 |
| Idaho | 20 |
| Illinois | 371 |
| Indiana | 179 |
| Kentucky | 59 |
| Louisiana | 160 |
| Massachusetts | 2 |
| Michigan | 244 |
| Nevada | 49 |
| New Jersey | 215 |
| New York | 762 |
| Ohio | 284 |
| Oklahoma | 32 |
| Oregon | 117 |
| Texas | 643 |
| Utah | 54 |
| Washington | 206 |
| West Virginia | 25 |
| Wisconsin | 73 |
Chase Locations for ATM Banking
You can sort ATM search results to find the closest Chase Bank ATM that services your language. Available languages include:
Chinese
French
German
Greek
Italian
Japanese
Korean
Polish
Portuguese
Russian
Spanish
Tagalog
Vietnamese
Additional ATM Services include:
24-hour access
Deposits
Drive-up ATMs
ATMs that provide audio assistance also called "Talking ATMs"
Read: ATM Withdrawal Limits at Chase, Wells Fargo and 48 Other Banks
FDIC Insured Accounts
Chase Bank deposit accounts are FDIC insured for $250,000 per depositor. You might qualify for more coverage if you have a joint account with your spouse in addition to your own account. This means that the Federal Deposit Insurance Corp. insures the funds in your account, in the event your bank fails.
Find Out: How to Find and Use Your Chase Bank Login
Editorial Note: This content is not provided or commissioned by the bank advertiser. Opinions expressed here are author's alone, not those of the bank advertiser, and have not been reviewed, approved or otherwise endorsed by the bank advertiser. This site may be compensated through the bank advertiser Affiliate Program.