How To Find No-Fee Free ATMs Near You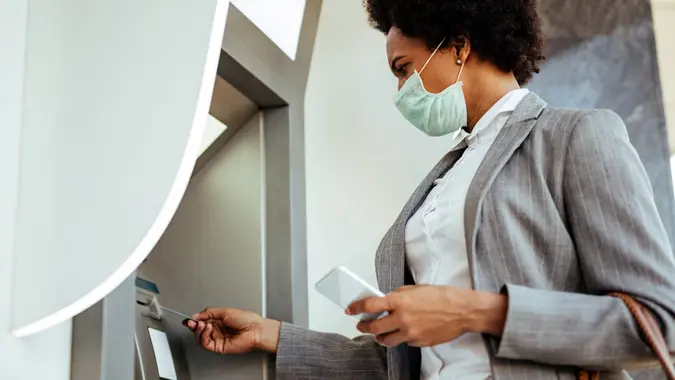 Drazen Zigic / Getty Images/iStockphoto
These days, you can pretty much find automatic teller machines, or ATMs, anywhere you go. Businesses make money when people pay a fee to use ATMs in their location. In the U.S., these fees typically range between $2 and $5 and can be even more costly abroad.
If you're looking for ways to avoid paying ATM fees, continue reading to find free, no-fee ATMs near you.
In-Network vs. Out-of-Network ATMs
Banks' ATMs are either in-network or out-of-network. On average, you'll pay up to $5 to use an out-of-network ATM. If you're overseas, international ATM withdrawal or foreign transaction fees will cost you even more.
To avoid paying these extra fees when you want to withdraw your money, you'll need to find ATMs that are within your financial institution's network. In-network ATMs are usually free to use for banks' customers.
Advice

Out-of-network ATMs can hit you with two fees. Your bank can charge you an out-of-network fee, and the ATM's owner or bank could charge you another fee to use that machine. Try to use only ATMs within your banking system and save some money.
Nearly all banks have website and mobile app ATM locators, so finding a no-fee ATM location near you is easy to do.
Tips for Finding ATMs That Don't Charge Fees
It's easy to find free, in-network, no-fee ATMs whether you're at home or on the go.
1. Choose an ATM at One of Your Bank's Locations
If you bank with a brick-and-mortar institution, go to one of its physical locations to use the ATM. It's wise to do business with a financial institution that has several nationwide branch locations.
2. Use Your Bank's Website or Mobile App To Find In-Network ATM Locations Near You
A little planning can go a long way in saving you from paying ATM surcharges at an out-of-network location. To have all of your bank's in-network locations at your fingertips, be sure to download the bank's app on your mobile device.
It's prudent to check for these locations in advance so that you'll know exactly where to go when you're out and about, especially in an unfamiliar area.
3. Find Out if Your Bank Is Part of a Surcharge-Free ATM Network
Some financial institutions have agreements with no-fee ATM networks in which customers can use these ATMs without incurring fees. You can find out if your bank participates in a surcharge-free ATM network by visiting or calling a branch office or searching the bank's website or mobile app.
Here's a list of some popular, surcharge-free ATM networks and the number of participating ATMs nationwide and worldwide.
| No-surcharge ATM Network | Number of ATMs Nationwide and Worldwide |
| --- | --- |
| Allpoint | Over 55,000 worldwide |
| MoneyPass | About 40,000 nationwide |
| Plus Alliance Network | Thousands nationwide, over 2 million worldwide |
| PULSE | Over 400,000 nationwide, 1.8 million worldwide |
| SUM | Thousands nationwide |
| TransFund | Thousands nationwide |
Other Ways To Avoid Paying ATM Fees
In addition to using your bank or credit union's ATMs, there are other ways you can access your cash without having to pay ATM fees. Here are some options to consider.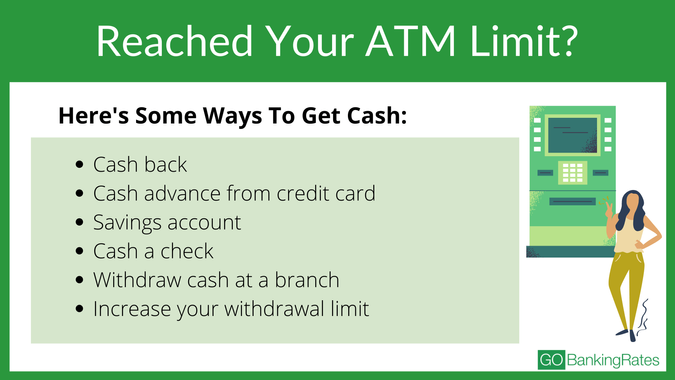 1. Make Purchases and Get Cash Back
When purchasing items at the supermarket, pet store, gas station or other retail stores, you can ask for cash back before your debit card is charged. The extra amount is added to your total sale price at no additional charge.
Typically, most retailers will allow you to get between $20 and $100 cash back over your purchase price. Using this cash back method will cost you nothing, as opposed to paying extra fees to use an out-of-network ATM.
2. Become Familiar With Affiliate Banks When You Travel
While abroad, check to see if there's a bank affiliated with your U.S. bank. Before leaving for your trip, ask your financial institution to provide you with a list of surcharge-free, foreign affiliates at your travel destination. By doing this, you can avoid paying a foreign ATM fee as well as the surcharge, saving you sometimes upwards of $5.
3. Get a No-fee Checking Account
Some banks offer premium checking accounts with no fees for ATM withdrawals no matter where you are. Be aware that these accounts may come with high monthly maintenance fees to take advantage of this perk. Be sure that you can meet the monthly requirements to waive the fee.
4. Find an Online Bank That Will Reimburse ATM Surcharges
Since online banks don't have physical locations or ATMs, many of them will reimburse all ATM surcharge fees for their customers. You typically only need to have a basic checking account to be eligible for this ATM fee reimbursement benefit.
Pro Tip

If you use the Cash App payment app, you can use your Cash App Cash Card and PIN to make ATM withdrawals for free at any in-network ATM and be reiumbursed for one out-of-network ATM fee every 31 days. But, there's a catch. You must have at least $300 from your paycheck directly deposited into your Cash App account each month.
Final Take
You now are familiar with different ways of finding free, no-fee ATMs near you. To recap, follow these simple guidelines and stop paying surcharges and fees to withdraw your hard-earned money from ATMs wherever you are.
Takeaways

Stay within your bank's network.
Use your bank's website or mobile app to locate ATMs within your bank's network.
Get a checking account that waives ATM withdrawal fees.
Always be aware of what fees your bank charges for ATM withdrawals.
This information is accurate as of April 10, 2023.
Our in-house research team and on-site financial experts work together to create content that's accurate, impartial, and up to date. We fact-check every single statistic, quote and fact using trusted primary resources to make sure the information we provide is correct. You can learn more about GOBankingRates' processes and standards in our editorial policy.