How To Find No-Fee Free ATMs Near You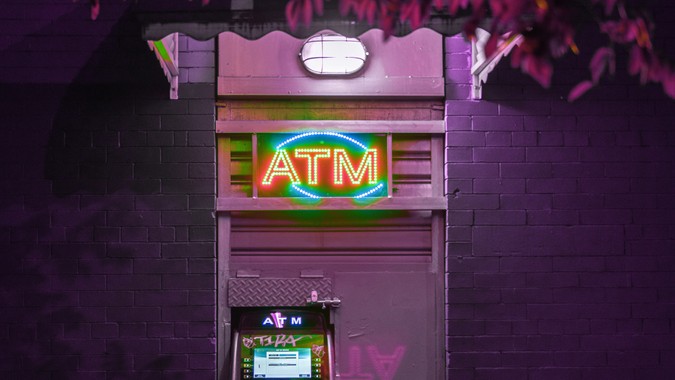 mirza babic / Unsplash
Although many choose the digital convenience of plastic spending, nearly half of Americans prefer to bank in person or with an ATM.
With ATM fees ranging between $2 and $5, the cost of taking out cash can add up quickly. Say you take cash out of the ATM twice per month. That could snowball to between $48 and $120 in ATM fees for the year, leaving you wondering, "Is there a surcharge-free ATM near me?"
Chances are there is, so you don't have to accept ATM fees as a part of life.
This guide will offer tips for finding fee-free ATMs near you.
How Can I Find a Free ATM Near Me?
Finding a no-fee ATM is not like finding a magical unicorn. In fact, fee-free ATMs are very common. Here's where you need to start your search:
Your Bank's ATMs
The first place to look is your financial institution's ATMs. It is likely that your bank or credit union has many surcharge-free ATMs available near you.
You can find these fee-free ATMs by using the ATM locator on your bank's website or via its customer service phone number. Typically, this is most useful if you have a branch nearby. If you are far from home, you might not have a fee-free option available through a bank branch.
Sponsors of
Your Card's Network
In addition to the financial institution's ATMs, your bank or credit union probably partners with card networks to increase your options. With that, your debit card will likely be a part of a network of ATMs.
You simply have to find out which network your card is a part of. You can do this by calling your bank or using its ATM locator tool. Another option is to check the back of your debit card. It should offer more information about your free ATM options.
Fee-Free ATM Networks
In the event your current bank doesn't have a wide network, consider opening an account with a different bank — one that's part of a fee-free ATM network. For example, many banks are a part of the Plus Alliance network, and they offer their customers access to the network's no-surcharge ATMs. Credit union members might find the CO-OP ATM network to be more useful.
Banks that Reimburse ATM fees
Certain banks will reimburse your ATM fees. For example, Ally Bank refunds up to $10 in ATM fees each statement cycle. That means you can potentially get cash at ATMs outside of your network without worrying about the cost.
Tips for Minimizing ATM Fees
It is time to start taking out cash. Here are some tips for minimizing fees.
Do Your Research
Take a few minutes to learn the rules of your bank. What ATMs are free to you?
Plan Ahead
The best way to minimize ATM fees is to plan ahead. If you know that you're going to need cash, consider taking it out ahead of time. When you have time to plan, you'll be able to swing by a free ATM. Otherwise, you might be stuck paying the fee at the last minute.
Be Aware of Your Limits
Banks usually limit how much you can withdraw from an ATM each day. It's helpful to be aware of these withdrawal limits before you head out to get cash. Familiarizing yourself now helps to avoid an unpleasant surprise later.
ATM Fees: How Much Does an ATM Cost
Sponsors of
Maybe you're thinking that searching for a fee-free ATM is more trouble than it's worth. In that case, check out this chart compiled by GOBankingRates. It lists ATM fees at top banks around the United States. As the numbers show, fees can add up quickly, so take action and hold onto more of your money.
ATM Fees at Major Banks
Bank
Non-Network ATM Withdrawal Fee
Non-Network International ATM Withdrawal*
Bank of America
$2.50
$5.00
BB&T
$3.00
$5.00
BBVA Compass
$3.00
1%
BMO Harris
$2.50
$2.50 + 3%
Capital One
$0.00
$0.00
Chase
$2.50
$5.00
Citibank
$2.50
$2.50 + 3%
First Tennessee Bank
$3.00
$3.00
Comerica Bank
$2.00
$5.00
Fifth Third Bank
$2.75
$5.00
HSBC Bank
$2.50
$2.50
KeyBank
$3.00
$5.00
M&T Bank
$3.00
Larger of $5.00 or 3% of the transaction
PNC Bank
$3.00
$5.00
Regions Bank
$2.50
$5.00
Santander
$3.00 ($2.00 for student account)
$6.00
SunTrust
$3.00
$5.00
TD Bank
$3.00
Fees vary
U.S. Bank
$2.50
$3.00 per month + $5 per transaction after first two per statement period
Union Bank
$3.00 per month + $2 per transaction after the first two per statement period
$2.50 + 2%
Wells Fargo
$2.50
$5.00
Huntington National Bank
$3.00
3%
Bank of the West
$2.50
$2.50
City National Bank
$2.50
$2.50
People's United Bank
$3.00
$3.00
Frost Bank
$2.00
$2.00
Synovus Bank
$2.50
1.5%
First National Bank of Pennsylvania
$0.00
$2.50
Associated Bank
$2.50
3%
IberiaBank
$2.00
3%
Information is accurate as of Sept. 18, 2019. *Your bank might charge an additional fee if your ATM withdrawal is in a foreign currency or takes place in a foreign country. For example, many banks charge a 3% foreign transaction fee.
Alternatives To the ATM
You can avoid ATMs altogether by taking advantage of these other spending options.
Pay with your debit card. You probably keep your plastic card handy, so you might as well use it. Even when out with friends and splitting a dinner check, you can offer to pay the bill with your debit card and accept cash from the others. Of course, this is not always an option because certain retailers only accept cash.
Get cash back. Most grocery stores have a cash-back option for customers who check out with a debit card. This lets you take out a small amount of cash without any fee. It's a good option if you need less than $100.
Use a mobile wallet. You can use your Apple Pay or Samsung Pay account to pay retailers without carrying a physical wallet. It is an easy way to avoid the hassle of carrying cash without missing out on the benefits.
Any Final Words of Advice for How To Find a Fee-Free ATM Near Me?
ATM fees might seem like a small expense, but they can take a bite out of your budget. The best way to avoid them is to use your bank's ATM locator to find local in-network machines you can use for free, and then plan your cash needs ahead of time to stay within the network. The other option is to switch to a bank that doesn't charge for non-bank ATM use — but before you do, compare other costs, like monthly service fees, to your current bank's to make sure moving your account will really save you money.