How Much Bank of America ATM Fees Can Cost You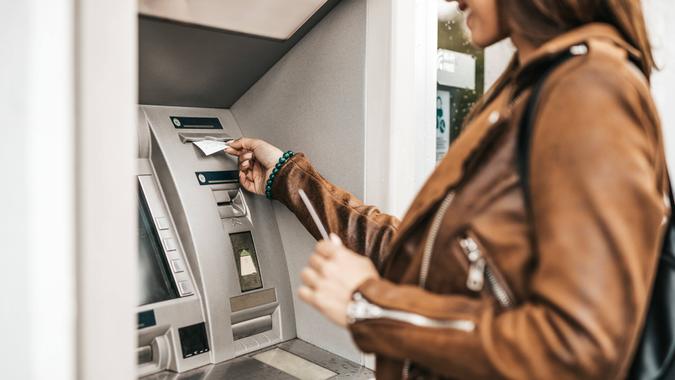 hedgehog94 / Getty Images/iStockphoto
America's largest banks make billions each year from ATM, overdraft and maintenance fees — $11.6 billion in Q2 2020, according to a study by Stilt. Billions of dollars in profit from fees isn't hard to believe because when you need cash fast, you'll often make a sacrifice and pay extra at the ATM. In addition to that, some banks tack on a separate fee if you use a non-network ATM.
Find out about the different types of Bank of America ATM fees and how you can avoid out-of-network charges.
Types of Bank of America Fees
| Bank | Non-Network Fee | International ATM Fee | ATM Operator Fee |
| --- | --- | --- | --- |
| Bank of America | $2.50 | $5.00 and 3% | $3.00 |
Withdrawal fees aren't the only bank fees you should take note of — a bank can charge overdraft, deposit and even balance inquiry ATM fees depending on its policies. Here's information about what you'll pay if you use a Bank of America ATM.
Bank of America ATM Transaction Fee
Bank of America account holders who use a BofA ATM for withdrawals, deposits, transfers, payments or balance inquiries won't pay any ATM fees. Bank of America ATMs will have the bank's name and logo displayed prominently.
Non-Bank of America ATM Fees: U.S.
If BofA account holders use a non-Bank of America ATM in the U.S., they will incur a $2.50 fee for each withdrawal, transfer or balance inquiry.
Preferred Rewards Platinum customers who use their Bank of America debit or ATM card at a non-BofA ATM in the U.S. won't have to pay the $2.50 fee for one withdrawal, transfer and balance inquiry per statement cycle and will also receive a refund of one fee assessed by the ATM operator for each of the transactions.
Preferred Rewards Platinum Honors customers will receive unlimited fee-free use of non-network ATMs in the U.S. as well as refunds for unlimited fees from non-network ATM operators.
Check Out: Bank of America Review — Online and In-Person Convenience
Non-Bank of America ATM Transaction Fee: International
Bank of America account holders who use an ATM outside of the U.S. that's not owned by one of BofA's international partners will incur a $5 charge for each withdrawal, transfer or balance inquiry. A 3% conversion fee will also be charged for any money withdrawn.
Bank of America Insufficient Funds Fee
When you use your debit card to make an ATM withdrawal and overdraw your account, you will be penalized with a $35 overdraft fee if you agreed to Bank of America overdraft practices for that particular transaction.
Bank of America Returned Item Fee
Bank of America's NSF or returned item fee is $35. Bank of America does not, however, charge customers a fee when the bank declines an ATM or debit card transaction.
Find and Use Bank of America ATM Locations to Help You Avoid Fees
You can avoid these types of ATM fees by using an in-network ATM if you have a Bank of America checking or savings account. Locate your closest Bank of America ATM through three different online methods.
Method 1: Use search engines like Google or Yahoo. Once you type "How to find Bank of America ATMs near me" or "banks near me" in the search bar, a map of all nearby ATM locations and banks will appear. 
Method 2: Use the Bank of America online financial center locator. Once you enter your state and city, a list of BofA ATMs will appear.
Method 3: Download the Bank of America mobile banking app, which is available from Google Play or the App Store. Once you've downloaded the app, you can use the "Find a Location" feature to help you locate an ATM near you, but make sure you've enabled your mobile device to allow your current location to appear.
Up Next: How to Avoid Bank of America's Monthly Maintenance Fees
As with most things, preparation is key if you want to avoid ATM fees altogether. Instead of traveling to an unfamiliar area and wondering, "Is there a Bank of America near me" or "BofA ATM near me?" take the time to find Bank of America locations in advance that will be convenient for you to visit if the need arises.
Information is accurate as of Jan. 17, 2022.
More from GOBankingRates
Editorial Note: This content is not provided or commissioned by the bank advertiser. Opinions expressed here are author's alone, not those of the bank advertiser, and have not been reviewed, approved or otherwise endorsed by the bank advertiser. This site may be compensated through the bank advertiser Affiliate Program.