PNC Bank ATM Withdrawal and Deposit Limits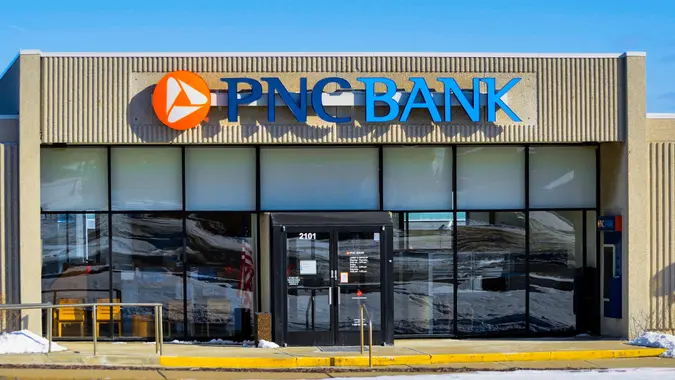 RiverNorthPhotography / Getty Images
PNC Bank offers flexible banking options via their smart ATMs. While the bank doesn't have standard limits on daily deposits and withdrawals, there are still some things you need to know as a customer.
PNC Bank's ATM Cash Withdrawal Limits
You can use your PNC Bank debit card an unlimited number of times to access your money. However, the amount of cash you can access via an ATM in total may have a cap. These ATM withdrawal limits vary from location to location. Check your local branch to find out what the ATM withdrawal limit is on a calendar day.
Spending Limits for Debit Card Swipes at a Merchant
There are no specific limitations to the amount of your money you can spend with PNC Bank. Keep in mind that if you spend more money than is available in your account, PNC may decline additional spending until your account is in the positive again.
Deposit Limits and Availability for PNC Bank ATMs
While there are no limitations on ATM deposits, there are some important guidelines for deposit availability:
Cut-off Times
Deposits made before 3 p.m. EST at non-PNC Bank ATMs and before 10 p.m. EST at PNC Bank ATMs will be processed same-day. Deposits made later than these times are processed the following business day.
Standard Availability
Deposits totaling less than $50,000 will release $100 on the date of deposit and be made fully available on the first business day following the deposit. Keep in mind that if you make deposits at an ATM after the cut-off time, the first business day following counts as the initial deposit date.
$50,000 Threshold
If you make deposits totaling $50,000 or more, $100 will be available on the day of the deposit, and another $125 will be available on the first business day following the deposit date. Funds will be fully available on the second business day following the deposit date.
New Member Delays
If you are still within your first 30 days of membership with PNC Bank, longer delays on deposit availability may apply.
How To Increase Withdrawal and Deposit Limits
Since ATM limits vary from location to location, you may not be able to make changes to the amount of money you can access at a time. Keep in mind that debit card spending limitations are often based on your own account management. Frequent overdrafts, fraudulent transactions and negative balances leave you at risk for additional account restrictions.
Does PNC Bank Have a Transfer Limit?
Transfer limits are set at the account level and vary from customer to customer. Again, PNC reserves the right to set it based on your banking relationship with them. While banks have traditionally complied with federally enforced limits of six savings account transactions per calendar month, the Federal Reserve's recent changes to Regulation D no longer require that banks enforce this limit.
Good To Know

Many PNC Bank ATMs don't require your card for account access. Instead, you can use the ATM to generate a one-time access code that will be sent to your phone via text message.
How To Get Cash If You've Reached Your Limits at the PNC Bank ATM
If you've already withdrawn as much cash as you're allowed to using your debit card for the day, there are still a few ways to get additional funds. Here are some of the best options available:
Cash Back
When you swipe your card at a merchant, request cash back after putting in your PIN. Each merchant sets its own limit on cash back per transaction.
Other Accounts
If you have another PNC Bank account, transfer money via online banking and utilize your other cards to access your funds.
Branch
Stop by a branch and show your identification to withdraw additional funds. 
Ask for an Increase
In some cases, you may be able to call PNC Bank and ask them to temporarily raise your limit. Keep in mind that this may not be a permanent solution, though it can help if you're traveling or planning a major one-time cash purchase.
Data is accurate as of Nov. 30, 2022, and is subject to change.
Editorial Note: This content is not provided by any entity covered in this article. Any opinions, analyses, reviews, ratings or recommendations expressed in this article are those of the author alone and have not been reviewed, approved or otherwise endorsed by any entity named in this article.