Bank of America ATM Withdrawal and Deposit Limits and How To Get More Cash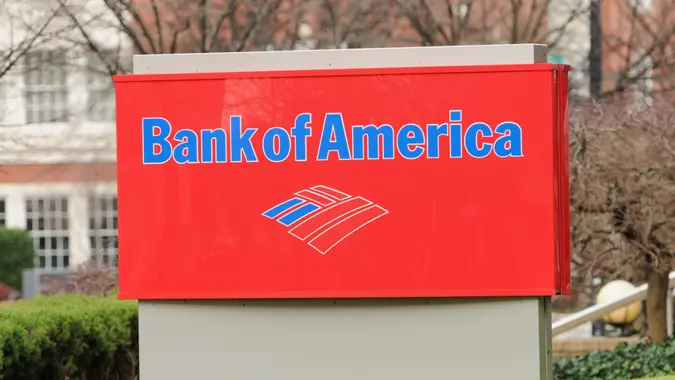 sshepard / Getty Images
Thinking of opening a new savings or checking account? One of the things to consider when you're trying to decide which bank to use is the limit they put on the amount you can withdraw or deposit at an ATM.
If you typically deposit or withdraw significant amounts of cash, you want to make sure you can do so in a way that suits your needs. Understanding how much cash you can withdraw from your Bank of America, Member FDIC, checking or savings account at an ATM, and what to do if you need more, will help you better manage your money.
Here's what you need to know about the Bank of America ATM withdrawal limit and deposit limit.
What Is the Maximum Amount of Money I Can Withdraw at a Bank of America ATM?
The Bank of America daily ATM limit for a checking or savings account is usually $1,000 per account. This can vary depending on a number of factors, including the type of account or card you have and the amount the ATM is able to dispense.
The amount also depends on how much you have in your account, of course, and whether or not you have overdraft protection.
What Is the Maximum Deposit Limit for Bank of America ATMs?
There is no Bank of America deposit limit for deposits made in an ATM, although there might be a limit to the number of bills or checks you can deposit in a single transaction, based on the capacity of the ATM.
How Quickly Will Deposited Funds Be Available?
The amount of time it takes for funds to be available for you to withdraw depends on the type of deposit.
When you deposit cash in a Bank of America ATM, the funds are available immediately.
When you deposit a check, all or part of the check might be available the next business day. However, Bank of America might place a hold on the deposit that usually ranges from two to seven days.
If a check deposit is made after the daily cutoff time — 9 p.m. Eastern and Central time and 8 p.m. Mountain and Pacific time — or on a weekend, the next business day counts as the first day. When you make a check deposit at a Bank of America ATM, your receipt and the ATM screen will indicate if there is a hold on the deposit.
Check Holds

Holds on check deposits allow the bank time to validate the check and collect funds from the check issuer.
How To Increase ATM Withdrawal and Deposit Limits
If you want to increase or decrease the amount of cash you can withdraw at a Bank of America ATM, you can go into a branch and speak to a customer service representative or contact Bank of America customer service at 800-432-1000.
You can also increase your ATM withdrawal limit through Online Banking or in the mobile app.
To Request an Increase in Your ATM Withdrawal Limit Online

Choose the appropriate account.
Go to the Information & Services tab and choose "Manage Card Settings".
Select "Set daily purchase and ATM withdrawal limits".

To Change Your Limit on the Mobile App

Sign in to the mobile app.
Select Menu.
Choose "Manage Debit/Credit Card".
How To Get Cash If You've Reached Your Limits
If you have reached the ATM withdrawal limit on your Bank of America account but still need cash, don't despair. There are other ways to get cash:
Get Cash Back at a Point of Sale
If you use your debit card at a store, you can often get cash back when making a purchase. This is common at grocery stores, pharmacies and other retailers. When you use your card to pay, there may be an option on the PIN pad asking if you want cash back. Select yes, or the amount you want, and the register will dispense the cash.
The debit withdrawal limit at a point of sale depends on the store.
Withdraw Funds From Another Account
If you have a savings account at Bank of America, it will have a separate withdrawal limit from your checking account. Beware of the number of transactions, though. You can only make six withdrawals or transfers in each statement period without incurring a fee.
Cash a Check
If you have a check made out in your name from someone else, you can take it to a branch and cash it there.
More on Bank of America
Keep in Mind

You must have enough money in your account to cover the check, since you are effectively depositing the check, which will take at least a day to clear, and also withdrawing funds.
Information is accurate as of April 7, 2023.
Editorial Note: This content is not provided by any entity covered in this article. Any opinions, analyses, reviews, ratings or recommendations expressed in this article are those of the author alone and have not been reviewed, approved or otherwise endorsed by any entity named in this article.