How To Open a Bank of America Checking Account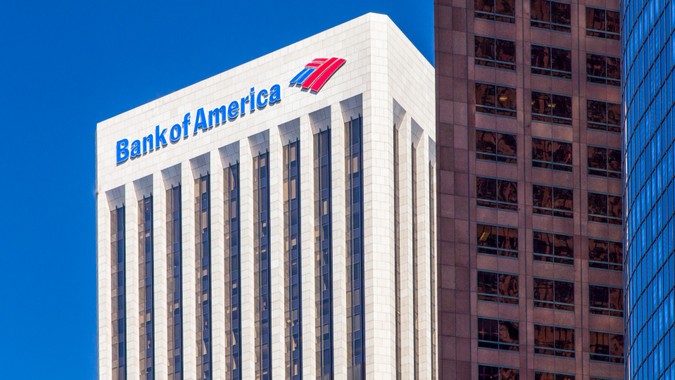 Ken Wolter / Shutterstock.com
Whether you need a convenient way to pay bills, track your finances or provide proof of payment, having a checking account can come in handy. It also serves as a more secure method of payment than cash.
Although there's no shortage of financial institutions to choose from when you're interested in opening an account, Bank of America is ranked as one of the best national banks of 2021. So it's not by accident that the bank has several good checking account options for you to consider. And if you're lucky, Bank of America may be offering a new account promotion when you apply that will allow you to score some extra cash.
What Do You Need To Open an Account at Bank of America?
To open a checking account with Bank of America, you'll need to provide your personal information to complete the application, including:
Current mailing address
Social Security number
Email address
Account number (if you have an existing checking account)
Same information for any joint account holder
You'll be required to show two forms of identification. Acceptable primary forms of ID include:
Sponsors of
Driver's license
State-issued ID with photo
U.S. passport
Military ID with photo
Bank of America-branded debit or credit card with photo
Your second form of ID verifies your primary ID. Types of acceptable secondary IDs include:
Major credit card from another financial institution
Major retail credit card from a national department store or retail company
Debit card with Visa or Mastercard logo from another financial institution
U.S. college or university ID
U.S. student ID card from a local high school
U.S.-issued employment or work ID card or badge
Decide Which Bank of America Account Is Best for You
Once you've gathered your documents, you'll need to choose the Bank of America checking account setting that best suits your needs. Bank of America currently offers three options:
Bank of America Advantage Plus Banking®: This account setting is designed for individuals and students who want an account with a low minimum balance requirement. The monthly service fee is $12, but Bank of America will waive the fee if you have a monthly $250 direct deposit, you maintain a $1,500 minimum daily balance, you're a student less than 24 years old or you enroll in the Preferred Rewards program.
Bank of America Advantage Relationship Banking®: This account setting is for individuals who maintain a high balance in their checking account. You'll earn interest and receive perks such as no service fees, free incoming domestic wires and the option to open other checking or savings accounts with no monthly maintenance fees. If you don't maintain a combined $10,000 in balances among all of your Bank of America accounts, and you're not a member of the Preferred Rewards program, then you'll have to pay a $25 monthly service fee for Advantage Relationship.
Bank of America Advantage SafeBalance Banking®: The Advantage SafeBalance is a "checkless" checking account setting, which means there is no paper check writing for this account setting. It is more of a digital payment method with a $4.95 monthly service fee that is waived for students and Preferred Rewards members.
Get More When You Open an Account

Through June 30, 2021, Bank of America, Member FDIC is offering a $100 bonus offer when you open an Advantage Banking account. This offer is available online only for new checking customers and you must meet certain requirements.

Cash value: $100
Minimum deposit to qualify: Two qualifying direct deposits of $250 or more
Expiration date: June 30, 2021
How to get it: To qualify, you must first enroll in the offer through the Bank of America promotional page by opening a new checking account, then set up and receive two qualifying direct deposits of $250 or more each within 90 days. Additional terms and conditions apply. See offer page for more details.
When you'll get it: Within 60 days of meeting all requirements
Terms and conditions: This offer is only available to new Bank of America customers and those who have not had a Bank of America account within the last 12 months. Qualifying deposits include salary, pension and Social Security payments you receive regularly. See offer page for full terms and conditions.
Monthly fee:

Bank of America Advantage SafeBalance Banking® – $4.95 per statement cycle, though this can be waived if you are a student under age 24 or with enrollment in Preferred Rewards.
Bank of America Advantage Plus Banking®- $12, but this fee is waived if you meet minimum direct deposit or minimum daily balance requirements or enroll in Preferred Rewards.
Bank of America Advantage Relationship Banking® – $25, which is waived if you meet the minimum balance requirements in linked accounts or enroll in Preferred Rewards

Promotion page: Advantage Banking bonus offer
Sponsors of
FAQs
How Much Money Do You Need To Open a Bank of America Account?
Bank of America checking account settings have a low initial deposit amount. For Advantage SafeBalance, you only need $25 to open an account, and for Advantage Relationship and Advantage Plus settings, you'll need $100.
Can I Open a Bank Account Online With Bank of America?
Like most banks, Bank of America allows you to use an online banking system to open an account. If you prefer, you can visit one of the local branches to open a checking account.
Will My Checking Account Be Protected?
Bank of America takes your security seriously. The bank will send you alerts if your account exhibits suspicious behavior. Plus, you can set online alerts to notify you if you spend over a designated amount. You'll get an alert if anyone makes changes to the account. And if your card is lost or stolen, Bank of America will not hold you responsible for fraudulent charges.
You can also use the Bank of America online system or app to lock your debit card if you lose it, which gives you a chance to locate and reactivate it instead of canceling it.
Can I Deposit a Check Without Going Into a Branch?
It's not necessary to visit a Bank of America branch when you have a check to deposit. Instead, you can conveniently make a mobile deposit using your smartphone. Just follow these steps:
Download the mobile banking app.
Take a photo of the front and back of the check with your phone camera.
Type in the exact amount of the check.
Hit the "send" button.
Check your account to verify the deposit.
Does Bank of America Give You Money for Opening an Account?
You should always check with Bank of America in person and online to see if a sign-up bonus is available for opening an account. For example, it is currently offering a $100 bonus offer if you open a new account and make two direct deposits of $250 or more within the first 90 days. See offer page for full terms and conditions.
Do Bank of America Checking Accounts Have Special Benefits?
You can take advantage of two benefits when you open a Bank of America checking account:
"Keep the Change" Savings Program: This program rounds up every purchase you make with your checking debit card to the nearest dollar and transfers that money to your savings account.
BankAmeriDeals

®

: Use the mobile app to earn cash back by clicking on the deals you want. Use your debit card to shop, and your rewards will be credited to your account by the end of the following month.
It's not easy for people to build a rainy day fund, but one of the best methods is to start small. And the added benefits of a checking account from Bank of America can help you get your savings started. If you think about it, becoming a Bank of America checking account holder is a win-win: It can help you organize your finances and boost your savings balance at the same time.
Click through to learn more about Bank of America and decide whether it's the right bank for you.
This article has been updated with additional reporting since its original publication.