5 Best Banks With No Fees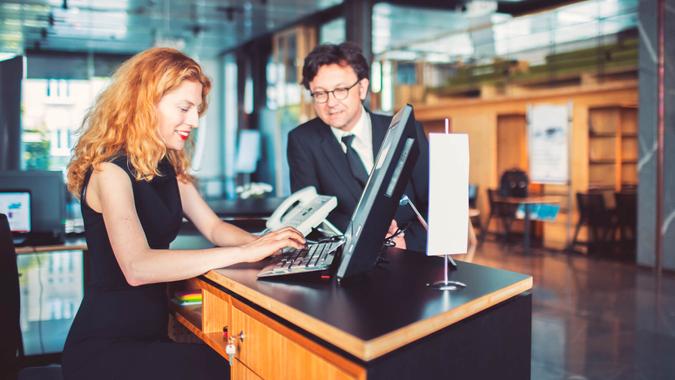 MATJAZ SLANIC / iStock.com
Keeping your money in a savings account, checking account, CD or money market account can allow you to earn interest on your funds — but some banks charge fees that counteract any interest you earn. You can avoid paying bank fees by choosing a bank that offers no-fee accounts.
Best Banks for No Fees
To make the most of your money, look for banks that don't charge fees and offer other complimentary perks, such as free checking, bill pay, ATM usage and more. You don't have to commit to paying fees when you're trying to save money.
Here are five banks that have a number of no-fee bank accounts:
Axos Bank
Axos Bank's High Yield Money Market account enables you to earn 0.25% APY, and the High Yield Savings account lets you earn 0.61% APY. Interest is compounded daily on both accounts.  You can use these accounts to pay bills online, and the money market account allows you to write a limited number of checks each month for free.
Axos also offers CD accounts for a $1,000 minimum deposit, with terms ranging from three to 60 months. Its IRA products allow for high returns, with interest compounded daily.
See also: How To Write a Check in 6 Easy Steps
BankDirect
BankDirect offers a Mileage CD if you'd like to earn AAdvantage reward miles and interest on your deposit. A two-year Mileage CD comes with a 0.10% APY and 1,000 AAdvantage miles for every $1,000 you invest, up to $50,000.
Standard CDs include the 24-month CD, which comes with no monthly fees and earns 0.60% APY. The 36-month CD has the highest rate at 0.50% APY. Although neither CD will cost you monthly fees, you do need a $10,000 minimum opening deposit, and you are subject to penalty fees for early withdrawal.
BankDirect's Regular Savings Account also has no fees and requires a minimum of $100 to open an account. Customers are allowed to make four ATM withdrawals outside of their network — they will be reimbursed up to $2.50 per transaction, per statement cycle — so you don't have to worry too much about which ATM you use. Although this account earns a modest 0.10% APY, the interest is compounded daily and paid on collected balances.
Ally Bank
Ally Bank was named one of the best online bank of 2021 by GOBankingRates. Online banks offer fee-free perks that make banking convenient without having to visit a brick-and-mortar location. Also, Ally's Online Savings Account earns 0.50% APY.
In addition to its free Online Savings Account, which doesn't charge a monthly maintenance fee, some other no-fee services include:
Waived fees on ACH transfers to non-Ally bank accounts
Incoming wires
Postage-paid deposit envelopes
Cashier's checks
Ally also offers a no-fee checking account: the online Interest Checking Account. It's a free online checking account with no opening deposit minimum required. The account earns 0.25% APY if you keep a $15,000 daily minimum balance — or 0.10% APY if you don't — and includes a free debit Mastercard and checks. Although Ally doesn't have actual bank locations, it offers nationwide Allpoint ATMs you can use for free, plus $10 each month to reimburse out-of-network ATM fees. It also provides 24/7 live customer service.
More: Ally Bank Review: Is It the Right Bank for You?
TIAA Bank
With TIAA Bank's Yield Pledge Money Market account, you can enjoy the benefits of higher rates with no monthly fees. The account requires a $500 minimum deposit. Accounts with less than $25,000 still earn .50% APY. Nationwide ATM use is free for accounts that maintain a balance of $5,000; for balances under $5,000, you'll get reimbursed up to $15 per month in ATM fees.
See: 11 Best Money Market Accounts and Rates
Capital One
Many banks with free checking aren't as free as they appear. Usually, these accounts are "free" only after certain conditions are met, such as a required direct deposit or minimum balance. Capital One's 360 Checking account offers fee-free banking with a couple of exceptions.
Capital One's 360 Checking account charges no monthly service fee, and there are no requirements for a minimum opening deposit or minimum balance. Although 360 Checking comes with many free perks, such as free ATM usage at 39,000 ATM's, you will be charged for other services, including $5 for checks — although the first order is free — and $20 for an online cashier's check with overnight shipping. Plus, you'll earn 0.10% APY for balances below $50,000.
Related: Capital One Review: Is It the Right Bank for You?
Why You Need a Free Bank Account
Using banks with no fees can save you quite a bit of money throughout the year. A basic checking account can cost you up to $15 per month, and a high-yield checking account can cost even more — which doesn't include other fees, such as overdraft charges or minimum balance costs.
If you're shopping for a new bank account, take a look at GOBankingRates' best banks of 2022.
More on Banks
Information is accurate as of May 9, 2022.
We make money easy. Get weekly email updates, including expert advice to help you Live Richer™.
Michael Keenan and Gabrielle Olya contributed to the reporting for this article.
Methodology: GOBankingRates surveyed financial institutions to find the best banks for no fees and considered the following factors: banks that consistently charge zero fees and the number of products the banks offer with $0 monthly fees. Rates are accurate as of Nov. 7, 2018, except for Ally Bank and Capital One, whose rates are accurate as of today.
GOBankingRates is a personal finance and consumer interest rate website owned by ConsumerTrack, Inc., an online marketing company serving top-tier banks, credit unions and other financial services organizations. Some companies mentioned in this article might be clients of ConsumerTrack, Inc., which serves more than 100 national, local and online financial institutions. Rankings and roundups are completely objective, and no institution, client or otherwise, paid for inclusion or specific placement. Any opinions, analyses, reviews or recommendations expressed in this article are those of GOBankingRates alone and have not been reviewed, approved or otherwise endorsed by the companies included in the article. All fees and rates are subject to change at the issuers' discretion, and some bonus offers might no longer be available on the issuers' websites, depending on how you access the web page.