How To Avoid Discover Monthly Maintenance Fees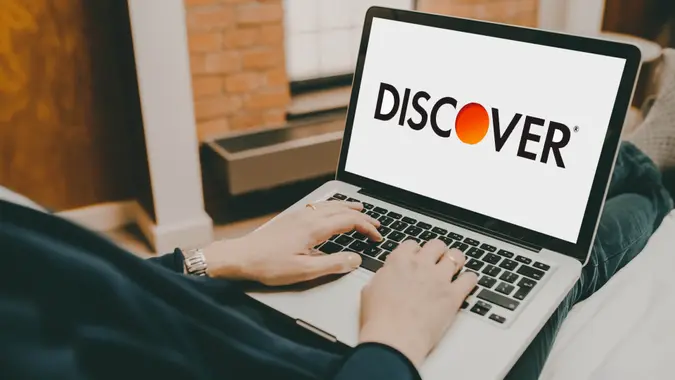 Wojciech Kozielczyk / Getty Images/iStockphoto
Banking is a business. And business is booming. On average, Americans pay around $7 in banking fees each month, and that adds up. How much you pay in maintenance fees depends on who you bank with.
Many traditional banks have expected maintenance fees, like monthly service and overdraft penalties. Some online banks, like Discover, don't have monthly maintenance fees, however. But then what fees do they have?
What Are Discover Bank's Checking Account Fees?
Monthly checking account fees are rates your bank charges to maintain the account. The fees are usually pretty cheap, and some banks even waive the fees if certain requirements are met. But say a monthly maintenance fee is $10. That's still $120 out of your pocket to keep the account open annually.
Discover Bank offers only one checking account, the Discover Cashback Debit account.
Discover Bank Checking Accounts
Account
Monthly Service Fee
Earns Interest
Cashback Debit
N/A
No
One account, no fee. A checking account not having a monthly maintenance fee isn't uncommon, but how do Discover's other fees compare?
Discover Bank Checking Account Fees
Fee
Cost
Out-of-Network ATM
N/A, but may be charged by the ATM network
Overdraft
N/A
Foreign Exchange Rate
N/A
Wire Transfers
$30 for outgoing wire transfers
Debit Card Replacement

No fee for expedited delivery
Discover emphasizes on its website that there are no hidden fees associated with the Discover Cashback Debit checking account. And on its account agreement, Discover states that it does not charge fees for:
Insufficient funds or overdrafts
Excessive withdrawals on money market and savings accounts
Going below a minimum balance
Stop payment orders
Replacement debit cards
Check orders
There are two technicalities you need to be aware of, though:
There's a service charge of $30 for outgoing wire transfers made from your Discover account.
Although Discover won't penalize you for using an ATM outside of its 60,000 machine network, you might be charged a fee by the ATM itself.
What Are Discover Bank's Savings Account Fees?
Savings account fees are the savings account version of checking account fees. And like checking account fees, some banks will waive your savings account service fee if certain requirements are met.
Discover Bank also only has one savings account, its Discover Online Savings account.
Discover Bank Savings Account
Account
Monthly Service Fee
APY
Online Savings Account
N/A

3.30%
There's no need to pay a monthly service fee for online bank accounts, which is one of their biggest draws. Plus, since there are no overhead fees associated with maintaining bank branches and employees, the Discover savings account yield is much higher than the national average of 0.07% annual percentage yield.
How Internet Banking Went Mainstream: History of Online Banking
How To Avoid Discover Bank's Monthly Maintenance Fees
Since your Discover account doesn't carry any monthly maintenance fees, you have nothing to worry about.
But even if another of your accounts has a maintenance fee, it's worth pointing out that many banks offer ways around them. The provisions for waiving your monthly service fee usually fall into one of the following categories:
Maintain a minimum daily balance.
Maintain a set balance between multiple accounts.
Make a qualifying direct deposit (usually much higher than the minimum opening deposit).
Post a certain number of debit card transactions.
Link your checking or savings account to another account within your bank.
Regarding student account holders, some banks waive the maintenance fee depending on the customer's age.
Related: 13 Banking Fees You Should Never Pay
How To Avoid Discover Bank's Overdraft Fees
Discover Bank's checking account doesn't have overdraft fees you have to worry about. And while no penalty is a good penalty, you still have to worry about having the proper amount of funds in your account for purchases. That's where overdraft protection comes in.
Overdraft protection acts as a failsafe in the event your account has insufficient funds by withdrawing the funds from a designated account that has the money. In other words, the "protected" account is funded by a funding account. Many people sign up for overdraft protection to avoid the hefty fee that comes with it, which is usually above $30.
If you chose to set up a savings account as the funding account, however, you are still beholden to the limited six transfers per billing cycle before incurring an excessive withdrawal penalty. Luckily, Discover doesn't charge an excessive withdrawal penalty either.
How To Avoid Discover Bank's ATM Fees
Discover will not charge you a fee for using an out-of-network ATM. And with 60,000 ATMs in-network, you should be able to find one near you using Discover Bank's ATM locator on its website. As noted before, you'll still have to pay an ATM fee set by the network of whichever machine you choose to use outside of Discover's purview.
Compare: Guide To Daily ATM Withdrawal Limits and Debit Purchase Limits
How Discover Bank's Account Fees Compare With Other Banks
At first glance, Discover's lack of fees sounds too good to be true. But is it? Here's how Discover compares with the fees set by the country's biggest banks.
Fees at Discover Bank and Other Banks
Fee
Discover Bank
Bank of America
U.S. Bank
Wells Fargo
Monthly Maintenance
N/A
Up to $25
Up to $24.95
Up to $30
Out-of-Network ATM Withdrawal
Depends on the machine
$2.50, or $5 if outside U.S.
$2.50, or 3% of transaction if outside U.S.
$2.50, or $5 if outside U.S.
Overdraft
N/A
$10 per item
$36 per item
$35 per item
Excess Transactions
N/A
$10
$15
$15
Stop Payment
N/A
$30
$35
$31
Wire Transfer
$30
Varies
$20-$50
Varies
International Debit Purchase
N/A
3% of transaction
3% of transaction
3% of transaction
Card Replacement
N/A
$5, or $15 for rush delivery
Free, but $25 for rush delivery
Free
As you can see, a Discover account might just save you more money, in the long run, thanks to the bank's fee-free philosophy. The only category where Discover falters a bit is when it comes to wire transfers, but even then, $30 is cheaper than some of the potential charges wrought by other banks.
Learn: How Much Monthly Banking Fees Cost Americans
Getting the Most Out of Your Discover Bank Account
Discover Bank already lets you make the most of your online banking experience thanks to its no-fee accounts. Fees can seriously cut into your financial and savings goals if you're not careful about how you manage your money.
Having accounts with no fees can offer you a lot of flexibility in how to approach that. For example, since there's no minimum deposit to open either a checking or savings account, you can just open both at the same time and begin funding your accounts when you feel ready. Also, as noted before, you safely use your savings account as your overdraft protection account, since there is no fee for excessive withdrawals.
More on Discover Bank
More on Avoiding Monthly Fees
This article was updated on March 23, 2022 to clarify Discover's online savings account APY. Information is accurate as of June 8, 2022.
Editorial Note: This content is not provided by Discover. Any opinions, analyses, reviews or recommendations expressed in this article are those of the author alone and have not been reviewed, approved or otherwise endorsed by Discover.
Our in-house research team and on-site financial experts work together to create content that's accurate, impartial, and up to date. We fact-check every single statistic, quote and fact using trusted primary resources to make sure the information we provide is correct. You can learn more about GOBankingRates' processes and standards in our editorial policy.