Discover Bank CD Rates for November 2023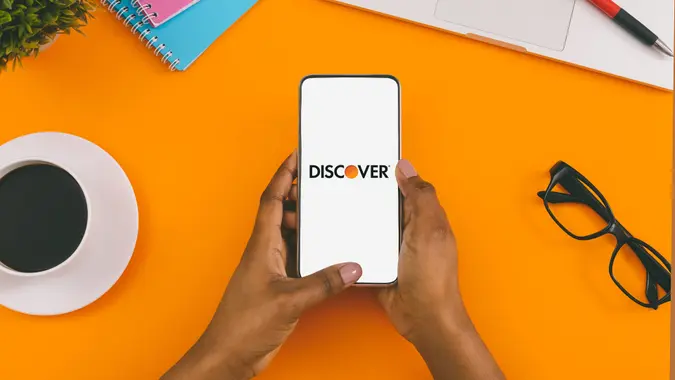 Discover Bank/Prostock-Studio / Getty Images/iStockphoto
Certificates of deposit, or CDs, are some of the easiest investment instruments to use. You simply deposit a certain amount of money with your bank and let it earn interest for months or years until the CD matures.
Online banks such as Discover Bank, Member FDIC, can offer higher, more competitive CD rates than big banks such as Wells Fargo because they don't have the overhead costs that come with managing brick-and-mortar branches. Keep reading to learn more about Discover Bank CD rates.
What Are Discover Bank's CD Rates?
Discover Bank CD terms last as short as three months and go as long as 10 years. In general, the shorter the CD's term, the lower the annual percentage yield. Here's a look at Discover Bank CD rates for November 2023.
| Term | APY |
| --- | --- |
| 3 months | |
| 6 months | |
| 9 months | |
| 1 year | |
| 18 months | |
| 2 years | |
| 30 months | |
| 3 years | |
| 4 years | |
| 5 years | |
| 7 years | |
| 10 years | |
Rates are updated periodically and subject to change.
As an online bank, Discover boasts CD rates well above the national averages for CDs, according to the Federal Deposit Insurance Corp.
Discover Bank CD Overview
Each bank handles its CDs differently, but most of them share common elements, such as early withdrawal penalties and wire transfer fees. Here is what you can expect with a Discover Bank CD.
Term Lengths
3 months to 10 years
APY Rates

to
Minimum Deposit
$2,500
Wire Transfer Fees
$0 for incoming wire transfers
$30 for outgoing wire transfers
Early Withdrawal Penalties
Vary depending on CD term
Grace Period
9-day period after the maturity date to adjust CD without incurring a penalty
Are Discover Bank CDs FDIC-Insured?
Discover Bank is indeed a member of the Federal Deposit Insurance Corp., which insures deposits in the event that the bank holding them fails. There is a limit to coverage: $250,000 per depositor, per deposit ownership category.
How To Open a Discover Bank CD
To open a Discover Bank CD, you'll enter basic information on their website, including your name, Social Security number or taxpayer ID, date of birth and mother's maiden name. Then you'll enter your contact information. Most importantly, you'll also select your CD's term and enter the amount you wish to deposit.
Discover Bank's minimum deposit to open a CD is $2,500. You can fund the account via online transfer from an eligible Discover Bank account, external bank account or by a telephone transfer. Have the routing and account numbers from the funding source handy before you start.
What Happens When Your Discover Bank CD Matures?
Once your Discover Bank CD matures, you will have the option of either withdrawing the balance or letting it roll over into another term, thereby accumulating more interest but, once again, making the funds unavailable for withdrawal without penalty.
Discover Bank's policy is to inform you 30 days in advance that your CD is set to mature. If you want to make any changes to your CD, you will have a nine-day grace period to do so from the maturity date.
Discover Bank automatically renews the CD at the same term if you choose not to adjust anything.
What Happens If You Withdraw From Your CD Early?
You will incur a penalty should you withdraw money from your CD before the term ends. Here are the penalty amounts.
| CD Term | Amount |
| --- | --- |
| Less than 1 year | 3 months simple interest |
| 1-4 years | 6 months simple interest |
| 4-5 years | 9 months simple interest |
| 5-7 years | 18 months simple interest |
| 7-10 years | 24 months simple interest |
Early-withdrawal penalties can reduce your principal balance, which can really affect your return if the CD has a short maturation period.
Is a Discover Bank CD Worth It?
Determining if a Discover Bank CD is worth it will depend on your personal financial goals and funds. The biggest drawback to any CD is your inability to withdraw from it without penalty until it matures. However, Discover Bank CD rates are on the higher side and are available in terms as short as three months — and as long as 10 years. That versatility coupled with relatively high APYs make Discover CDs worth considering if you're looking for a risk-free way to earn a guaranteed return on your investment.
More on Discover Bank
FAQ
Here are the answers to some of the most frequently asked questions regarding CD rates.
Who has the highest-paying CD right now?

CD rates will vary based on term but some of the highest paying one-year CDs can be found at Popular Direct and North American Savings Bank.

Can you get 7% on a CD?

Alpena Alcona Area Credit Union offers a 7-month CD account with an APY in this range

. There are specific terms that go along with this great rate but it is worth checking if you can qualify.
Daria Uhlig contributed to the reporting for this article.
Rates are updated periodically and subject to change. All other information is accurate as of Nov. 2, 2023. 
Editorial Note: This content is not provided by any entity covered in this article. Any opinions, analyses, reviews, ratings or recommendations expressed in this article are those of the author alone and have not been reviewed, approved or otherwise endorsed by any entity named in this article.