Truist CD Rates for June 2023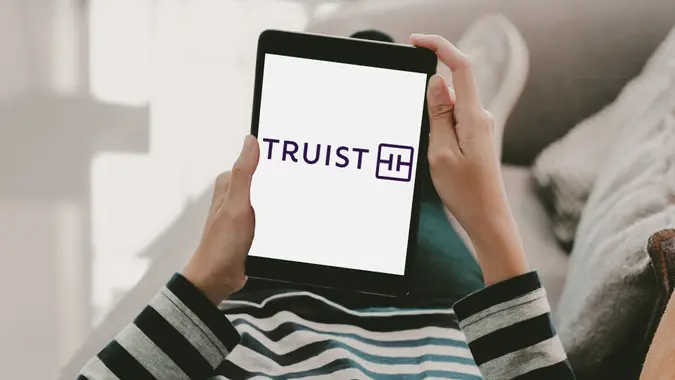 Truist Bank offers many banking products, including checking accounts, savings, money market accounts and CDs. If you are looking for a bank with personalized service at local branches and a range of products, Truist could be the choice for you.
But how does Truist compete with other banks when it comes to CD rates for June 2023?
What Are the Current CD Rates at Truist Bank?
Truist Bank publishes CD rates for CDs of less than $100,000 with terms of seven months or 12 months. Rates vary by state. GOBankingRates collected data based on interest rates in North Carolina, the location of Truist Bank's headquarters.
| Term | Balance | APY |
| --- | --- | --- |
| 7 months | $0 to $99,999 | |
| 12 months | $0 to $99,999 | |
Truist Bank also advertises CDs with terms ranging from seven days up to 60 months. However, rates are only available on the Truist website for CDs with terms of seven months or 12 months. You'd have to call or stop into a branch to get rates for other terms.
Interest is compounded daily from the first business day that the bank has credited the deposit.
Truist Bank CDs: What You Need To Know
Truist Bank CDs have no monthly maintenance fees and are FDIC-insured up to $250,000 per account. You must visit a Truist branch to open a CD.
You will need $2,500 to open a CD with terms from seven to 31 days. CDs with terms of 32 days to 60 months require a minimum opening deposit of $1,000. You may face an early withdrawal penalty if you close out the CD before the term ends.
Typically, withdrawal penalties will be equal to a set period of interest. If the interest accrued doesn't cover the penalties, funds may be deducted from your principal balance.
You will have a grace period to make a deposit, withdrawal or term change to the CD.
Once your CD reaches maturity, the account will automatically roll over into another term. You will have one day to change the term or withdraw the money from any CD with a term of less than 32 days. For CDs with terms longer than 32 days, you will have 10 days after the renewal date to make a change.
How Do Truist's CD Rates Compare to Other Options?
With an APY of for 12 months or for seven months, Truist offers competitive CD rates. However, when it comes to 12-month CDs, higher rates can be found elsewhere.
For example, First Internet Bank offers a 12-month CD rate with an APY of . Bread Savings offers an APY of for its 12-month CD.
Alliant Credit Union also offers a 12-month CD with an APY of .
How To Choose the Best CD for You
It's important to shop around for the best rates for CDs. It's often worth considering online banks, which may have higher interest rates than banks with a brick-and-mortar presence. When you're shopping around for the best CD rates, also consider penalties associated with early withdrawal, grace periods, minimum deposits, and terms available.
About Truist Bank
Truist Bank, Member FDIC, is part of Truist Financial Corp. It is a full-service bank with more than 2,000 branches in 17 states and Washington, D.C.
Truist Bank emerged as an industry leader when SunTrust and BB&T merged in 2019. Today, Truist is the sixth-largest bank in the U.S., according to the Federal Reserve. Truist holds $574 billion in assets as of March 31.
Previously, SunTrust and BB&T operated separately following the merger. In 2022, the banks embraced the Truist name, launching a new website and new products, including a checking account with no overdraft fees.
Can You Trust Truist Bank?
Truist Bank, like other U.S. banks, is insured by the Federal Deposit Insurance Corp. for up to $250,000 per person, per deposit account. That means if the bank fails, the FDIC will make sure you have access to your money in a timely manner.
As a top 10 bank in the U.S. based on assets, it's likely Truist won't face a situation where it is at risk of failing. Nevertheless, it's always smart to divide your money between deposit accounts so that all funds fall into the coverage limits for FDIC insurance.
How To Open a CD at Truist Bank
To open a CD at Truist Bank, you'll need to visit one of its 2,000-plus branches. You'll want to be prepared with a cash deposit or ready to transfer funds from another account. CDs with terms of less than 32 days require a $2,500 minimum deposit, while CDs of 32 days up to 60 months require $1,000 to open the account.
You will also need a state ID, such as a driver's license, and your Social Security number to open an account.
You can schedule an appointment at a Truist branch near you to get started.
Rates are subject to change; unless otherwise noted, rates are updated periodically. All other information on accounts is accurate as of June 9, 2023.
Editorial Note: This content is not provided by any entity covered in this article. Any opinions, analyses, reviews, ratings or recommendations expressed in this article are those of the author alone and have not been reviewed, approved or otherwise endorsed by any entity named in this article.