Best CDs With No Minimum Deposit Requirement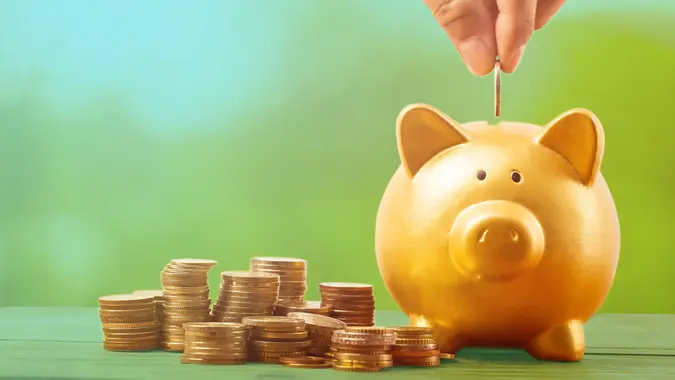 hin255 / Shutterstock.com
Certificates of deposit can be an effective way to save money while you earn interest safely. The problem is that a lot of banks require a minimum amount to open a CD. Sometimes the minimum requirement is $500 or $1,000, but depending on the bank and the type of CD, it could be $10,000 or more.
But not everyone has that much cash lying around — so GOBankingRates found the best CD accounts that have no minimum balance required — and the best CD interest rates in this category. You can deposit as much or as little as you like and still earn the best CD interest rate possible.
Ally CD
Ally Bank doesn't require a minimum deposit for CD accounts. It has a high-yield CD with a fixed rate for a fixed term. As of July 11, 2017, a one-year high-yield CD from Ally pays 1.35% APY and a five-year CD pays 2.25% APY.
Ally's Raise Your Rate CD lets you increase the interest rate on your two-year or four-year CD if Ally's rate goes up. You can raise your rate once if you have a two-year CD or twice if you have a four-year CD. You can increase your rate to the current rate at the time you make the change.
Ally also offers a no-penalty CD that lets you withdraw all your money at any time — except within the first seven days of opening the account — with no early withdrawal penalty. You get to keep the interest, too. The term of this CD is 11 months, and the interest rate depends on the amount you deposit. As of July 11, this CD pays 1.00% APY for opening deposits less than $5,000, 1.25% APY for opening deposits of $5,000 to $24,999, and 1.50% for opening deposits of $25,000 or more.
Related: Best CD Accounts of 2021
Barclays CD
Barclays offers an online CD with no minimum opening balance. The terms go from three months, which earns 0.35% APY, to 60 months, which earns 2.30% APY, as of July 11. Interest compounds daily and no monthly fees are charged. Plus, it's easy to transfer funds with Barclays.
Capital One CD
Capital One offers an online CD with no minimum deposit required. The terms range from a 6-month CD, which pays 2.70% APY, to a 60-month CD, which pays 3.50% APY. You can choose to have your interest paid to you on a monthly basis or credited to another Capital One 360 account. You can also have it credited back to the CD account.
Learn: Certificates of Deposit Risks and Returns
American Express Bank CD
American Express offers a CD with no minimum deposit through its online bank. Terms range from six to 60 months. The APY for a 12-month CD is 0.55% APY and the 60-month rate is 1.70% APY, as of July 11. Interest on these CDs compounds daily and is credited monthly. Upon maturity, the CD will automatically renew for the same term unless you withdraw the money.
Why Some CDs Require a Minimum Deposit
When a bank determines CD interest rates, it considers the term of the CD, which is how long you'll leave the money in the account. A bank also looks at how much it can make on your money during that time and considers the current interest rate environment. Part of what determines how much a bank can earn with your money is the amount of money you deposit: The more you deposit, the more the bank can earn. Some banks don't want to bother with small amounts of money, so they set a minimum requirement for a CD deposit.
You've probably noticed that all the banks that offer no-minimum CDs are online banks. Online banks have lower overhead costs, so they can offer CDs with no minimum deposit.
So, which is the best CD for you? The answer depends on your unique situation, but it's helpful to know you can still get good CD rates if your initial deposit is modest.
Find Out: Guide to Certificates of Deposit
GOBankingRates is a personal finance and consumer interest rate website owned by ConsumerTrack, Inc., an online marketing company serving top-tier banks, credit unions, and other financial services organizations. Some companies mentioned in this article might be clients of ConsumerTrack, Inc., which serves more than 100 national, local and online financial institutions. Rankings and roundups are completely objective, and no institution, client or otherwise, paid for inclusion or specific placement. Any opinions, analyses, reviews or recommendations expressed in this article are those of the author's alone and have not been reviewed, approved, or otherwise endorsed by the companies included in the article. All fees and rates are subject to change at the insurers' discretion, and some bonus offers might no longer be available on the insurers' websites, depending on how you access the web page."
Editorial Note: This content is not provided by American Express. Any opinions, analyses, reviews, ratings or recommendations expressed in this article are those of the author alone and have not been reviewed, approved or otherwise endorsed by American Express. American Express credit card products are not available through GOBankingRates.com.