Best No-Penalty CD Rates for April 2023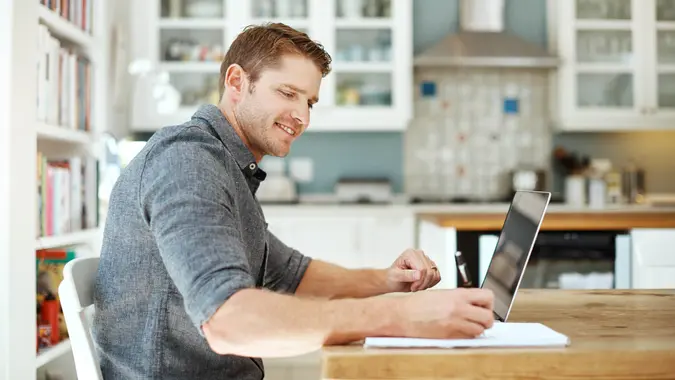 shapecharge / iStock.com
Interest rates are on the rise, and that's good news if you want to stash some cash in a CD, or certificate of deposit. But there's more to choosing the best CD than the interest rate alone. Most CDs apply a penalty of three months' interest if you withdraw the money prior to the end of the term, which can negate the advantage of higher rates.
If you like the idea of a CD–including higher interest, a rate that's guaranteed for the term of the deposit and FDIC insurance–but are concerned that you might want to take the money out before the end of the term, consider a no-penalty CD.
Here's what you need to know.
Highest No-Penalty CD Rates
| Financial Institution | Term | APY |
| --- | --- | --- |
| SaveBetter | 14 Months | |
| America First Credit Union | 12 Months | |
| CIT Bank | 11 Months | |
| Synchrony Bank | 11 Months | |
| Ally Bank | 11 Months | |
| Citi® | 12 Months | |
Most CDs Charge a Penalty for Early Withdrawal
When you put your money into a CD, you select the term, which is the amount of time you will leave the money on deposit with the bank. CD terms typically range from three months to five years, with lots of options in between.
The bank likes to know that the money will be there for the length of time specified, so they will usually charge you if you take it out early. The standard penalty is three months' worth of interest, although some banks will charge more for longer-term CDs. So, if you buy a three-month CD and take it out after two, you'll lose money. If you take out your five-year CD after four years, you'll still get interest, but less of it–three years and nine months' worth, instead of four years' worth.
No-Penalty CDs
Some CDs allow you to withdraw some or all of your deposit prior to the end of the term without paying a penalty. These are known as no-penalty or penalty-free CDs.
Some no-penalty CDs will also allow you to take a partial withdrawal of your CD balance prior to the end of the term. Regular CDs will typically require that you withdraw the entire amount and pay the penalty.
Is a No-Penalty CD a Good Idea?
A no-penalty CD can be a good idea if you aren't sure you can commit to a long term but want the guaranteed interest rate. However, if you are certain you are going to leave your deposit in the CD for the full term, you'll probably be able to find a higher annual percentage yield with a regular CD.
Advantages
There are two situations in which a no-penalty CD can be a good idea. The first is if you think you may need to take the money out prior to the end of the term.
For example, suppose you are thinking of buying a house. You expect the process will take about six months, so you want to put the money you have saved for a down payment into a six-month CD. It's possible you'll find the perfect house a month into your search, so you choose a no-penalty CD just in case you find a house sooner than you expect.
The other situation in which it may make sense to invest in a penalty-free CD is when interest rates are rising. If you buy a CD and the interest rate rises significantly before the term is up, you may want the option to take your money out and put it into a CD that pays more interest without taking the hit of a penalty.
Disadvantages
No-penalty CDs will often pay a slightly lower rate of interest in exchange for the privilege of withdrawing funds before the term is up, should you choose to do so.
When deciding which type of CD to purchase, do the math to see if the no-penalty CD is worthwhile or if you'd be better off taking the penalty instead. Of course, no one has a crystal ball, so you may have to make some assumptions in terms of how much you might need to withdraw and how far into the CD term you might do so.
What Is the Highest No-Penalty CD Rate?
Here are some top-paying no-penalty CDs as of April 21, 2023, and the rates they are paying.
SaveBetter
SaveBetter is partnering with Sallie Mae Bank to offer a 14-month no-penalty CD that pays APY. The minimum opening deposit is just $1. The CD allows a one-time full withdrawal beginning 30 days after the account is opened.
America First Credit Union
America First Credit Union offers a 12-month Flexible Certificate, which allows one penalty-free withdrawal each quarter. You can also add up to $10,000 per month to this CD, for a total balance of up to $100,000. This certificate pays APY, and you must have a $500 minimum to open it. You must also be a credit union member.
CIT Bank
CIT Bank offers an 11-month no-penalty CD that pays APY. For comparison purposes, the rate for a 13-month CD that does have an early withdrawal penalty is APY. The minimum required to open a CD is $1,000.
Synchrony Bank
Synchrony Bank pays APY on an 11-month no penalty CD. There is no minimum balance to open a CD account or earn interest at Synchrony.
Ally Bank
Ally Bank offers an 11-month CD that pays APY and does not impose a penalty for withdrawing the money early. There is no minimum deposit required to open a CD at Ally Bank.
If you choose to renew your CD for another term, you may even be eligible for a Loyalty Reward rate boost for a higher APY on your next term.
Citi®
Citi® offers a 12-month no penalty CD with an interest rate of APY. You'll need to deposit at least $500 to get this CD offer.
Keep an Eye on Interest Rates
As interest rates rise, CD rates will go up, as well. If you are in the market for a CD, watch to see when the Fed will meet next to discuss interest rates and what action they are likely to take. This will tell you whether it's worth it to wait a week or two to see if rates go up. And if you've already got a no-penalty CD, you can consider whether it makes sense to withdraw the funds early to re-invest at the higher rate.
Compare CD Rates
GOBankingRates' Best Banks 2023
Cynthia Measom and Daria Uhlig contributed to the reporting for this article.
Rates are subject to change; unless otherwise noted, rates are updated periodically. All other information on accounts is accurate as of April 21, 2023.
GOBankingRates is a personal finance and consumer interest rate website and an online marketing company serving top-tier banks, credit unions and other financial services organizations. Some companies mentioned in this article might be clients of GOBankingRates, which serves more than 100 national, local and online financial institutions. Rankings and roundups are completely objective, and no institution, client or otherwise, paid for inclusion or specific placement. Any opinions, analyses, reviews or recommendations expressed in this article are those of the author alone and have not been reviewed, approved or otherwise endorsed by the companies included in the article. All fees and rates are subject to change at the issuers' discretion. Some interest rates might be short-term or promotional offers only, and it is possible additional terms and conditions must be met to obtain the interest rates listed. Rates and availability might vary by region. Verify terms and conditions before opening an account.
GOBankingRates bases its assessment of "best" and "top" products on the above-stated parameters to create a baseline for comparison. This assessment is an approximation of "best" and "top" designed to help consumers find products that might be appropriate for them. There could be other options available as well. Consumers should consider various options appropriate for their circumstances.