Best IRA CD Rates for March 2023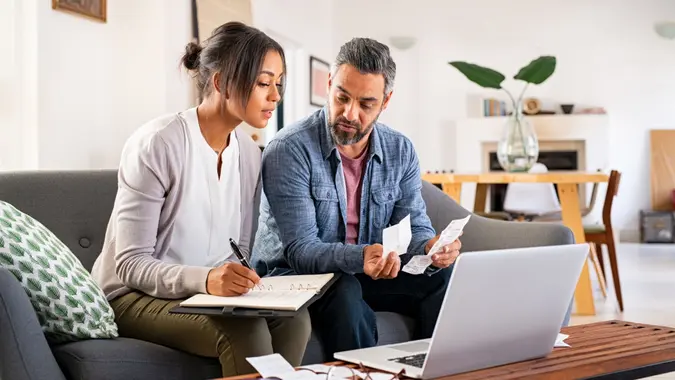 Ridofranz / Getty Images/iStockphoto
People often associate individual retirement accounts with stock or bond investments. However, in the process of seeking the best investment, IRA account holders often overlook certificates of deposit.
It's easy to see why some holders ignore CDs and instead gravitate toward stock investments. The S&P 500 Growth ETF has delivered an average return of 13.44% per year over the last decade, whereas the average interest rate on a one-year CD is only 1.36%. But for investors wary of putting their retirement funds in the sometimes volatile stock market, buying IRA CDs can be a source of safe returns.
What Are the Best IRA CD Rates Today?
CDs often deliver interest rates below 1%, but with a little research, you can find rates far exceeding that amount. Here are five banks that offer annual percentage yields of 1.50% or above:
Alliant Credit Union: Up to APY; $1,000 minimum deposit
Ally Bank: Up to APY; $0 minimum deposit
Discover Bank: Up to APY; $2,500 minimum deposit
Synchrony Bank: Up to APY; $0 minimum deposit
VyStar Credit Union: Up to APY; $500 minimum deposit
Alliant Credit Union
The Alliant Credit Union IRA certificate — the credit-union version of a CD — offers competitive rates regardless of terms or deposit amounts. Depositors earn up to APY. The credit union also requires a minimum deposit of $1,000. Alliant offers terms between 12 and 60 months.
Why it stands out: The $1,000 minimum deposit should make it affordable to most depositors. Also, the maximum APY stands out over competing CDs.
Ally Bank
As with most CDs, the Ally Bank IRA CD tends to offer higher rates for longer commitments, but these rates do decrease with Ally past a certain point. Ally's IRA CD rates top out at APY for an 18-month term, while it offers terms between three and 60 months. Ally stands out by not requiring a minimum deposit.
Why it stands out: Along with not requiring a minimum deposit, Ally Bank offers high interest rates for relatively short commitments.
Discover Bank
The Discover Bank IRA CD offers both short- and long-term CDs, from three months to 10 years. Those who opt for the 18-month term will receive the top APY of . Discover Bank requires a minimum deposit of $2,500.
Why it stands out: Depositors who commit to at least 12 months will earn a APY. Those who want to lock in a rate for 10 years will get a competitive APY.
Synchrony Bank
The Synchrony Bank IRA CD is similar to its peers in many respects. It pays as little as for a three-month CD but that rises with longer terms — and if you opt for the 14-month IRA CD, you'll get a rate of APY. Plus, there's no deposit or minimum balance required, and terms are available up to five years.
Why it stands out: This CD's rising APY stands out for terms of 12 months or longer.
VyStar Credit Union
The VyStar Credit Union IRA certificate offers APYs ranging from for a three-month term to for a five-year term. The APY takes a significant jump, to , with only a 6-month commitment. The minimum required deposit is $500.
Why it stands out: The short-term rates come in ahead of most banks on short-term CDs. Also, the $500 minimum deposit makes certificates accessible to most depositors.
What Is an IRA CD?
An IRA CD is simply an individual retirement account that invests all of its funds in certificates of deposit. IRA holders can put some or all of their money in a CD, and some banks have CDs they designate specifically for retirement savings. To better understand how these financial products work, here's a brief explanation of both CDs and IRAs.
How CDs Work
Certificates of deposit hold a fixed amount of money for a defined period, such as six months or five years. At the end of the term, the bank returns your funds to you, plus the interest earned over time.
These funds enjoy the benefits of insurance protection from the Federal Deposit Insurance Corporation — or National Credit Union Administration, in the case of credit union certificates. The FDIC and NCUA cover accounts up to $250,000 per depositor and insured financial institution.
How IRAs Work
An IRA is a fund that lets account holders make tax-deferred contributions to boost their retirement savings, allowing the money to grow tax-free. Within an IRA, you can choose from several types of investment products, such as stocks, mutual funds, bonds and CDs. Investors often want to spread their money among multiple kinds of investments to diversify their holdings.
How the money is taxed depends on the type of IRA. Traditional IRAs allow you to contribute pretax dollars into the account. This money is then taxed when you take distributions. With a Roth IRA, you contribute dollars that the IRS has already taxed. When you take distributions, all of that money is tax-free.
Similarities
While IRAs and CDs are not the same, they have one commonality: Both have lock-up periods.
With a CD, the lock-up period lasts for the term of the certificate. In an IRA, the funds must remain in the account until you reach age 59 1/2. If you withdraw money before that age, you'll face a 10% tax penalty on top of the tax you owe, except in special cases.
Advantages and Disadvantages of an IRA CD
Whether you consider an IRA CD a "good" investment depends on your own investment needs and risk tolerance. These investment products hold both advantages and disadvantages for retirement-oriented investors.
Advantages
IRA CDs offer both safety and stability. Should a bank or credit union collapse, the FDIC or NCUA will replace the full amount of your deposit up to $250,000.
That protection — coupled with the fact that CDs don't have management fees — make CDs attractive for low-risk investors. With the full value of the CD insured in most cases, finding the "best" CD is usually a matter of choosing the one with the highest interest rate and the longest acceptable lock-up period.
In addition to safety, CDs offer stability — something you don't always find with stocks. Stocks can bring significant gains, but when a company or business sector hits a rough patch, a stock can lose a considerable portion of its value in a short period of time.
Disadvantages
Although CDs are low-risk, investors pay a high potential price for this safety and stability. CD investments typically produce much lower long-term returns than stocks, mutual funds and other types of investments.
CDs also have a hard time keeping up with inflation. For example, those who invest in a 60-month CD will earn an average annual return of 1.25%. To put that into perspective, the consumer price index increased by 6.4% over the last 12 months.
This means that even if depositors are not "losing money" in the technical sense, they face a modest loss in purchasing power in IRA CDs if rates fail to keep up with inflation. Even if you happen to earn the best CD rate in this roundup, 5.00%, you might struggle to find a return that outpaces inflation.
And while IRAs exempt you from taxes on the interest you earn, you're not exempt from all penalties. If you take the money out of the CD before the maturity date, you'll still face an early withdrawal penalty.
Is an IRA CD a Good Investment?
In times of low interest rates, IRA CDs for low-risk investors probably won't provide the level of growth needed to fund your retirement. Even if you worry about stock market volatility, in most cases, you have little choice but to become a stock market investor on some level.
You probably don't want to put all your retirement money into an IRA CD, but it's fine to keep a portion of it in one. If you know you won't need to touch the money for several years, it's not a bad idea to put part of your IRA into a CD.
FAQ
If you're considering an IRA CD, it's important to learn how they work. These questions might resolve some of the confusion.
What types of IRAs are eligible for CDs?

All types of IRAs allow CDs as an investment option.

Who do IRA CDs best serve?

IRAs CDs for low-risk investors are best-suited for those who are near retirement and need to keep their funds safe but also want a higher level of return than a standard savings account.

What is the contribution limit on an IRA CD?

IRA CDs have the same contribution limits as other types of IRAs. For 2023, that contribution limit is $6,500 per year for everyone under 50 years old. Those who are 50 and older can contribute up to $7,500 per year. You can make a contribution up until the tax-filing deadline for any given tax year.
Daria Uhlig contributed to the reporting for this article.
Rates are subject to change; unless otherwise noted, rates are updated periodically. All other information on accounts is accurate as of March 8, 2023.
GOBankingRates is a personal finance and consumer interest rate website and an online marketing company serving top-tier banks, credit unions and other financial services organizations. Some companies mentioned in this article might be clients of GOBankingRates, which serves more than 100 national, local and online financial institutions. Rankings and roundups are completely objective, and no institution, client or otherwise, paid for inclusion or specific placement. Any opinions, analyses, reviews or recommendations expressed in this article are those of the author alone and have not been reviewed, approved or otherwise endorsed by the companies included in the article. All fees and rates are subject to change at the issuers' discretion. Some interest rates might be short-term or promotional offers only, and it is possible additional terms and conditions must be met to obtain the interest rates listed. Rates and availability might vary by region. Verify terms and conditions before opening an account.
GOBankingRates bases its assessment of "best" and "top" products on the above-stated parameters to create a baseline for comparison. This assessment is an approximation of "best" and "top" designed to help consumers find products that might be appropriate for them. There could be other options available as well. Consumers should consider various options appropriate for their circumstances.
Our in-house research team and on-site financial experts work together to create content that's accurate, impartial, and up to date. We fact-check every single statistic, quote and fact using trusted primary resources to make sure the information we provide is correct. You can learn more about GOBankingRates' processes and standards in our editorial policy.