Best Jumbo CD Rates March 2023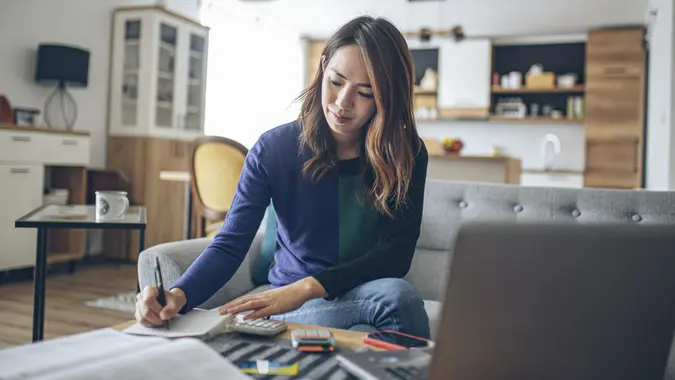 Milan_Jovic / Getty Images
Certificates of Deposits, or CDs, often called "share certificates" at credit unions, offer higher interest rates than most savings accounts. If you are willing to keep your money tied up for a while – anywhere from 3 months to 5 years or more – you can earn more interest than a conventional savings account with none of the risks associated with stocks, cryptocurrency, or other investments.
Highest-Yield Jumbo CDs and Certificates
With interest rates rising, some jumbo CDs offer interest rates as high as 5%. We've done the research to find some of the highest yield jumbo CDs and certificates available now.
Kinecta Federal Credit Union
Kinecta Federal Credit Union has a special promotion right now, offering a 4.94% dividend rate, or on a15-month jumbo certificate. The promotional rate applies to new deposits only. The credit union's regular jumbo certificate rates range from 2.72% dividend / APY up to 4.17% dividend and APY, with terms from three months to five years.
Air Force Federal Credit Union
Air Force Federal Credit Union is also running a promotion right now. Score a APY, or 5.125% dividend rate, with an 18-month certificate. A 24-month certificate at AFFCU right now pays a dividend of 3.687% or APY.
In spite of the name of the credit union, it's surprisingly easy to become a member and it is not exclusive to Air Force personnel. If you don't meet qualifications based on where you live or work or as a United States service member or veteran, you can make a one-time donation to the Dream Educational Foundation or the Airman Heritage Foundation to become an AFFCU member.
Navy Federal Credit Union 
Navy Federal Credit Union has share certificates with an APY as high as for 12 months. You can also get a short-term jumbo certificate for just three months with a APY, or six months with an APY of . An 18-month CD offers an APY of and a 24-month certificate offers a APY.
Right now, the credit union also has a special offer. Open a 15-month share certificate with as little as $50 and earn a 4.88% dividend, or 5.00% APY. You can add up to $250,000 into the account, turning it into a jumbo certificate with 5% interest.
Credit One Bank
Credit One Bank has the highest interest rates for jumbo CDs that we found, with APYs up to . The bank's 13-month term jumbo CD offers an APY of . Similarly, the 18-month jumbo CD with an APY of . At a minimum, a jumbo CD with a term of just six months will earn APY.
Discover
Discover doesn't advertise "jumbo CD" products, but if you use their CD calculator and enter $100,000 for an 18-month CD, you will find out it offers a APY. A 12-month jumbo CD with a $100,000 deposit is available with a APY.
Discover may be best known for top-rated rewards credit cards, but the financial services company also offers checking, savings, and retirement accounts, including CDs with minimum deposits starting at $2,500.
Luana Savings Bank
Luana Savings Bank offers jumbo CDs with interest rates as high as for 24 months. The 30-month CDs have an APY of , putting Luana within the top three of interest rates for banks offering jumbo CD. Interest rates on other CDs, with a minimum deposit of $2,000, start at for an eight-year CD.
Luana Savings Bank is the ninth largest bank in Iowa, with $2 billion in assets. Providing personalized, localized service at six branches in Northeastern Iowa, the bank also accepts online account applications.
What Are Jumbo CDs?
A Jumbo CD is a high-yield savings vehicle, typically for amounts greater than $100,000, although some Jumbo CDs accept deposits of $50,000.
CDs are backed by the Federal Deposit Insurance Company, while certificates in credit unions are backed by the National Credit Union Administration.
With today's inflation rates, money in a CD won't keep pace with inflation, but it is still better than keeping your money in a regular checking or savings account. For one thing, with early withdrawal penalties on many CDs, you won't be as tempted to dip into your savings. That makes CDs perfect for saving for events like weddings, vacations or home improvements, with a specific end date in mind.
High-earners may prefer CDs as a low-risk investment. If you have $100,000 or more to invest, you'll want to look at a jumbo CD.
FAQ About Jumbo CDs
Here are the answers to some of the most frequently asked questions about jumbo CDs.
What is the best CD rate for $100,000?

The best rate in March 2023 for a $100,000 jumbo CD is

5.25%

APY. You can open this certificate at Air Force Federal Credit Union. It is for a term of 18 months.

What's the interest rate on $100,000 CD?

CDs or certificates offer some of the highest interest rates available for your money if you have $100,000 or more to save. The highest interest rate we found for a $100,000 certificate is at Air Force Federal Credit Union, which offers any APY of

5.25%

for 18 months.

What is the highest interest rate on a jumbo CD?

Credit unions right now offer higher interest rates on jumbo certificates than you will find on jumbo CDs at banks. The highest interest rate on a jumbo CD in March 2023 is offered by Credit One Bank, with a

5.05%

APY on a jumbo certificate with a term of 13 months.

Where can I get 5% interest on my money?

If you have more than $100,000 to invest, you can earn 5% interest or more by opening a jumbo CD or certificate at a bank or credit union. Kinecta Federal Credit Union, Air Force Federal Credit Union, and Credit One Bank all offer rates above 5% for jumbo CDs or certificates.
Final Take
A jumbo CD is a safe place to park your money for mid- to long-term savings. If you are saving for a down payment on a house, major home renovations, or another large purchase, a jumbo CD can help you reach your goals.
Rates are subject to change; unless otherwise noted, rates are updated periodically. All other information on accounts is accurate as of March 16, 2023.
Editorial Note: This content is not provided by any entity covered in this article. Any opinions, analyses, reviews, ratings or recommendations expressed in this article are those of the author alone and have not been reviewed, approved or otherwise endorsed by any entity named in this article.