SAVINGS
CALCULATOR
See how much you can build your savings over time through compounding interest.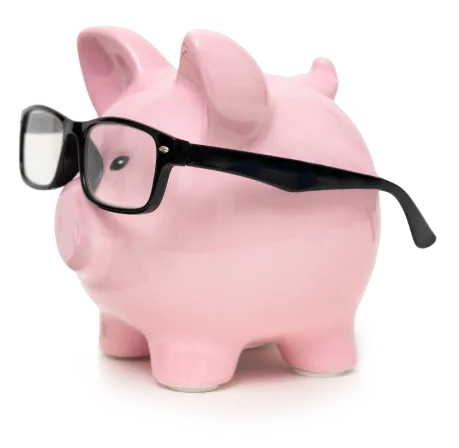 Definition of Savings Terms
If you're new to saving, some of the terms above may be new to you as well. Here's a look at what the inputs of this savings calculator with interest mean.
Initial savings: This is the amount of money (in dollars) that you plan to put into a savings account.
Interest rate: In the case of a deposit account, this refers to the amount earned on your money. This may also be called APY, or annual percentage yield. APY is a formula used to calculate the amount of interest earned on an investment or savings account over one year.
Years invested: This is the number of years you plan to keep your cash in the deposit account, without making withdrawals.
In addition to the terms above related to the interest rate calculator with savings, you may want to get familiar with different types of savings accounts and what they entail.
High-yield savings account: A high-yield savings account pays a higher interest rate than a basic savings account. Many online-only banks offer high-yield accounts.
Money market account: These accounts are a hybrid of savings and checking accounts. You can withdraw your funds by check or by electronic or telephone transactions, and some also offer a debit card. Money market accounts typically offer lower interest rates than traditional savings accounts.
Cash management account: Cash management accounts are nonbank deposit accounts. The features of these accounts will vary, but many act as a hybrid checking and savings account.
Health savings account: If you are enrolled in an eligible high-deductible health plan, you may have the option to open a health savings account, or HSA. These accounts allow you to contribute a specific amount per year to your account. You can use these funds to pay for qualified medical expenses with pretax dollars. 
How Much Money Should You Save Each Month?
The amount of money you save each month is unique to your personal finances and how you want to reach your long-term goals. However, there are many saving strategies or advice you can take to make sure you are getting the most out of what you put in. Here are some key takeaways:
Many experts and financial advisors suggest you save at least 20% of your income each paycheck to put toward such things as retirement savings, emergency funds or short-term savings goals.
Diversifying where you keep your savings can help you achieve your financial goals. Have more than just a checking account but also separate accounts for retirement savings, saving for buying a home, stock or bond investments, certificates of deposit, money market accounts or more.
If you are having trouble saving, the first step is to make a plan and then budget out where you need to spend money on necessities and where you can edit down discretionary spending.
Depending on their age, income or education level, what the average American has in savings can vary. For instance, a household making less than $50,000 a year typically has around $3,000 in savings.
What Are the Recommended Budget Percentages?
Breaking your savings down into percentages per month can be a helpful system to organize what you spend and save monthly. For example, you could try the 50/30/20 budget rule which uses the following formula for your monthly income:
50% is allocated to needs
30% is allocated to wants
20% is allocated to savings
Another way to create your budget and start saving is to break all of your spending into percentages so you can know how much you need in each category and where you have room to save money. Below is a sample allocation of spending percentages:
| Budgetary Item | Allotted Percentage of Monthly Income |
| --- | --- |
| Housing or mortgage payments | 25-35% |
| Food | 10-15% |
| Medical, home or auto insurance | 10-25% |
| Transportation or auto services | 10-15% |
| Savings | 15-20% |
| Health | 5-10% |
| Clothing | 5% |
| Entertainment and leisure | 5-10% |
| Personal expenses | 5-10% |
How To Calculate Interest on Savings
To calculate interest on savings you could use GOBankingRates' simple savings calculator to help you figure out such savings nuances as:
Recommended monthly deposits or initial deposits for your account balance
The number of years you plan on saving to reach your goals
Annual interest rates as well as what earns interest in your savings account
What your growth over time could look like with compound interest
However, if you want to double-check your financial institution's or the free savings calculator's math, knowing how to figure out the interest on your savings manually can be quite handy. There are basic formulas you can use to calculate interest such as: 
Principal X Interest Rate = Interest
To calculate how much you'll earn after a year, you need to know:
Your principal balance
Your interest rate
How often interest is compounded in a year
Number of time periods that have passed (or will pass)
Your formula to calculate compound interest and your total account balance at the end of the year will look like this:
Tips On How To Save Money
There are many tips and tricks to help you start saving what you can. Any savings is good savings but to get started sometimes you just need to know where to take the first step. Here are a few tips on how to start saving money:
Make a grocery list
Cook your meals at home
Buy store brands
Find ways to cut unnecessary spending
Shop the perimeter of the grocery store
Follow the 30-day rule
Refinance your mortgage
Use a budgeting app
Cut utility expenses
Stop wasting food
Best Savings Accounts
To find the best savings account, you will want to look for an account that meets your needs. This may mean focusing on the APY, or the number of branch locations the institution has.
If you're not sure which account to choose, consider GOBankingRates' picks for the Best Savings Accounts of 2023. To select these accounts, GOBankingRates ranked nearly 50 bank accounts based on a number of factors, including:
Total assets
Number of branch locations
Minimum deposit to open an account
Monthly saving fee ratio
Minimum balance needed to earn APY
Savings APY
Mobile app ratings
Based on these factors, GOBankingRates named Capital One 360 Performance Savings as the Best Savings Account of 2023.
Here's a look at the finalists:
Bank of America Advantage Savings
BMO Harris Bank Savings Builder
Chase Bank Savings
First Citizens Bank Online Savings
First Republic Bank Passbook Savings
Frost Bank Savings
PNC Bank Standard Savings
U.S. Bank Standard Savings
Wells Fargo Bank Way2Save Savings
*This calculator provides an estimate of savings growth based on the information provided, and is not intended to be a substitute for professional financial advice.
Caitlyn Moorhead contributed to the reporting for this article.
Other Calculators
Learn more about your finances by checking out these additional calculators.