How To Save Money: 12 Proven Tips To Build Your Savings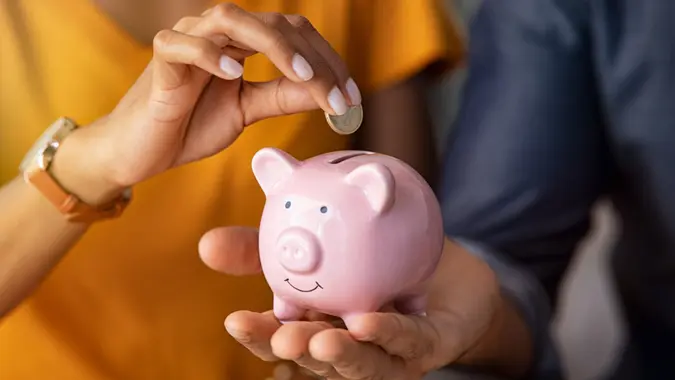 Ridofranz / Getty Images/iStockphoto
If saving money were easy, then a lot more Americans would have a lot more cash tucked away. But that's not the case. A recent GOBankingRates survey found that 40% of Americans have less than $300 in savings. About half of the respondents said they have less than $600 in savings, while 57.4% have less than $1,000.
Read: 16 Ways To Save Money on Food
Find Out: 17 Surprising Ways Penny-Pinching Costs You More
Among the common reasons cited for not having more money saved up included the following:
Having too much debt
Being unemployed
Residing in an area with a high cost of living
Even though it might seem like saving is an impossible task, there are some simple steps you can take to cut costs and boost savings. If you have limited savings and want to learn how to save money fast, read on. Here are some tools and ideas to painlessly boost your savings.
What Are 12 Ways To Save Money?
Even if you have convinced yourself that you are not a saver, think again. Taking advantage of ways to save here and there can boost your savings account balance in a hurry.
Make Your Money Work for You
1. Make a Grocery List
One of your biggest controllable expenses is food, and there are plenty of ideas about how to save money on groceries. They start with planning. Review grocery store ads, plan meals and make a shopping list you can stick to. By doing so, you'll find the best buys and avoid impulse purchases. Plus, by having a list, you'll ensure that you get everything you need and don't have to make a return trip, saving gas money as well.
The U.S. Department of Agriculture has looked at average weekly grocery costs for families whose spending can be categorized as thrifty, low-cost, moderate and liberal. According to its April 2021 report, a thrifty family of four spends an average of $137.30 to $157.60 a week on groceries, while a family that spends liberally dishes out $268.20 to $314.20 each week. The cost range varies based on the age of children in the household.
Make Your Money Work for You
Assuming the family spends at the low end of the range, a thrifty family will pay $594.90 for groceries each month, with the liberal spenders paying $1,161.90. That's a difference of $567 per month or more than $6,800 per year.
2. Cook Your Meals at Home
Dining out might be a fun way to socialize and relax while somebody else makes and serves your food, but it can quickly break the budget if you do it too often. Even ordering takeout meals once or twice a week adds up. Preparing your own meals at home is almost always cheaper than dining or ordering out because you avoid inflated restaurant prices – and you don't have to tip. A bonus is that you have more control over the quality of your ingredients, and the portions you serve. This has health benefits that might save you money in medical costs down the road.
Dining out is an easy thing to eliminate if you need a quick way to reduce your spending. It doesn't have to be a huge burden, either, if you use simple recipes or make one-pot dishes you can put them in a slow cooker in the morning.
A good resource if you want to make your grocery budget stretch is MyFridgeFood, It's a website that tells you which dishes you can make with the ingredients you have on hand. Recipes with steps also are included.
Make Your Money Work for You
3. Buy Store Brands
For thrifty shoppers, store brands provide a viable — and valuable — alternative to name brands. According to the Private Label Manufacturers Association, consumers save $40 billion a year on grocery and household purchases by choosing store brands over the national name brands of the same product.
Studies show that shoppers consistently save one-third or more on grocery and household items by choosing store brands over national brands, the PLMA said. That's mainly because national brands tend to spend a lot more money on advertising, a cost they pass on to consumers. Many large companies spend 20 cents or more of every dollar on promotions, advertising and marketing as a way to drive sales and keep their brands in front of shoppers. Store brands don't have these kinds of costs, so they can charge less money.
4. Find Ways To Cut Unnecessary Spending
If high expenses are keeping you from saving as much as you want to, it's time to think about cutting back. Begin by identifying the nonessentials you can spend less on and striking them from your budget. Also, look for ways to save on fixed monthly expenses such as your streaming, TV or cell phone plans. Here are a few things to look at to cut your everyday expenses:
Ways To Cut Everyday Expenses

Cancel subscriptions and memberships you don't use, especially those that renew automatically.
Reduce the amount of money you spend on things you think you need but you really don't, whether it's that expensive latte you buy every morning or the pricey spa treatment you treat yourself to once a month.
Learn: Shopping Mistakes You're Making and How To Stop
Discover: The 37 Mistakes We Make When Shopping at Costco, Amazon, Target and Walmart
5. Transfer Credit Card Balances
According to Experian, the average credit card balance in 2020 was $5,315. Now, suppose you owe that amount on your credit card, and you're paying an annual percentage rate of 18%. If you are determined to pay it off in 12 months, you'd owe a monthly payment of $488 and pay $442 in interest. But if you transferred the balance to a credit card that offered a promotional APR of 0% for one year, your payments would drop to about $443 a month, with no interest. At the end of the year, that's a savings of about $540 in payments alone.
6. Clip Coupons and Use Store Apps
If you're one of those folks who still like to grab the Sunday newspaper, you know that it's full of coupons that might range from 25 cents to $2 off a particular product. Using these coupons can save a lot of money over time.
But you don't need to be a newspaper subscriber to take advantage of manufacturers' coupons. By joining your store's loyalty club, you'll save money on each shopping trip just by presenting your loyalty card. Once you're a member, download the store's app or register on its website for further savings. Retailers ranging from Target and CVS to your local grocery chain offer downloadable coupons on their mobile sites. The value is deducted at the cash register automatically.
7. Find Free Entertainment Options
Saving money doesn't mean you have to sit at home every day, thinking about all the fun you're not having. Although many entertainment options cost money – concerts, movies, zoos, theme parks, ball games, etc. – you might be surprised at all the free options.
If you're determined to save money, test run a $0 entertainment budget for one month. This not only lets you learn about free entertainment options, but it might also be a fun challenge researching what's out there. Here are some ideas to get started:
Free Entertainment Ideas

Take a YouTube yoga or craft class
Find a Meetup group that matches your interests
Sign up for free trials to test different streaming services
Invite friends over to play board games
Start a small garden with seeds from a local seed share program
Visit your local park for a game of frisbee, a nice walk in the woods, or just to gaze a nature
8. Refinance Your Mortgage
You obviously have to own a home to take advantage of this money-saving idea. But if you do own a home, you should make it work for you whenever possible. With interest rates at historic lows in 2021, now is the perfect time to consider refinancing your mortgage. You can save money in two ways: by getting a lower interest rate, and by getting a lower monthly payment.
Refinancing can also let you trade an adjustable-rate mortgage for a fixed-rate mortgage, or to change the length of your home loan. If you want to refinance your mortgage but aren't sure how much lower your rate could go, check different rates from multiple lenders.
9. Use a Budgeting App
If you are not already keeping a monthly or weekly budget, now is the time to start. One way to help you get started is to check for third-party apps designed to help you get a handle on your finances and quickly reduce your spending. One popular option is Mint.com, an app that helps you see where all your money is going each month. Another is YNAB.com (short for You Need a Budget), which helps users create a zero-sum budget that gives every dollar they earn a specific "job."
Other budgeting apps to consider are Personal Capital, Clarity Money and Qube Money. Qube Money offers a digital version of the cash envelope budgeting system, along with functionality that lets users share expenses and work in conjunction with others in their plan.
Keep in mind that some apps carry a price tag, though not all do. If your expenses are really tight, consider an app like Mint that has many free features.
10. Cut Utility Expenses
First off, begin by doing the obvious, like turning off your lights when you leave a room, shutting down your computer when it's not in use, turning off the TV when you are not watching it, and not leaving the faucet on if you don't have an immediate need for water. You can also take steps such as taking shorter showers, washing your clothes in cold tap water, fixing leaky pipes, and installing dimmer switches and LED lightbulbs in your home.
Energy-efficient appliances are an ideal way to save money on your electric bill, but they don't come cheap. Even so, they still might be worth purchasing over the long run if you can save up enough money to buy them with cash. The savings you will realize on your power bill might eventually make up for the money you dished out to buy the appliances.
Learn More: 19 Money-Saving Secrets Target Doesn't Want You To Know
Money Hacks: 37 Life Hacks That Will Save You Money
11. Avoid Wasting Food
Remember the old expression "waste not, want not"? That's true when it comes to food. The U.S. Department of Agriculture estimates that each year, the average family of four throws away $1,500 in uneaten food, or about $125 each month. The USDA has several recommendations to avoid food waste:
Organize your refrigerator and pantry so that food that expires faster is pushed to the front and not shoved to the back and forgotten.
Pay attention to your food's expiration date to ensure you don't have to throw it out. Also, keep in mind that many foods can last slightly beyond an expiration date, so don't automatically throw them out if you see that the date has passed.
Download the USDA FoodKeeper app, which can help track storage times and use-by dates for food in your refrigerator.
Freeze leftover and excess food for use at a later date.
Use expiring foods as part of another meal, such as by putting overripe fruit into a smoothie.
12. Use Your Library
How many entertainment services such as Netflix, Hulu, HBO Max and Prime Video do you have? If you subscribe to all of these, you could be paying close to $40 or more each month, depending on the plans you've selected. In addition to books, many libraries offer DVDs and CDs for free. There's even an app called Libby that lets you download e-books and audiobooks using your library card.
The Bottom Line
You now have actionable ideas on how to save money each month. Remember that saving is a marathon and you need to let your money build over time.
If you don't already have one, open a savings account with a local bank, credit union or online bank so you'll be ready to set aside your savings. Next, take one of the money-saving hacks listed above to get started, and keep track of how much you saved in the first month. As you incorporate more of these strategies into your financial life, you can also create a financial plan to help you maximize your savings.
More From GOBankingRates
Last updated: Sept. 17, 2021
Harry Hoover contributed to the reporting for this article.
Our in-house research team and on-site financial experts work together to create content that's accurate, impartial, and up to date. We fact-check every single statistic, quote and fact using trusted primary resources to make sure the information we provide is correct. You can learn more about GOBankingRates' processes and standards in our editorial policy.
Make Your Money Work for You