Best Budgeting Apps for 2023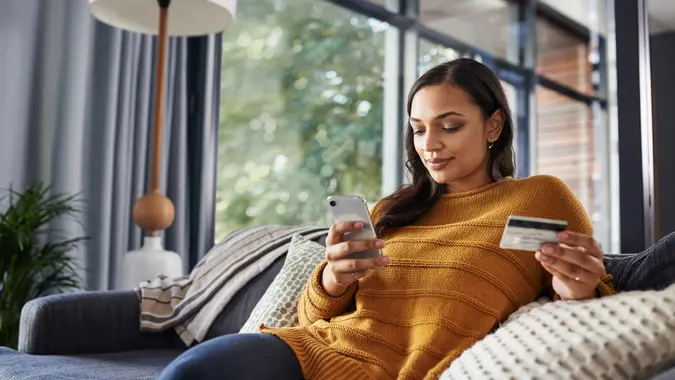 mapodile / Getty Images
If you have trouble budgeting your money, you're not alone. Creating a budget can be overwhelming, and sticking to a budget isn't easy — especially if it's your first time working with one. To help you keep your finances on track, GOBankingRates has identified the best budgeting apps out there.
Best Budgeting Apps: Paid
Best Free Budgeting Apps
Best Free Budgeting Apps With Paid Upgrades
Best Budgeting Apps: Paid
These apps require a subscription fee. Some offer a free trial, but after it ends, you'll have to pay to continue using the app.
Best Streamlined Zero-Based Budgeting App: EveryDollar
EveryDollar was created by personal finance expert Dave Ramsey. It uses a zero-based budgeting system, which means that every dollar has a job. Users can create a customized budget based on their income and expenses, track their spending and create savings goals.
Pros:

Intuitive platform with simple features that make navigation easy
Enables users to create a customized budget and adjust it as needed
Connects to over 10,000 banks and automatically imports transactions
Offers spending insights based on your financial history

Cons:

Your bank might not be supported, which will require you to manually input transactions
Why GOBankingRates chose it: It's a user-friendly budgeting tool that can help individuals and households create and manage their monthly budgets in a simple and effective way.
Make Your Money Work for You
Best Detailed Zero-Based Budget App: You Need A Budget
You Need A Budget tracks your spending and lets you know how you can pay off your debt, start saving and more. It's an excellent choice for zero-based budgeting. The website also has an impressive library of lessons that explain all kinds of budgeting topics.
Pros:

YNAB claims you can save between $600 and $6,000 in spending per year when you stick to the system
A wide array of supplemental resources are available

Free 34-day trial that doesn't charge you unless you subscribe at the end

Cons:

Pricey compared to comparable budgeting apps

Cost:

$14.99 per month
$99 per year
Why GOBankingRates chose it: Visual learners will appreciate the detailed graphs and color-coding, which give a quick glimpse of how much money you've spent. The combination of an easy-to-use interface, an impressive learning library and a robust online community make this one of the best debt apps. YNAB also offers a podcast and free live daily Q&A sessions. Additionally, you can try it out free for 34 days, which will give you plenty of time to decide if you want to commit to paying the ongoing subscription fees.
Best Budget App for Visualization: Monarch
If viewing your financial picture in the form of graphs and charts is important to you, Monarch's easy-to-use platform may be what you're looking for. You can sync your credit and bank accounts for automatic updating, set goals and view investments. Plus, you can create your own categories and view them in list form.
Pros:

Seven-day free trial
Monthly email report to help you see goal progress

Recurring transactions can be seen on the calendar for clarity
Frequent upgrades and improvement of features

Cons:

Seven-day free trial might not be long enough to decide if you should commit
Pricier than some comparable options

Cost:

$14.99 monthly
$99.99 annually
Why GOBankingRates chose it: Behind the stunning data visualization, you'll find Monarch offers plenty of features for the beginner — and more advanced — budgeter. Additionally, you can collaborate with a partner or household member in the app to keep your spending on track.
Make Your Money Work for You
Free Budgeting Apps
If your budget is tight or you'd simply rather not spend money on budgeting tools, these are the best free budgeting apps for download.
Best Wealth Management App: Empower
Empower, formerly Personal Capital App, calculates your net worth, helps you budget and helps you plan for retirement — all for free. It features a robust, user-friendly dashboard that you can use to link all of your accounts, see custom household retirement projections, view spending trends by category and see month-to-month comparisons in spending.
Pros:

Ideal for individuals with assets who want an overall financial picture 

Robust offering for planning and savings that doesn't require you to pay a fee
Investment Checkup tool to help you gauge the effectiveness of your portfolio

Cons:

App may feel overwhelming for new budgeters

Wealth management features might not be applicable for some people
Why GOBankingRates chose it: Besides its budgeting features, it offers helpful tools for investment-focused users and those planning for retirement. For help managing your investments, you can use the Investment Checkup tool to help you assess portfolio risk, analyze past performance and model individualized asset allocations. And if you're curious to see how different scenarios would play out in retirement, there's a tool for, that too.
Best Free Budget App: Mint
The Mint budgeting app helps you balance your budget by tracking your expenses. It connects to all of your bank accounts and automatically updates whenever you make transactions. You can categorize your budget and receive an alert when you exceed your limit. Plus, the app has Mintsights, which offers helpful insights and predictive savings offers based on your personal financial history.
Pros:

Set alerts to monitor your spending and income
Free credit score and report
Get notified of increases in subscription costs

Cons:

You'll have to put up with ads and third-party offers unless you pay extra for Mint Premium

Predictive savings offers might not be welcome by some users

You have to create naming and category rules to avoid Mint automatically miscategorizing transactions
Make Your Money Work for You
Why GOBankingRates chose it: There's a reason Mint has consistently been named the best free budgeting app. Overall, it's easy to use but also comprehensive, making Mint a great app both for personal finance newbies and for in-depth budgeters who like to really track where their money goes.
Best Budget App for Couples: Honeydue
Honeydue is a free budgeting app designed to help couples manage their finances together. Couples can connect their bank accounts, credit card accounts and other financial accounts in one place, which allows them to see balances and transactions in real-time.
Pros:

Fosters collaboration between couples
Gives alerts for upcoming bills and when a budget category is exceeded
Couples can chat within the app about money matters
A joint bank account is available as an upgrade

Cons:

Ads are present
Support could take a day to respond
No investment portfolio or savings goals tools

Cost: Free
Why GoBankingRates chose it: Honeydue aims to make managing finances as a couple more transparent and less stressful. It also has a feature that allows couples to split expenses and track who owes what to whom. This is useful for couples who share expenses but have different incomes or spending habits.
Free Budgeting Apps With Paid Upgrades
These apps have the best of both worlds. You can download and use them for free or you can opt for the paid upgrades each app offers.
Best Budget App for the Envelope Method: Goodbudget
By using the old envelope budgeting method, Goodbudget lets you track your envelope and account balances and sync them to multiple devices. You can make envelopes for all your budgeting categories and reserve money in each one based on that category.
Pros:

Sync and share your budget with others
Goal setting and debt payoff available
User-friendly mobile app

Cons:
Cost:

$0 for Free Forever
$8 per month or $70 annually for Plus
Make Your Money Work for You
Why GOBankingRates chose it: Not only does Goodbudget take the envelope method digital, you can also save for big purchases, create a workable budget and share budgets with family and friends.
Best Simple Budgeting App: Fudget
If you're looking for an ultra-simple app that helps you set a calculation-style spending plan without having to worry about syncing accounts, Fudget is a good option.
Pros:

Simple, list-style tallies of spending and income
Star repeat expenses or income
Create weekly or monthly budgets

Cons:

You have to subscribe to the paid version to remove ads
Minimal extra features in the upgraded paid version

Cost:
Why GOBankingRates chose it: This app is so simple, you don't have to set up categories — you'll simply get a financial overview of your spending and income to see how much is coming in and going out. If that's too basic, you can also upgrade for a one-time fee to unlock features such as business and goal categories, fewer ads, Dropbox syncs, exports and more. 
Best Budget App for Overspenders: PocketGuard
This free budget app offers a simplified budgeting snapshot that will help you organize bills, expenses and subscriptions. Sync your bank accounts and credit cards to the app, so you'll know how much cash you have to spend at any time.
Pros:

Offers a lifetime subscription option to save big
Good for those who like 50/30/20 budget method
Upload images of receipts and other items

Cons:

Debt payoff plan is only available in paid version
Custom categories aren't allowed in free version

Cost:
Why GOBankingRates chose it: The app is good for personal finance newbies and in-depth budgeters. It easily connects to your accounts and shows you daily balances based on the budget you set up. Plus, it allows you to set SMART goals in connection with savings and offers an optional personal debt payoff plan.
Make Your Money Work for You
Best Budget App for Choosing a Subscription Fee: Rocket Money
Previously known as Truebill, Rocket Money helps you see your full financial picture while spending less and saving more. However, you can upgrade to Premium for additional features, including concierge service to cancel recurring subscriptions, premium chat services, unlimited budgets, custom categories, real-time balance syncing and full credit report access.
Pros:

Free credit score
Calculates how much you have to spend each month
Spending goal tracker
Spending alerts to help you stay on budget

Cons:

$3 and $4 subscription price option requires annual prepay

Cost:

Free
Premium: $3-$12 monthly — your choice
Why GOBankingRates Chose It: It's a free budgeting app that has some features you might not expect, including automatically identifying your top spending categories based on your spending habits. Plus, if you choose to upgrade to Premium can pick your own subscription price between $3-$12.
Advantages of Using Apps

Budgeting apps offer several advantages over manual budgeting methods.

Time-saving
Easy-to-use interfaces to keep in touch with your finances
An assortment of tools designed to help you understand where your money is going and set savings goals
Allow access to your financial information via smartphone
Safe — as long as you choose a reputable app and protect your phone
How To Choose a Budgeting App
The best budget app for you is the one you'll actually use. You may need to try out a few different apps before you find the one with the features you want and need. Here are some tips to help select one.
Take advantage of free trial periods.
Use the free trial period as an opportunity to find out how well each app works.
Choose an app that's compatible with your device.
Make Your Money Work for You
Other Budgeting Options
A budgeting app isn't the only way to keep track of your spending. You can create a budget and track your spending manually.
Budgeting templates are also available online. Microsoft Excel has templates available that you can download to a computer. Mint also offers free budget spreadsheets on its website. Alternatively, you can use a notebook or ledger sheet to create your own simplistic or detailed budget.
Choose the budgeting tool that works best for you. Be sure to include the following information:
Amount of money you have coming in each month
Your fixed expenses — rent, mortgage, utilities, car payments and insurance
Your variable expenses — food, gas and entertainment
Make a plan for your money. Perhaps you want to pay down debt or save for a big purchase. Look for places to cut back within your budget and divert that money toward your financial goals.
Review your budget regularly. Few people have the same expenses each month, and for many, it's not unusual to earn varying amounts of income from month to month. You may have a surprise expense or even a surplus after a raise. Adjust your budget accordingly.
Takeaway
Before you jump into one of the best budgeting apps mentioned in this roundup, the first step to financial health is knowing where you stand. Sync all of your accounts in one place, collaborate and get a shared view with a partner, get personalized advice on how to build financial resilience and make progress towards goals.
FAQ
What is the best budgeting app out there?

Mint may be the best budgeting app because it's free. However, it has plenty of features, leaving little to be desired.

What is the easiest free budget app?

Fudget is the easiest free budget app available. There are no categories to set up or syncing to do. Simply enter your spending and income and view your financial status in list form.

Is Mint a free budget app?

Yes, Mint is a free budget app. It continues to be one of the top budgeting apps due to its robust features and free license.

What is the 50-30-20 budget mean?

The 50-30-20 budget rule allocates 50% of spending to your needs. The remainder is divided between wants at 30% of your income and savings at 20%.

Is it a good idea to use a budgeting app?

It is a good idea if it is something that would benefit you and your lifestyle. A lot of people prefer apps to help them budget because of the convenience and the automatic tracking and categorizing of their money.

Are free budgeting apps safe?

Most budgeting apps have set security measures to keep your personal information safe. If safety is a concern, before you sign up for a new app, make sure you read all the fine print to see what steps the company takes to protect your information.
Barri Segal, Cynthia Measom and Cynthia Bowman contributed to the reporting for this article. 
Information is accurate as of March 18, 2023.
Editorial Note: This content is not provided by any entity covered in this article. Any opinions, analyses, reviews, ratings or recommendations expressed in this article are those of the author alone and have not been reviewed, approved or otherwise endorsed by any entity named in this article.