9 Free, Easy-To-Use Budget Templates and Spreadsheets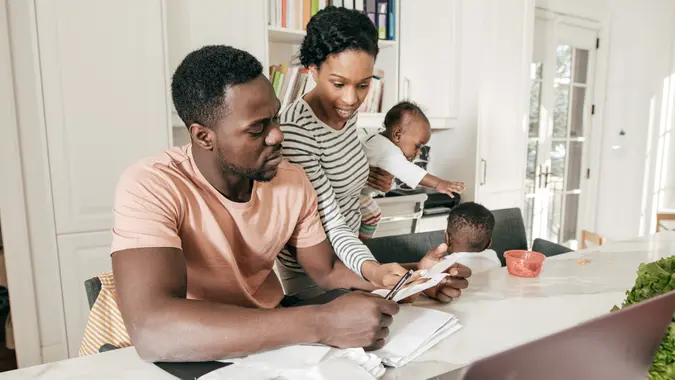 kate_sept2004 / Getty Images
Budgeting is more popular than ever. A 2022 Debt.com survey found that 86% of people track their monthly income and expenses, up from 80% in 2021 and 2020 and roughly 70% pre-pandemic. And in a world full of budgeting apps that allow you to swipe and tap your way through your monthly budget, some people still prefer to use good, old-fashioned budget spreadsheets and templates. 
The good news is that if apps aren't your thing, you don't have to complicate your life by asking yourself, "How do you make a printable budget sheet?"
Instead, here are nine completely free, easy-to-use budget templates and spreadsheets that are available to download right now. 
Microsoft Excel Personal Monthly Budget Spreadsheet
Where to get it: Microsoft Office
As a heads up, if you're interested in free Microsoft Office budget templates, you'll likely find the majority in Microsoft Excel format, not Microsoft Word.
One good option to consider is the Microsoft Excel personal monthly budget spreadsheet. This comprehensive budgeting template contains main categories, such as housing, entertainment, transportation, loans and taxes, and also plenty of subcategories to allow you to easily break down specific expenses. It also allows you to compare projected and actual income and expenses, so, at a glance, you can see how well you're sticking to your budget each month.
Make Your Money Work for You
Mint's Simple Budget Template
Where to get it: Mint
Although Mint also offers more complex budgeting template options, this simple one lives up to its name. It's perfect for beginning budgeters who want to plug in their income and expenses and have the results automatically populate. The template also includes a budget summary, complete with graphic organizers, which breaks everything down, including the top five expenses for the month.
Google Sheets Monthly Budget Template
Where to get it: Google Sheets
If you're a fan of Google Sheets, this might interest you. Like other easy-to-use monthly budget templates, this one allows you to log planned and actual income and expenses and then auto-populates the difference. It's also one of the more aesthetically pleasing templates, featuring custom colors, bar and line graphs and a callout that boasts how much you saved during the month.
Budget Planner From 20somethingfinance
Where to get it: 20somethingfinance
This Google Sheets budget planner from 20somethingfinance stands out because it allows you to track a year's worth of budgeting at a time, which allows a comprehensive month-to-month overview of your income and fixed expenses. You can also choose to view one-time income and expenses by month. There's also a separate sheet that details a year's view of credit card payments, which can help give you insight into that specific area of spending.  
Make Your Money Work for You
Free Easy Monthly Budget Template From TheGoodocs
Where to get it: TheGoodocs
This easy monthly budget template found on TheGoodocs is designed to open in Google Docs and features a budget summary up top that includes total income and expenses, amount saved, amount overspent and the percentage of your budget that you utilized for the month. In the middle is where you plug in your actual and budgeted expenses. And at the bottom, the template includes a colorful doughnut chart that details a percentage breakdown of your monthly expenses.
Free Green Family Monthly Budget Template From TheGoodocs
Where to get it: TheGoodocs
If you like the color green, this monthly budget template might interest you. From a psychological perspective, green is a color that can lead the brain to a state of decisiveness, which is a good thing when you're dealing with your budget. Besides including a lot of green, the template is a bit different from others because it's designed for a two-income family. Beyond that, it includes all the basic expense categories and subcategories — which you can edit — and also categories to plug in additional planned and actual income.
Make Your Money Work for You
Federal Trade Commission's Make a Budget Worksheet
Where to get it: Consumer.gov
The FTC's budget worksheet is designed from the perspective that you should track all of your expenses for one month to help you set up your budget for the next month. The budget worksheet is simple, breaking down expenses in various categories and subcategories. It also includes a line for "other expenses," which are expenses that do not occur every month, such as registration fees or annual premiums.
Free Monthly Budget Worksheet From A Cultivated Nest
Where to get it: A Cultivated Nest
If you prefer putting pencil to paper rather than plugging in numbers online, this free budget sheet template might be for you. It's very straightforward and allows for tracking income and expenses over three months. At the top, you'll fill in the names of the three months and the expected incomes. The main expense categories are already filled in — household, utilities, auto, groceries, debt and miscellaneous. But there are open spaces underneath each category to fill in your preferred subcategories. At the bottom is where you'll total everything up for each month.
Family Budget Worksheet From A Mom's Take
Where to get it: A Mom's Take
This free budget worksheet from A Mom's Take is a printable, which is perfect if you're not committed to the idea of doing your number crunching online. In comparison to A Cultivated Nest's printable, this one is more detailed because the subcategories are already filled in for you. Also unlike the former, it includes a column to write the difference after you subtract your actual expenses from your expected ones. And if aesthetics matter to you, this worksheet has a fun, somewhat whimsical feel due to the bright colors and scripted font.
Make Budgeting Easier With a Template or Spreadsheet That Works for You
If you're interested in a budgeting solution that will allow you to customize things according to your lifestyle, like expense subcategories, you'll want to opt for a template or spreadsheet that you can download and edit. If you just want a basic budgeting tool that you can print out and fill in, choose a printable worksheet. Either way, finding a budgeting template or spreadsheet that works best for your finances will help you be able to create a budget and stick to it.
Make Your Money Work for You