How To Save $10,000 in a Year: 10 Steps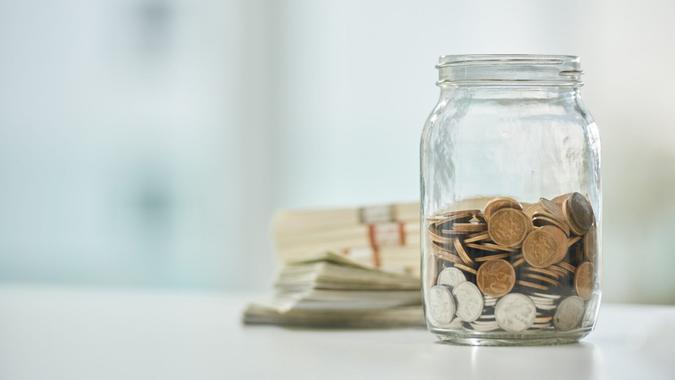 PeopleImages / Getty Images/iStockphoto
Saving money is hard — especially in these inflationary times. It seems like everyone is living paycheck to paycheck. But saving is possible — it just takes some motivation, dedication and perseverance.
Think you can't save $10,000 in a year? Follow these ten steps and you might be surprised.
Break It Down
Review Your Budget
Cut Out Unnecessary Monthly Spending
Don't Pay Interest on Your Credit Cards
Reduce Discretionary Spending
Check Your Grocery Bill
Examine Your Fixed Expenses
Save Your Windfalls
Start a Side Hustle
Make Your Savings Automatic
1. Break It Down
Can you save $10k in a year? Saving $10,000 seems like an insurmountable task. But if you break it down, it's much more manageable. If you want to save $10,000 in a year, you'll need to shave $833.33 off your monthly budget.
Still overwhelmed? It's the same as $384.61 every two weeks, or $192.31 per week. If you really want to break it all the way down, it's $27.40 a day.
Make Your Money Work for You
2. Review Your Budget
To know where you can save money, you first have to know where your money is going. Look over your bank and credit card statements for the past year to determine what you're spending money on.
You don't need to account for every penny — this is supposed to be manageable, after all — but have a rough idea of what you are spending each month in major categories. Look at housing, transportation, food, utilities, entertainment, health care, clothing, loan payments, etc. Have a category called "miscellaneous" — this is usually one of the first places you can cut back.
As you review the places where you spend money, try to identify if there are any that you can cut out entirely. Then look for ones that you can cut back on. For example, you might cut back on clothing purchases, or shop at less expensive stores.
3. Cut Out Unnecessary Monthly Spending
Look at your budget to see what you can do without. Subscriptions are a big culprit here — you sign up for streaming services or news subscriptions that are billed every month, and then you forget about them. Look carefully to see which ones you can eliminate. And don't let the fact that they're low-priced fool you — eliminating a few subscriptions at $5 each per month can add up pretty quickly.
Make Your Money Work for You
Projecting savings: $25 a month
4. Don't Pay Interest on Your Credit Cards
If you carry a balance on your credit cards, you're paying extra every month for that tank of gas you've already used and that dinner you've long forgotten. Pay off your credit cards, and then stop using them.
When you reach for a credit card, ask yourself, "Would I take out a loan from the bank for this purchase?" If the answer is "no," which it usually is, don't use your credit card for it either, since that's effectively what you are doing. If you have the money in your budget and in your checking account, use your debit card instead. If you don't, seriously consider whether the purchase is necessary.
If you have credit cards that charge an annual fee, consider getting rid of them. There are so many fee-free cards that have rewards and other bells and whistles, there's really no good reason to pay an annual fee.
Projected savings: $100 a month
5. Reduce Discretionary Spending
Look at how much you spend on things like entertainment and gifts. While you don't need to cut out these things entirely, this is often a good place to cut back. Instead of going out for dinner at a fancy restaurant, choose a less expensive venue, or go to lunch instead. Go out once a month instead of once a week. And choose fewer or less expensive gifts — it's true, after all, that it's the thought that counts.
Make Your Money Work for You
When you do go out, look for bargains. You may be able to see that blockbuster movie on a Tuesday night for $5 instead of paying $10 on Saturday. If you're a AAA member, you can get discounts on movies, museum admissions, hotel stays and more.
Projected savings: $150 a month
6. Check Your Grocery Bill
People are really feeling the pinch at the grocery store, so it may seem like you can't cut back here. But take a good look at what — and how much — you are buying.
If you're still buying name brands, particularly for things like paper products, consider switching to generics. And look at how much food you're throwing out because it goes bad before you can eat it. Planning meals in advance, and shopping based on that plan, can help you avoid overbuying and waste.
If your weekly grocery shopping includes a trip to the warehouse club, make sure you're taking advantage of it in the right way. When you compare prices between the club and your regular grocery store, don't forget to factor in the annual membership fee. If you only go to the warehouse club every couple of months, that $60 annual fee could be adding an extra $10 to your bill each time you go. Make sure it's still worthwhile.
Projected savings: $100 a month
7. Examine Your Fixed Expenses
Don't overlook monthly expenses that you consider to be fixed, like utilities. Sometimes you can shave a little off your bills by reducing your energy usage or switching to a less expensive cable package, if you still use cable.
Gas is taking a bigger bite out of everyone's budget these days, so be sure to shop around for the best price. Using a gas app can help you find the best deal wherever you are, even if it's near home. Your regular gas station may not have the lowest price every day, so it helps to compare. And try to consolidate trips so you're driving less and using less gas.
Projected savings: $25 a month
8. Save Your Windfalls
When you get a long-awaited windfall, like your tax return in April or a year-end bonus, it's tempting to splurge on something you've been wanting. But if you put that money into savings right away — before you can spend it — you can make a big dent in your goal. And if you get a raise, split it between savings and your monthly budget.
Projected savings: $250 a month, or $3,000 a year
Tip

Here's a pro tip for those who get paid every week or every two weeks: Make your monthly budget based on four weekly or two biweekly paychecks. If you get paid weekly, you'll have four months in which you'll get five paychecks instead of four. If you get paid biweekly, there will be two months when you get three checks instead of two. If you're covering your monthly bills with the usual number of checks, you can bank those "extra" checks.
9. Start a Side Hustle
There are two ways to increase how much you save: spend less and earn more. Doing both sets you up for success. Consider taking a second job or adding on a freelance gig. Walking dogs, delivering groceries and ridesharing can all bring in a few extra bucks every week.
A note of caution about a side hustle: make sure you set aside some of your additional income for taxes. If you earn extra money all year long, you may need to pay estimated taxes every quarter so that you aren't penalized at tax time.
Projected savings: $200 a month
10. Make Your Savings Automatic
This won't save you any more money, but it will help you stay on track with your savings goals. Have part of your paycheck direct deposited into a savings account. If you have a side hustle, have that money go directly toward savings, too, making sure you account for taxes.
And make that savings account difficult to get at. Use a different bank than the one you use for your checking account, and don't download the app. Tuck that money away and forget about it.
Takeaway
If you take all of these steps and you realize the projected savings indicated, you'll have saved $10,200 by the end of the year. Now you can put that money toward a special long-term goal, or keep it in the bank as a financial cushion.
Nobody is saying it's going to be easy to make these changes, so make sure you're committed to doing so. If you are saving for a specific goal, keep a reminder handy of why you need to spend less. If you're saving to buy a house, for example, keep a picture of the kind of house you want in your wallet, next to your credit cards — you may be less likely to pull one out and charge something you don't need.
Make Your Money Work for You