Cheap Gym Memberships Near Me: Find the Best Ones To Stay Fit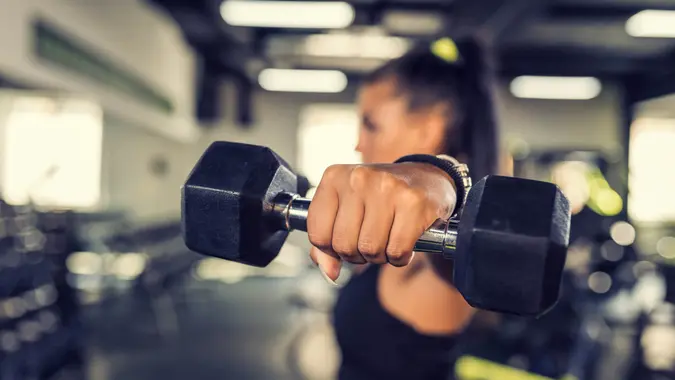 bulatovic / Getty Images/iStockphoto
You used Mother Nature this spring and fall for your exercise — hiking, running laps at the local high school, biking area trails and swimming in the public pool. But with colder weather and shorter days here, and winter around the corner, it might be time to move those workouts indoors.
A handful of national fitness chains offer cheap gym memberships that offer just what you need — and even could kick up your workouts to help you reach your fitness goals. To make sure you only break a sweat, not your budget, check out one of the memberships below that can make going to the gym more affordable.
How To Find Cheap Gym Memberships Near You
You can find an affordable gym that suits your personal fitness goals or offers services like massages that will help motivate you to get to the gym in the first place. You can find local gyms close to you by using the Google Maps search below.
Several fitness clubs will offer a free trial to let you look over the facility, and while you're there, ask questions that affect your bottom line and are most important to you.
Make Your Money Work for You
Questions To Ask Yourself
Is year-long signup required?
What is the cancellation policy?
What are the hours?
Will my membership work at clubs everywhere or just at this local facility?
By asking those questions, you'll be sure this cheap gym membership really doesn't become expensive.
7 Cheap Gym Memberships Nationwide
Take a look at these cheap gym memberships to find the best plan for your fitness needs.
1. Planet Fitness
Planet Fitness has more than 2,000 locations. The company prides itself on providing a Judgment Free Zone for workouts. The company's classic gym membership prices are hard to beat at just $10 per month. For this price, you'll get unlimited access to your home club for your daily workouts, free fitness training and complimentary Wi-Fi. At about $23 per month, the PF Black Card offers additional perks, including usage of any Planet Fitness club — great for travelers.
Pros
No need to pay extra for a personal trainer
Judgment-free environment
Cons
Tanning, hydromassage and hydromassage chairs only available as included if you pay extra for the PF Black Card
Must have PF Black Card to bring a guest with you
Where to sign up: Find Planet Fitness near you
2. 24 Hour Fitness
24 Hour Fitness has more than 280 gyms in 11 states across the country, from Hawaii to New York. The company also features one of the best gym apps — 24GO app — that allows you find classes, join challenges and more. And the app syncs with other fitness apps, so you can easily track your activities.
Make Your Money Work for You
Membership dues vary by club. In Los Angeles, you'll pay $31.99 per month if you sign up for 12 months to use your local club only. It's $41.99 for regional clubs and $46.99 if you want to use any 24 Hour Fitness in the U.S. In Fairfax, Virginia, pay in advance for the year, and you'll spend $37.50 a month for a national membership.
Pros
The 24GO app has more than 2,000 workouts available
Amenities vary by club; some have a basketball court, pool or turf zone
Cons
Personal training is an additional fee
Extra cost for family or friends
Where to sign up: Get a free 3-day pass
3. YMCA
In addition to serving more than 9 million youths nationwide, the YMCA supports over 13 million adults each year in their fitness goals. Consider joining one of the 2,700 YMCAs, which offer everything from swimming pools to exercise classes to sports teams. Membership rates vary by location, so you'll need to contact your local YMCA for exact figures.
Make Your Money Work for You
The YMCA of Greater Fort Wayne, Indiana, for example, charges $20 per student (through age 25) and $49 per adult monthly, and a family membership is $75.50. Fees vary by location. Some branches provide financial assistance, however, so this option can be among the best financial decisions you'll make all year.
Pros
YMCA requests 15-day notice to cancel

Members get some guest passes annually. Numbers vary, so check with your local Y. 

There are activities for younger and older children
Cons
Not all branches have towel service
Not all classes are covered by the membership fee, as there are paid programs, such as lessons for swimming or pickleball, leagues and summer camps
Where to sign up: Find a YMCA near you to sign up online
4. LA Fitness
LA Fitness has more than 600 locations across the United States and Canada. The gym offers a $35.99 monthly membership fee for people who don't need access to any other locations, and the same $35.99 fee — plus a $49 initiation fee — for multiple-club, single-state access. 
Each facility features state-of-the-art equipment, a heated pool, basketball court, racquetball court and over 20 group classes. And if you sign up for a personal trainer, you'll get access to a fitness tracker app called Studio Zone, which can help you track your progress and meet your goals.
Pros
Group fitness classes such as cycling, yoga and Zumba
Complimentary, hour-long fitness assessment
Cons
Personal training carries an additional fee
More than 100 clubs are in California
Where to sign up: Find a club near you to get a free guest pass
5. Anytime Fitness
Each of the 4,700 Anytime Fitness locations is open 24/7 so you can follow through with your workout routine at a time that works for you. Although membership prices vary by location, most branches offer new customers a seven-day free trial.
The average monthly cost of a membership is $36.50, once the free trial period has ended, but prices vary by location. And if you're looking for a personal trainer, Anytime Fitness provides three options: personal training, group training or team workouts.
Pros
New members get a free, personalized fitness plan upon signup
24-hour security is offered
Tanning services available at select clubs
Cons
No childcare option
Extras are limited; clubs do not have basketball courts, pools or saunas
Where to sign up: Get a free 7-day pass
6. Crunch Fitness
Rapidly growing Crunch Fitness has more than 300 locations, plus 34 beefed-up "Signature" clubs. Crunch is popular for its many membership options that allow you to join for as little as $9.95 per month. Basic membership includes using the workout equipment, use of locker room and showers, access to online nutrition program and the Power Half Hour Circuit Training.
The peak membership, which costs about $30, includes access to group fitness classes, Crunch Live online video workouts, massage beds, tanning, multi-club access and guest privileges.  No matter which membership option you select, you'll also have to pay an annual fee each year. Remember prices can vary by location.
Pros
Option to add personal training or small group training
Can sign up for a complimentary day pass to explore the fitness center before signing up
Cons
Tanning, hydromassage, babysitting and group fitness classes available with the highest-priced memberships only
An annual fee applies to all memberships, in addition to the monthly fee
Where to sign up: Free 1-day trial offered
7. Snap Fitness
With more than 1,000 locations, there might be a Snap Fitness in your neighborhood. Snap has group classes, personal training and easy-to-use equipment. Stop by the branch nearest you to check out the club and ask about specials before signing up. Promotions and fees vary by location. For example, the Edina, Minnesota, location offers membership at $44.95 a month.
Snap Fitness offers a no-risk guarantee. Full members who don't feel different physically or mentally within the first 30 days of signing up can get a refund of membership dues, provided they have worked out twice a week for four weeks and have taken part in a fitness evaluation.
Pros
24/7 access
Track progress by wearing the Myzone heart rate technology during workouts
Offers support with food and nutrition planning
Cons
No childcare options
No extra amenities, such as swimming pools
Where to sign up: Find Snap Fitness near you
Try these tips to help you achieve your fitness goals: Set a deadline for yourself to join a new gym. Download an exercise app and start working out at home in the meantime to start building a routine. Consider seeking out a personal trainer or class instructor at the start. This type of added accountability might just be the motivation boost you need to make the cost of a gym membership worth it.
Alicia Bodine contributed to the reporting for this article.
Make Your Money Work for You