What To Do if You Are Involved in a Venmo Scam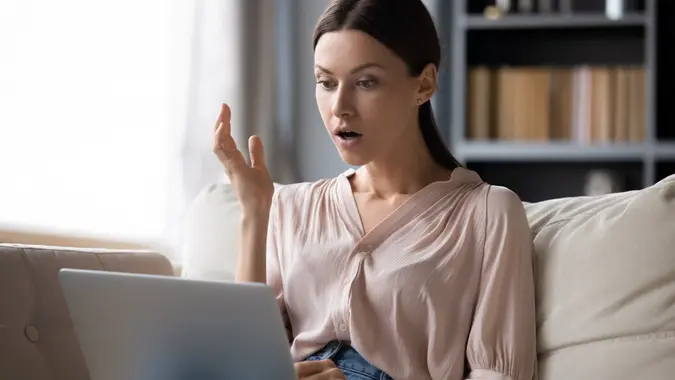 fizkes / iStock.com
Venmo has changed the way we conduct a lot of our everyday financial transactions with its ease of use and minimal fees. The downside? As with other payment apps, you could fall victim to a scammer. The good news is that Venmo offers many safeguards to help keep your money safe.
Learn: 3 Easy Tips to Turn Your Credit Woes into Wows
"Venmo scams are also simple, but easier to stay ahead of," said Monica Eaton-Cardone, the founder of Chargebacks911, which helps to combat fraud. "Venmo offers several settings to go through before funds are sent. This includes using facial recognition or a PIN to even log into the app. The last four digits of the recipient's phone number may also be needed to complete a transaction."
Common Venmo Scams
These are some common Venmo scams and what to do to protect yourself.
A Money Transfer by Mistake
You receive a notification on your Venmo account that you've received $100 you weren't expecting. Upon investigation, you see it's from a name that isn't familiar to you. Seconds later, you receive a message from the sender, who says the money was sent to you mistakenly and can you return the cash?
Sure, you'll send back that momentary windfall, you say, and proceed to authorize a $100 transfer from your funds. Here's the problem, though. The scammer probably used a stolen credit card to fund the initial transaction but has the money you're sending back programmed to go to the scammer's legitimate account. So you've sent the money to the scammer, and not to the owner of the credit card.
Make Your Money Work for You
When the owner files a fraud claim, Venmo will take the money from your account. If you send a transfer as requested, you'll be out the $100 sent to you and your $100 reimbursement.
Venmo's Advice
On its website, Venmo says you can avoid being a victim of this scam by not exchanging payments with people you don't know and by blocking accounts that either send a payment to you or request one from you. If you've received money from an unfamiliar source, Venmo suggests contacting the payment app immediately.
Sending Money to a 'Friend'
You've known Mary for years, and she's a trusted friend. Of course you want to help her when she sends you a Venmo payment request with a note saying she's in a financial bind and can she borrow $150 until payday next week? You send her the cash right away. You know she's good for the money.
But you might not have transferred the money to Mary. Instead, a scammer could have taken information from Mary's public profile and copied it onto a scam account. You just sent $150 to Fake Mary.
Make Your Money Work for You
Venmo's Advice
Before accepting the payment request and sending any money to Mary, verify it actually came from her. Tap on the public profile for "Mary" to look at her transaction history. If you've exchanged money before, it will show up. If anything looks suspicious, call Mary just to verify she's asked for the money. It's a good idea to update the privacy settings, according to Venmo, for both your transaction history and your friends list.
The Buying Scam
If you're buying something — a designer handbag, for example — that you saw advertised on a website, Venmo is a convenient way to pay. But be wary. The scammer might offer faked receipts as proof of shipping the handbag and ask you to send the money by Venmo. Don't be surprised if the handbag never arrives. There probably wasn't a handbag for sale to begin with.
Venmo's Advice
Only send money to a stranger in exchange for merchandise if you're buying from what's labeled as a Venmo-approved business account or if you mark the payment you make to an individual as a purchase. If you do that, you'll be eligible for purchase protection and Venmo can assist you with your account if you never receive your item. A supposed seller asking you not to mark the transaction as a payment for a purchase is a red flag.
Make Your Money Work for You
Final Take
These are only a few examples of tricks scammers will try on Venmo to steal your money. Be wary, never send money or give your information to someone you don't know, and if you think you've been scammed, reach out to Venmo's customer support.
FAQ
Will Venmo refund you if you get scammed?

When you signed up for Venmo, you could have linked your bank account, credit card or debit card to make your financial transfers. Since the Venmo app runs through your banks, your first line of defense is to call your bank, Eaton-Cardone said. "Because payments end up going through banks, it will take time to be processed and cleared."
Venmo, itself, doesn't get involved in resolving financial issues unless they involve the Venmo purchase program.

Can someone steal your bank info from Venmo?

Yes, but you generally can stop it before it happens. You might receive an email or a text purporting to be from Venmo to inform you there is a problem with your account, for example. You might be asked to click a link to confirm your personal and financial information

–

and you might be told you must do it urgently. It's another form of a phishing scam, however, that is looking for you to part with bank information. Don't click the link. Instead, contact Venmo's customer service.

Can someone hack my Venmo by sending me money?

Yes, but again, only if you participate. You might receive a message informing you that you've won a drawing or sweepstakes or some other prize and to "click here" to claim the award, then provide the information being asked for. Don't ever share your Venmo contact information, such as login or password, with anyone. If you never entered a contest, and if you have even the smallest suspicion, contact Venmo's customer service.
According to Forbes Advisor, Venmo is considered a safe way to send and receive money. It uses encryption to protect your information and has ways to boost your security. As with all apps designed to move money, however, it's important to read the Venmo user agreement before signing up for the service to know exactly what to expect.
Information is accurate as of Dec. 9, 2022.
Editorial Note: This content is not provided by any entity covered in this article. Any opinions, analyses, reviews, ratings or recommendations expressed in this article are those of the author alone and have not been reviewed, approved or otherwise endorsed by any entity named in this article.
Our in-house research team and on-site financial experts work together to create content that's accurate, impartial, and up to date. We fact-check every single statistic, quote and fact using trusted primary resources to make sure the information we provide is correct. You can learn more about GOBankingRates' processes and standards in our editorial policy.
Make Your Money Work for You