How Much More You Can Make With Your Money in a High-Yield vs. Traditional Savings Account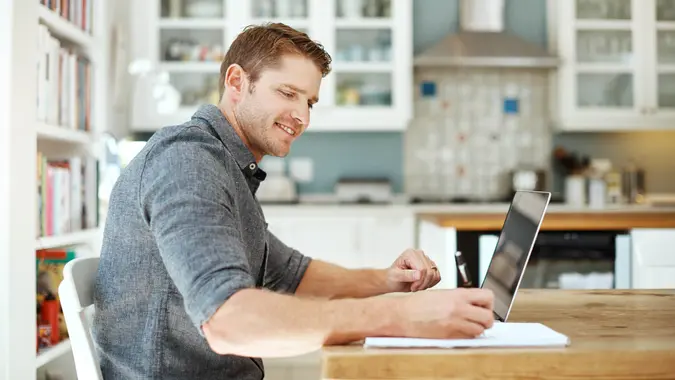 shapecharge / iStock.com
One of the best ways to grow your wealth passively is by earning interest. While traditional savings accounts might pay some interest, the rates they pay are usually quite low. For example, according to the FDIC, the national average interest rate for savings accounts is 0.33% as of Jan. 17, 2023. Meanwhile, the average yield on checking accounts is just 0.06%.
Explore: GOBankingRates' Best Banks of 2023
Find Out: Here's How Much Americans Have in Their Savings Accounts in 2023
Check Out: GOBankingRates' Best Savings Accounts 2023
But there's another side to this low-yield problem: inflation. Recently, inflation has run rampant, but even the Federal Reserve targets a long-term inflation rate of 2%. In other words, inflation is a given, even during normal economic times. This means earning a healthy interest rate on your money is important, if only to keep pace with inflation.
So, what is the difference between keeping your money in a traditional savings account vs. a high-yield savings account? The truth is it depends, but we'll attempt to estimate just how stark those differences can be.
What Is a High-Yield Savings Account?
A high-yield savings account is a kind of savings account that pays interest rates that are much higher than the national average for standard savings accounts. These accounts are generally FDIC-insured, so your money is safe, too. The 0.33% figure mentioned above includes high-yield savings accounts, so the average for traditional savings accounts is likely much lower.
For example, the average for traditional savings accounts might be around half that number at 0.16%. High-yield savings accounts tend to earn 20 to 25 times as much interest as traditional savings accounts, which would have them earning over 3.00%. This aligns with what we are seeing at the moment.
This shows the stark difference between traditional savings accounts and high-yield savings accounts. While the former would have you earning just a few dollars per year on your money, the latter might pay you at least that much in just one month.
Take Our Poll: How Big of a Sign-Up Bonus Would It Take for You To Change Banks?
Real-World Impact of High Yields
As we've already seen, the difference between traditional savings accounts and high-yield savings accounts is huge. Or, at least, that is the case if you only take the interest rates into consideration. But we don't pay the bills in interest rates, so the real question is: What's the real-world impact?
Estimating the real-world impact isn't easy because two different people can have vastly different savings account balances. At the same time, the yields on those accounts can sometimes fluctuate so often it feels like they change daily. So while it is difficult to say exactly what the real-world impact will be for you, we can at least show some possible scenarios in a table.
The table shows your ending balance after one year with different starting balances and annual percentage yields (APYs). It assumes the interest compounds (meaning you don't make withdrawals), you make no additional contributions, and your APY remains the same all year.
| | | | | |
| --- | --- | --- | --- | --- |
| Starting Balance | 0.15% APY for 1 Year | 0.30% APY for 1 Year | 1.00% APY for 1 Year | 3.50% APY for 1 Year |
| $1,000 | $1,001.50 | $1,003.00 | $1,010.00 | $1,035.00 |
| $5,000 | $5,007.50 | $5,015.00 | $5,050.00 | $5,175.00 |
| $10,000 | $10,015.00 | $10,030.00 | $10,100.00 | $10,350.00 |
| $25,000 | $25,037.50 | $25,075.00 | $25,250.00 | $25,875.00 |
We see the biggest difference if our starting balance is $25,000. In this case, the account earning 3.50% interest has an $837.50 higher balance after year one. And if you let the money continue to compound year after year, the difference only grows.
Unfortunately, it's unlikely you will keep earning 3.50% on a high-yield savings account year after year. As interest rates fall, so, too, will savings account rates. Nevertheless, they should remain much higher than traditional savings account rates.
Where To Open a High-Yield Savings Account
The best interest rates for high-yield savings accounts usually aren't found at big banks like Bank of America and Chase. Instead, you will usually find them at smaller banks and those that operate exclusively online. These banks tend to have slimmer operations, allowing them to keep costs down and share that benefit with customers.
Going into 2023, the best high-yield savings accounts are mostly offered by banks that aren't as well-known as some of the big names in banking. One exception is American Express, which currently has some of the best rates. However, American Express doesn't have physical bank branches, which is another way banks are able to keep costs down and offer higher rates.
Bottom Line
High-yield savings accounts may not make you rich, but they are important in preserving and growing your wealth. They let you earn higher interest rates, which helps you fight inflation's tendency to devalue your money over time.
More From GOBankingRates