How To Avoid Bank of America's Monthly Maintenance Fees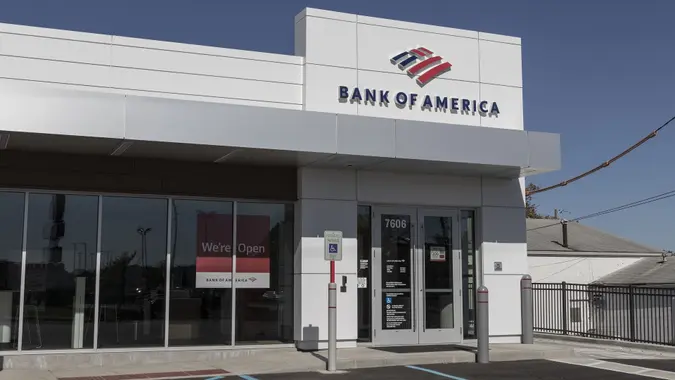 jetcityimage / iStock.com
Bank of America, Member FDIC, offers a number of checking and savings accounts. Like most banks, it charges monthly fees depending on the account you have, but it also has options for avoiding those fees. Customers can avoid Bank of America's fees in several ways, such as by setting up approved direct deposits or fulfilling account balance requirements.
Here's a breakdown of the assortment of fees associated with Bank of America's products and services.
Bank of America Checking Account Fees
Depending on what type of account setting you have, the checking account monthly maintenance fee can vary.
There is a $4.95 monthly maintenance fee for Advantage SafeBalance Banking®, a $12 monthly maintenance fee for Advantage Plus Banking® and a $25 monthly maintenance fee for Advantage Relationship Banking®, but only Advantage Relationship Banking earns interest.
| Account | Monthly Service Fee | Earns Interest |
| --- | --- | --- |
| Advantage SafeBalance | $4.95 | No |
| Advantage Plus | $12 | No |
| Advantage Relationship | $25 | Yes |
Other Checking Fees
Each Bank of America checking account comes with this schedule of fees, though some accounts waive fees for specific services.
Service
Fee Charged
Out-of-network ATM
In U.S. — $2.50
Outside of U.S. — $5
Overdraft
$10 for each overdraft over $1.00
International transaction
3%
Wire transfer
Varies
While there are no Student-specific checking accounts, Bank of America will waive the monthly maintenance fee for qualifying students.
Bank of America Savings Account Fees
Bank of America's Advantage Savings account comes with an $8 monthly maintenance fee. Bank of America also imposes a withdrawal fee of $10 should you go over the six savings withdrawals it permits per month.
The APY the bank offers is low compared with the national rate of 0.24% APY. Qualifying for Preferred Rewards can bring the APY up a little, but it remains lower than the national rate. However, the monthly service fee is waived for students under 25.
| Account | Monthly Service Fee | Annual Percentage Yield |
| --- | --- | --- |
| Bank of America Advantage Savings | $8 | APY for all balances |
How To Avoid Bank of America's Monthly Maintenance Fees
Maintaining minimum balances and making qualifying direct deposits are the easiest ways to avoid most Bank of America account fees. Some accounts will also waive fees based on your age.
Each account has its own requirements, so be sure the fee waiver information you have matches your account type. Additionally, monthly service fees are different from item-specific costs, such as Bank of America's overdraft fees.
You have options to avoid Bank of America's monthly maintenance fees, but they vary from account to account. Here are five ways to avoid Bank of America's monthly fees:
1. Maintain a Minimum Balance
Here are the minimum balances required to qualify for a fee waiver:
Advantage Savings: $500 minimum daily balance
Advantage Plus: $1,500 minimum daily balance
Advantage Relationship: $10,000 combined balance in eligible linked accounts
2. Have Qualifying Direct Deposits
Just one account lets you avoid paying the monthly maintenance fee by receiving qualifying direct deposits:
Advantage Plus: Minimum of one qualifying direct deposit of $250 or more
3. Link Your Bank of America Accounts
Linking your eligible accounts can help you meet the balance requirement to avoid the monthly maintenance fee.
Advantage Savings: Link your Bank of America Advantage Relationship Banking® account.
4. Enroll in the Preferred Rewards Program
Maintenance fees for eligible Bank of America checking and savings accounts are waived when you enroll in Bank of America's Preferred Rewards program. Qualification for the Preferred Rewards program tiers is based on having an active Bank of America personal checking account and maintaining a three-month average combined balance across your Bank of America accounts.
Minimum balances are $20,000 for the Gold tier, $50,000 for the Platinum tier, $100,000 for the Platinum Honors tier and $1 million for the Diamond Tier.
5. Qualify for the Student Waiver
Qualification for the Bank of America Student waiver applies when an account holder is enrolled in an academic institution and is under the age of 25. This waiver applies to the following accounts:
Advantage SafeBalance
Advantage Savings
How To Avoid Bank of America's Overdraft Fees
Bank of America's overdraft fee of $10 for each overdraft that exceeds $1 — up to $20 per day — can add up to a huge chunk of change if you aren't careful. The best thing you can do to avoid Bank of America's overdraft fee is to remain vigilant in keeping a healthy account balance. Overdrafts only kick in when you're attempting to use more funds than you have in your account.
You can sign up for Balance Connect® overdraft protection service, wherein the bank will cover a transaction using funds from a linked account, like a savings account.
Good To Know

You can eliminate overdraft fees entirely by getting a Bank of America Advantage SafeBalance Banking® account, which does not come with the fee.

How To Avoid Bank of America's ATM Fees
Bank of America's ATM fees — $2.50 for a non-Bank of America ATM inside the U.S. and $5 outside of the U.S. — are standard, and the easiest way to avoid them is to use Bank of America ATMs whenever possible. You may also be charged a fee by the operator when you use an out-of-network ATM.
If you're enrolled in the Preferred Rewards program, you can avoid ATM fees altogether, depending on which tier you're in.
How Fees at Bank of America and Other Banks Compare
Here's an overview of the fees you can expect from Bank of America and how they compare with the costs of banking elsewhere:
Service
Bank of America
Chase
Wells Fargo
Citi®
US Bank
Monthly maintenance
Up to $25
Up to $25
Up to $35
Up to $30
Up to $24.95
Out-of-network ATM withdrawal
– In U.S.: $2.50
– Outside of U.S.: $5
– In U.S.: $3.50
– Outside of U.S.: $5
– In U.S.: $2.50
– Outside of U.S.: $5
$2.50
$2.50
Overdraft
$10
$34
$35
No fee — transactions will be declined
$36
Excess transactions
$10
$5
Varies
No fee
$15
Wire transfer
Varies
$0-$50
$15-$30
$15-$45
$20-$50
International debit purchase
3%
3%
3%
3%
3%
Fees listed reflect amounts typically charged; exceptions may apply.
Traditional banks usually carry similar service fees, like the wire transfer and ATM fees shown above. However, it should be noted that Bank of America, Chase and U.S. Bank all offer a lower ceiling of $25 for monthly maintenance fees.
Getting the Most Out of Your Bank of America Account
Bank of America offers a wealth of information for both customers and non-customers alike. Bank of America's Better Money Habits series features articles and tips for the financial layman.
You can find information on topics that include:
Auto loans
Building credit
Owning a home
Retirement planning
Savings advice
Understanding credit reports
To see what else Bank of America accounts can offer you, visit your local branch or Bank of America's website.
Rates are subject to change; unless otherwise noted, rates are updated periodically. All other information on accounts is accurate as of Nov. 30, 2022.
Editorial Note: This content is not provided by any entity covered in this article. Any opinions, analyses, reviews, ratings or recommendations expressed in this article are those of the author alone and have not been reviewed, approved or otherwise endorsed by any entity named in this article.
Our in-house research team and on-site financial experts work together to create content that's accurate, impartial, and up to date. We fact-check every single statistic, quote and fact using trusted primary resources to make sure the information we provide is correct. You can learn more about GOBankingRates' processes and standards in our editorial policy.